Red flag: Editorial on IMF caution about Sri Lanka-like crisis for some other countries
Many more — from Argentina to Pakistan to a growing list of African nations, including Ghana, Kenya, Tunisia and Egypt — are on the verge of a crisis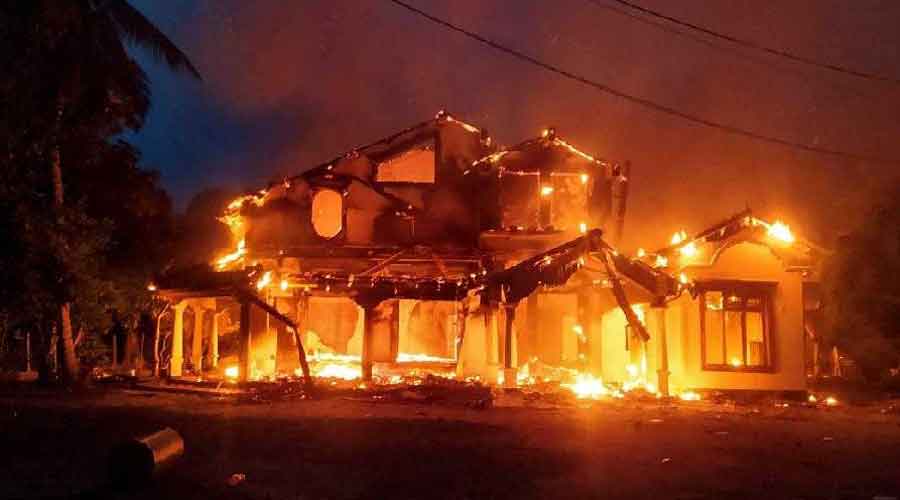 As Sri Lanka has shown, ordinary citizens — just like lenders — know how to make failed leaders pay.
File photo
---
Published 21.07.22, 03:59 AM
|
---
A country's debt balloons. Its foreign exchange reserves dwindle. An economic crisis ensues, quickly spiraling into political and social tensions. This is the story of Sri Lanka. But the International Monetary Fund is warning that multiple other nations could be close to the precipice too. Addressing finance ministers of G20 nations earlier this week, the IMF's managing director, Kristalina Georgieva, cautioned countries with high debt to look at "Sri Lanka as a warning sign", adding that the global economic outlook "has darkened significantly". Sri Lanka is not the only canary in the debt mine: Lebanon, Russia, Suriname and Zambia are others that have also defaulted on payments. Many more — from Argentina to Pakistan to a growing list of African nations, including Ghana, Kenya, Tunisia and Egypt — are on the verge of a crisis. In the immediate, they need relief, which will come at a cost. Lenders who agree to renegotiate terms of payments and international bodies like the IMF will demand that these countries tighten their fiscal belts and introduce austerity measures. With the world already reeling from the economic impacts of the pandemic and the war in Ukraine, which itself has a large debt burden, this will mean added pain for vulnerable communities.
It is imperative to draw lessons from this debt contagion. In Sri Lanka, Pakistan and Zambia, China is a major lender. Beijing's loans have helped support massive infrastructure projects that are often not capable of recouping the investment into them. In the Pacific Islands, Samoa owes China debt equivalent to 30% of its GDP. But the current crisis is not the outcome of China's policies only. Lebanon owes the bulk of its debt — 170% of its GDP — to domestic banks. Restructuring those loans could bring the country's financial institutions to their knees. Serial defaulter Argentina was on the road to recovery in 2020 when the pandemic pushed it back into recession. Suriname owes much of its debt to the Paris Club, a group of big lending nations. Both the Paris Club (with Suriname) and China (with Pakistan and Zambia) have agreed to restructuring loans. Whether or not those efforts are successful, it is vital for all countries to hold their governments accountable and for Opposition parties and economists to raise red flags in time. As Sri Lanka has shown, ordinary citizens — just like lenders — know how to make failed leaders pay.