Promising move or just a poll gimmick?
True development lies in wiping out poverty, not in amassing arms and ammunition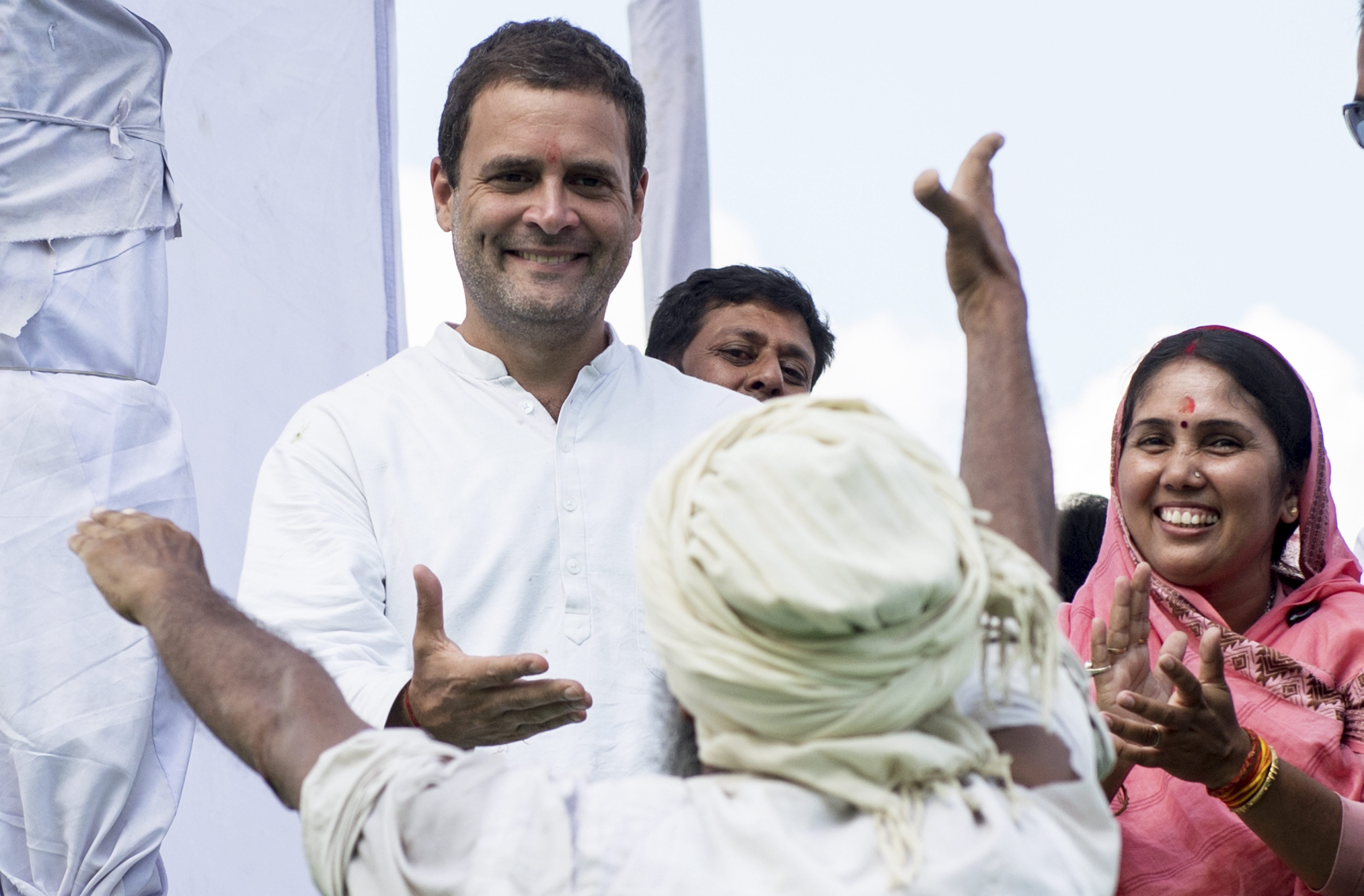 Rahul Gandhi's keen interest in the uplift of the poor is praiseworthy.
PTI
---
Published 30.03.19, 07:15 AM
|
---
Sir — In a groundbreaking measure to end poverty, the Congress chief, Rahul Gandhi, made a poll promise of a minimum income guarantee scheme, whereby even the poorest Indian family will have at least Rs 12,000 a month to sustain itself ("Rahul unveils 'final assault on poverty'", March 26). He said that this will help around 25 crore people or about 20 per cent of the population. This decision deserves to be lauded; had it been taken long ago, it could have prevented many starvation-related deaths. India may have made progress in terms of science and technology, but it is still a poor country. It is sad that India has not been able to harness its technological expertise to tide over poverty-related crises. The nation's first priority should be to eradicate poverty.
With this announcement, Rahul Gandhi has become the real mass leader. It is worth noting that true development lies in wiping out poverty, not in amassing arms and ammunition. A nation full of healthy, well-fed people is a nation worth bragging about. Rahul Gandhi's keen interest in the uplift of the poor is praiseworthy. With this attitude, he will become dearer to the people of India than any other leader.
T.K. Nandanan,
Kochi
Sir — I read with interest about Rahul Gandhi's 'final assault on poverty' by announcing a dole of Rs.72,000 per annum for families that live below the poverty line. After failing to dent the popularity of the prime minister, Narendra Modi, he has fallen back on this tactic to woo the people. Although the Congress president stated that the scheme is fiscally prudent, in actual practice it is likely to cost the nation huge amounts of money. In order to fund this scheme, ordinary people, especially salaried middle-class citizens, would have to pay even more taxes than they already do. Will Rahul Gandhi as well as all members of parliament and legislative assemblies agree to cut down on their present salaries and perks in order to make the minimum income scheme fiscally feasible? Moreover, if he has assured Indians that crores of jobs will be generated in order to tackle unemployment, then why does he need to announce a dole? Much like the 'garibi hatao' slogan popularized by Indira Gandhi in 1971, Rahul Gandhi's scheme, too, is an election gimmick.
N. Mahadevan,
Chennai
Nothing wrong
Sir — The Kings XI Punjab captain, Ravichandran Ashwin, has been widely criticized for the action of 'Mankading' the Rajasthan Royals batsman, Jos Buttler. However, there was nothing wrong with what he did, as it is very much within the laws of the game. A senior player like Buttler should know that. Ironically, the former Australian spin wizard, Shane Warne, also criticized Ashwin. Has he forgotten that successive Australian cricket teams have been known to try to win cricket matches by hook or by crook? Ashwin did nothing that violated the rules of the game; in fact, this incident should serve as a warning to all batsmen to stay within the crease till the ball is bowled.
N. Viswanathan,
Coimbatore
Sir — Ravichandran Ashwin was well within his rights to remove the bails of Jos Buttler's wicket in the Kings XI Punjab's game against the Rajasthan Royals. Why do batsmen feel like they can take an unfair running advantage by getting outside the crease even before the bowler releases the ball?
Alina Masood,
Bangalore
It kills
Sir — It was both interesting and alarming to read about the incredibly lethal fungus that has wiped out more biodiversity than any other disease — around 90 species — all over the world. Even more bizarre is the fact that the relatives of this killer fungus are harmless fungi found in soil and water.
There seems to be no way to wipe out the pathogen since the bodies of many amphibian species act as hosts, allowing it to spread. This is ominous, because human beings, too, are wiping out whatever biodiversity is left in the world. The only way to contain the fungal infection is to regulate the wildlife and pet trade more closely.
Mandira Sen,
Calcutta