Precarious balance
Russia's invasion of Ukraine poses a dilemma for proponents of Switzerland's official policy of neutrality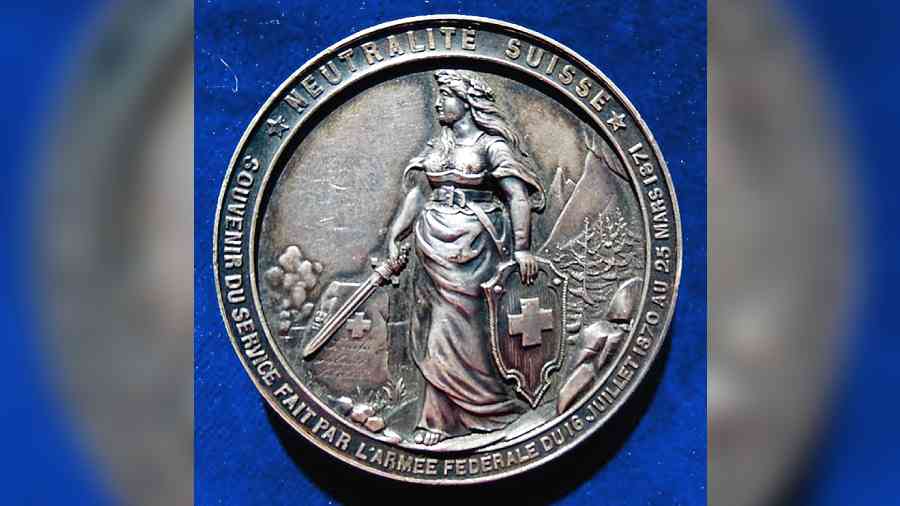 A souvenir commemorating the defence of Swiss neutrality during the Franco-Prussian War
Telegraph picture
---
Published 26.07.22, 03:12 AM
|
---
Ignazio Cassis, the president of Switzerland, has argued that Switzerland's political tradition of neutrality in times of war must accord with reality. Officially, Cassis advocates a new foreign policy framework for Swiss neutrality developed on the Helvetic principles of what he calls "cooperative neutrality". 
President Cassis, who also heads the Swiss foreign ministry, recently hosted a conference on the reconstruction of Ukraine. Russia's invasion of Ukraine poses a dilemma for proponents of Switzerland's official policy of neutrality. The conservative, right-wing Swiss People's Party, the largest party in Switzerland's Parliament, advocates a strict interpretation of Swiss neutrality in line with its opposition to Swiss membership of the United Nations and the European Union. Opposition to the EU is also associated with populist politicians who mobilise Swiss voters against immigration. Liberal politicians, on the other hand, are pushing for an active neutrality, which implies that the Swiss tradition of neutrality during wartime is outdated, even opportunistic. Critics argue that Swiss neutrality is a form of freeloading, as Switzerland benefits from NATO's protection without bearing the burden of contributing as a member-state.
President Cassis is firmly in the Liberal camp. His party, the Free Democrats, is in favour of Swiss membership of the UN and the EU. Hosting the Ukraine Recovery Conference in early July in Lugano, he indicated a substantive policy measure associated with cooperative neutrality. Switzerland wants to play a key role in Ukraine's reconstruction. At the conference, the Ukrainian prime minister, Denys Shmyhal, called for the freezing of Russian assets in Switzerland which could then fund the rebuilding of schools, hospitals and homes destroyed by Russia. Rebuilding Ukraine could cost $750 billion, and rich Russians with assets in Swiss banks should contribute towards paying the bill, said Shmyhal.
d Shmyhal. Cassis, however, resisted Ukrainian plans to seize Russian assets, maintaining that the protection of property rights was essential in a liberal democracy. Switzerland decided to adopt the full range of sanctions imposed by the EU against Russia's invasion of Ukraine. Most of Switzerland's main political parties have come out in favour of the tough sanctions. But the People's Party argues that Switzerland risks losing its neutral status if it takes measures against Russia.
On the domestic front, Switzerland is now faced with an unprecedented influx of Ukrainian refugees. Swiss cantons — provincial political authorities — have handed out 1,500 work permits, a small fraction compared to the 57,000 Ukrainian refugees who have arrived in Switzerland since Russia invaded. However, Swiss involvement in a distant conflict between Russia and Ukraine has its limits. When certain provincial authorities expressed willingness to treat Ukrainian war-wounded in Swiss hospitals, the Swiss federal authorities rejected NATO's requests to treat them, citing Switzerland's commitment to neutrality. Swiss officials observed that it was almost impossible to distinguish between military combatants and civilians. Instead of treatment in Swiss hospitals, they would rather help the wounded by facilitating aid to civilian hospitals in Ukraine.
A small, multilingual nation, divided among a German-speaking majority and French, Italian and Romansch-speaking minorities, Switzerland has avoided brutal conflicts associated with its neighbours. Despite supporting sanctions and condemning Russia, Switzerland has sought to avoid active involvement in NATO. Swiss neutrality thus remains a tightrope walk.
Ravi Shankar Jayaram has a doctorate in politics from King's College London