Verse as mirror
THE THIN EDGE | Poetry in a changing India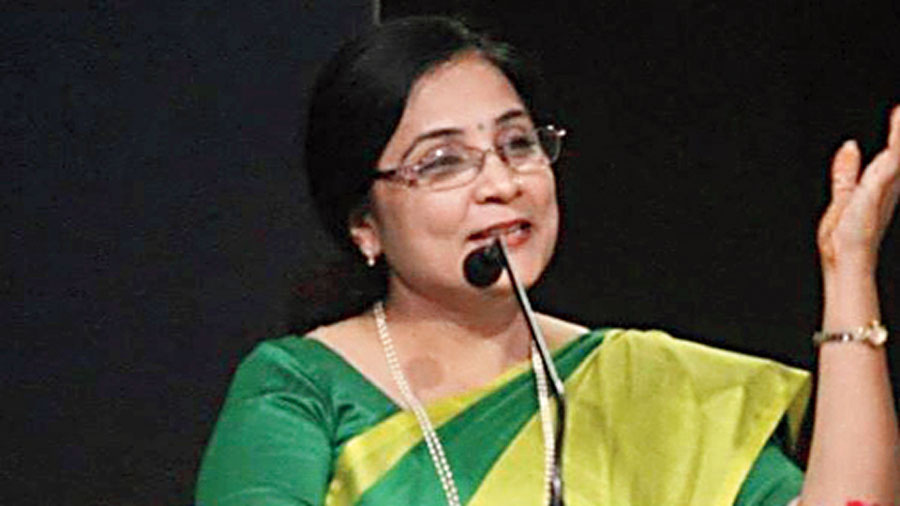 ---
Published 22.06.21, 12:20 AM
|
---
The writer and critic, Suresh Joshi (1921-1986), was one of the most important figures of modern Gujarati literature. Of all his Gujarati contemporaries, Joshi was the most deeply engaged with world literature and the most radically experimental in his writing. By the time he died in 1986, he had created a remarkable legacy, having opened up Gujarati letters to the complex winds of international, post-modern and post-structuralist writing and philosophy.
One of the last major lectures given by Joshi was in Bombay in 1984 and, fortunately, a video recording survives online. In the space of one hour and sixteen minutes, Joshi effortlessly unfurls his vast reading and the acute processing of his erudition. Without any bombast or showing off, Joshi sits on the stage and chats with his audience, softly, often humorously, but without letting the listener off the hook for even a moment with his supple, poetic, yet absolutely lucid, Gujarati, his speech also laced with Sanskrit and English.
Broadly, the theme of the lecture is the rapidly changing nature of human interaction and the place of literature in that exchange. To explore this, Joshi ropes in diverse sources, from the Upanishads to Rilke and Beckett, from the poets, Narsinh Mehta and Mirabai, to Stephen Spender listening to a performance of Tagore's Post Office (Dakghar) on Radio Moscow as bullets fly around him during the Spanish Civil War, from James Thurber to Peter Weiss, from Kurukshetra to the Treblinka death camp. Running through the lecture is a gently articulated but merciless criticism of Gujarati writing that avoids engaging with the serious subjects of the day. At one point, Joshi likens the producers of this writing to clueless children who have understood nothing of the life around them. Also taking the Gujarati press to task, he talks of the journalists' penchant for sensationalizing every news item. Joshi points out the prevalence of pretend sanskar and the widespread shallowness of so much theatre, art and music before coming back to fiction and poetry that shy away from saying anything that is unpalatable to a popular readership or is questioning of authority.
It's particularly instructive to listen to this talk now in the context of the tremors set off by the poem, "Shav-vahini Ganga", by the Gujarati poet, Parul Khakhar. By all reports, Khakhar was someone well-recognized for her skilful, light verses in Gujarati geet and ghazal, which were very far from post-modern explorations or politically-engaged poetry. No one expected her virtuosity to be deployed to express rage and disgust towards the current political heroes of numerous middle-class Gujaratis.
The fourteen short lines by Khakhar have become a cannonball of Gujarati script. They begin thus: "In unison, the corpses cry out/ 'All is great, all is lekker!'/ O Leader! In your Ram Rajya/ There's a new hearse/ The corpse-carrying Ganga." The poem is written in the traditional marasiya form, a lament of rage at the loss of a loved one. In Gujarati, the addressee throughout is "Raj", which would nominally translate to 'King' or 'Lord' (in the sense of a feudal aristocrat) but here it's worth unpacking the address: "O Big Man! Your burning grounds are over-full/ Your kindling piles now ash/ Potentate! We're out of pall-bearers/ Out of mourners, we're out of tears./ The Death Detail dances at every door/ O Ruler! In your Stiff-lipped Reich/ The Cadaver River Ganga." Khakhar freely uses Punjabi with the direct reference to "Sab changa si" just as she references Billa-Ranga, both of which rhyme with Ganga, but in English one is obliged to transcreate: "O Chief! Your chimneys belch, begging for respite, a break/ Our bangles are smashed, our hearts pulped by ache./ The fiddlers play while watching the blaze —/ The gang of two celebrating Good Days/ O Duce! In your Model Dominion/ Flows the body-clogged Ganga."
In his 1984 talk, Suresh Joshi brings up things that now seem eerily prescient: he mourns the shrinking of language and vocabulary and its corollary — the shrinking of thought and empathy; he speaks of those 'victors' who want to keep people subservient, who "snatch language from people"; he speaks of Kundera's warning of the tank of Russian language trampling over the Czech language and connects it directly to what he calls "Hindi Imperialism" trying to trample other Indian languages; he scoffs at the people trying to claim that the Taj Mahal was originally a Hindu monument just as he laughs at those who claim that everything already existed in "Praachin Bharat": "Yes it was all there, all the different kinds of paap [sin] in the Mahabharat — we haven't been able to emulate them all yet." In an obvious reference to Orwell in 1984, he speaks of the writer's need to speak up and the dangers of mutely living in fear. Joshi refers to the deal offered by the powers that be to the writer: "We'll recognize you, fete and felicitate you, but on one condition that as a writer you should not speak about anything remotely serious or political."
In response to the trolling and vicious attacks she has faced from the BJP-RSS and its puppet minions since "Shav-vahini Ganga" went viral internationally, Khakhar has written another poem, "Tare Bolvanu Nahi (You are Not to Speak)", the second stanza of which goes: "You are hereby commanded:/ Cut out your tongue; leave it behind/ Even you will be hailed/— as long as you don't speak."
Suresh Joshi would have been saddened at how accurate his predictions have proved to be when he warned that if we in India continued like this we would enter an Upanishadic dark age; "We are literally on the verge of it," he says in his talk, before imagining a Gujarat where it would become a crime for a writer to have read Kafka. But despite all of this, he would have been heartened by the resonance Khakhar finds from readers in different languages when, in "Shav-vahini Ganga", she writes: "Someone with a spine come and say it: 'my wannabe Emperor is naked.'"
(Translations of the poems are by Ruchir Joshi)