Paradox day
That the Constitution is under acute stress in India was barely evident in the prime minister's speech on Samvidhan Divas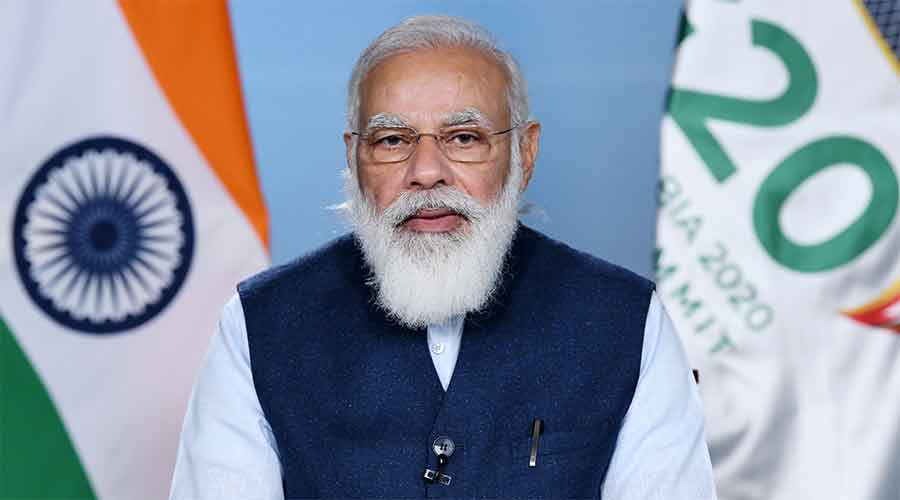 ---
Published 29.11.20, 12:37 AM
|
---
The Union government proclaims its devotion to the Constitution. In 2015, B.R. Ambedkar's 125th birth anniversary, it marked November 26 as Constitution Day to promote constitutional values among citizens. This Samvidhan Divas, the prime minister emphasized the importance of duties in the Constitution, which Mahatma Gandhi was keen on, perceiving a close link between duties and rights. Invocations to Gandhi and Ambedkar infused with righteousness Narendra Modi's message to citizens that rights were safeguarded when duties were performed. Maybe the meaning of that was being demonstrated that very day by the barring of farmers from entering Haryana on their way to Delhi to ask for changes to the new farm laws, such as the inclusion of a minimum support price. Were they failing in their duty of compliance?
The new farm and labour laws were rammed through Parliament in September amid the Opposition's protests, suspensions and subsequent boycott. The government ignored the Opposition request for review of the agriculture bills. That procedure was ignored at every level is not novel. Parliament, where the legislature checks and balances the power of the executive and on whose steps Mr Modi touched his forehead — as holy as the Ram Mandir? — when entering it as prime minister designate in May 2014, is becoming irrelevant. In its first stint, for example, the Bharatiya Janata Party-led government, among many actions, got electoral bonds — making election funding opaque — passed through a money bill to avoid the Rajya Sabha's scrutiny. Having returned in 2019 with the advantages reaped by its step-by-step dismantling of constitutional requirements, the government could scrap Article 370 for Jammu and Kashmir, say, or kill question hour in Parliament.
The approach is multi-pronged. Depriving institutions such as the Central Information Commission of their independence or silencing dissent with violence — sometimes lethal — and imprisonment accompanies the turning of secularism into a bad joke by means ranging from murders by cow vigilantes and threats against interfaith marriages to citizenship laws that corner a minority community. The Supreme Court's reluctance to countenance cases under Article 32, which Ambedkar believed to be the 'soul' of the Constitution, is unnerving in this situation. Is it coincidental that the Rashtriya Swayamsevak Sangh and the Hindu Mahasabha found nothing 'Bharatiya' in the democratic, secular Constitution and demanded instead the Manusmriti's laws — by which 'Shudras' served meekly as did women? The first president of the Hindu Mahasabha met Mussolini and realized that militarizing Hindu society on the lines of youth organizations in Germany and Italy was most desirable. He liked the RSS for beginning the job. That is the meaning of 'Bharatiya'.
So when Mr Modi called for 'one nation, one election' in his discourse on the Constitution, he was probably talking of one unfamiliar to its makers. Consequently, his desire for harmony among the executive, legislature and judiciary would carry new meaning. To retrieve the Constitutional edifice, people must act — now. It is getting late.