One Rahul, many Gandhis: What the Congress chief needs to focus on
Some say other candidates named Gandhi have been fielded in Wayanad by rivals to confuse voters. But does it matter?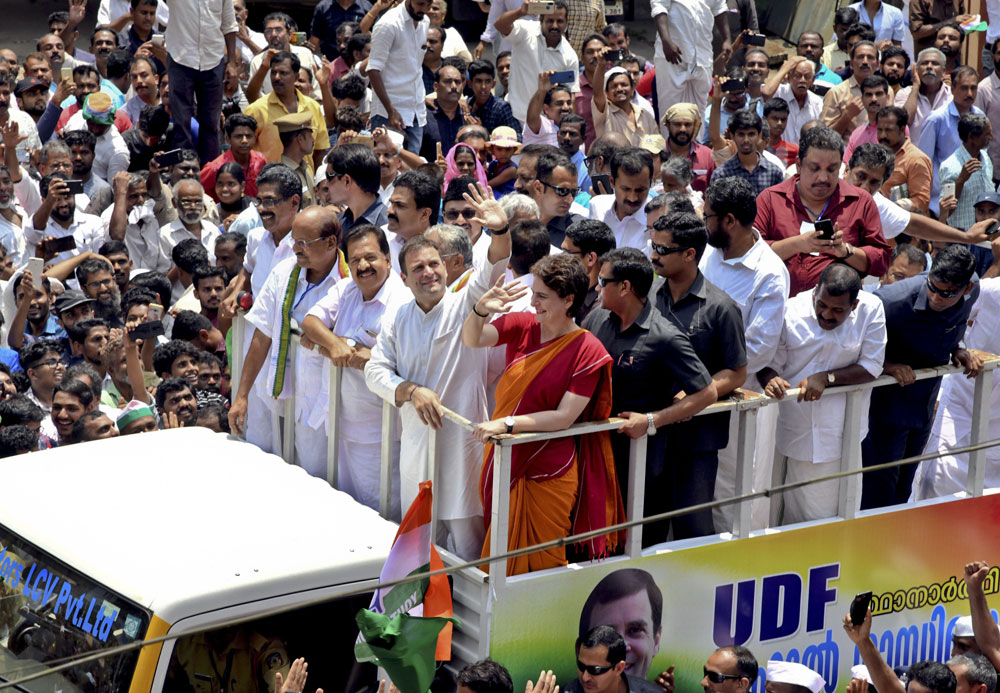 ---
---
Wayanad, verdant but violent — deaths caused by rogue elephants are not uncommon — votes today. This politically afebrile constituency located in northern Kerala has been subjected to a different kind of trumpeting ever since the Congress president, Rahul Gandhi, chose Wayanad as his second seat — Amethi, predictably, being the other one — for this year's general elections. Gandhi's decision, his party insists, is driven by electoral math. Wayanad is located at an important intersection, bordering the seats of Nilgiris and Theni in Tamil Nadu and Chamarajanagar and Mysore in Karnataka. The Congress believes that Gandhi's candidacy could create a ripple effect for the party's candidates in all three states.
The Bharatiya Janata Party is not a force to reckon with in Wayanad. The Bharath Dharma Jana Sena has thus been pitched to represent the National Democratic Alliance. But the BJP, characteristically, has not missed an opportunity to take potshots at Gandhi. He has been accused of fleeing Amethi, where his fief is being challenged for the second time by Smriti Irani. An avuncular Election Commission is yet to do anything about Amit Shah's insinuation that Gandhi's choice has been influenced by communal considerations. "When a procession is taken out there [Wayanad]," thundered the BJP president, "it is difficult to make out whether it is an Indian or a Pakistani procession." It was Shah, as is his wont, who was putting a majoritarian spin to his argument by wilfully ignoring Wayanad's demographic reality. Hindus dominate Wayanad's electorate at nearly 50 per cent, with Muslims accounting for a little over 28 per cent. Cold statistics torpedoed yet another of Shah's visions in which he spotted a 'sea of green flags' of the Indian Union Muslim League on the day Gandhi visited Wayanad to file his nomination papers.
The ugly spray generated by adversarial politics seems to have misted the public eye, causing it to pay scant attention to some of Gandhi's lesser-known opponents. They are, incidentally, planning to compensate for their political irrelevancy with a potent weapon — a surname that is feted and, in New India, reviled in equal measure. Four of the 22 candidates in the fray in Wayanad are 'Gandhis'. Apart from the Congress president, there is K.E. (Rahul) Gandhi, a student of linguistics from Kottayam; K.M. Shivaprasad Gandhi, a resident of Thrissur, is a teacher; K. (Raghul) Gandhi, a social worker from Coimbatore, is being supported by the nearly anonymous All India People's Party. Sources in the Congress allege that the three other Gandhis have been fielded by Rahul's opponents to confuse voters. It is difficult to dismiss the charge. Independents, euphemistically speaking, are satellites who seek to bask in the reflected light of bona fide public representatives in India's political firmament. However, they have been known to eclipse their illustrious rivals on occasions. Nine years ago, P.A. Mohamed Riyas of the Communist Party of India (Marxist), battling three namesakes, lost to his opponent from the Congress because the Independent triplet succeeded in eating into a chunk of Riyas's votes.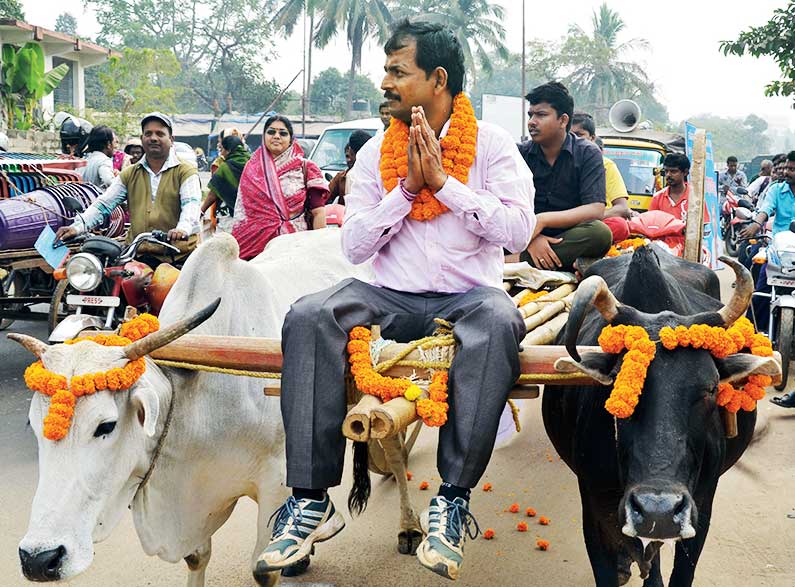 Are Independents then doomed to servitude in their role of electoral dummies? Having compared data before and after the EC decided to substantially raise the security deposit that makes candidates eligible for elections, two academics from the University of Calgary came up with some interesting findings that were published in an American journal. Their data revealed, for instance, that Independents play a pivotal role in directing the attention of voters to issues that are ignored, often intentionally, by representatives of major political parties. Independents also willingly enter an arena where the odds are stacked against them to uphold moral principles. This year, Firoz Khan Pathan — he survived the butchery in Gulbarg Society during the Gujarat riots — has decided to take the fight to Amit Shah in Gandhinagar as an Independent. Firoz's intention, apparently, is to make democracy representative: there were, after all, only 22 Muslim MPs in the 16th Lok Sabha. But Firoz's sincerity has been brought into question. Perhaps this has to do with his falling out with Teesta Setalvad, who has been fighting a long and bruising battle for justice for the victims of the riot. But what cannot be doubted is the argument that Independent candidates can provide parliamentary democracy with a space that is conducive to alternative politics and policies.
Another set of findings of the Calgary duo is as illuminating. Independents, they argue, deepen public knowledge of issues, consolidating the collective demand for political representatives to be more responsive to the needs of their constituencies. Again, a healthy voter turnout appears to be determined by the number of Independent contestants. There has been a perceptible decline in the number of Independents participating in India's general elections. Over 10,000 Independents had fought the Lok Sabha polls in 1996; eighteen years later, in 2014, the figure was only 3,234. A steep security deposit fee — the sum is Rs 25,000 for candidates from the general category — for the Lok Sabha elections may have not only affected voter turnouts but also resulted in reducing elections — the beating heart of democracy— into a monopoly of the affluent.
India's institutions, including the EC, have been dismissive of the possibilities that Independent candidates hold for a democracy. Both the 255th (2015) and 170th (1999) reports of the Law Commission on electoral reforms argued in favour of minimizing the participation of Independents in elections, echoing the National Commission to Review the Working of the Constitution, which alleged that those unaffiliated to registered parties are largely noncommittal to their responsibilities and only seek to compete to fragment the vote.
Over the years, Indian voters have agreed with the scathing assessment of these august institutions. Between 1951 — the year India held its first ever general election — and 2014, nearly 98 per cent of Independents forfeited their deposits. The slide in the success rate of Independents has been equally precipitous — 6.9 per cent in 1951 to 0.1 per cent in 2014.
But these depressing numbers cannot be relied upon to assess Independent politicians objectively. Their importance can be deduced from the striking anomalies they reveal in ideas and praxis associated with democracy. For instance, even as democracy deepens in India, it continues to shrink in terms of electoral representativeness: in 2014, only three among the 3,234 Independents had won against their influential opponents. The narrowing of the field for Independents has an equally damaging corollary: the constriction of choice in terms of issues, ideologies and vision for the voters.
The Independent politician also crystallizes the tension between rights and morality. Electoral participation is an inalienable right for the citizens of a democracy. But this right may not always be vested with moral authority. The transgressions committed by Independents, the source of their opprobrium in the eyes of citizens and institutions, is a testimony to this intriguing mismatch between rights and righteousness.
But can this incongruity alone explain the demonization of Independents? The problem could be deeper, more fundamental, in nature. The conception of partisanship is integral to parliamentary democracy. Partisanship, in this context, does not refer to prejudice; it alludes to fidelity to a party and its ideology. An Independent, ostensibly committed to the principle of neutrality, the holder of middle ground in a deeply polarized territory, is, to the Indian mind, a non-partisan, an enigma, representing a kind of an ideological void, to be wondered at but seldom elected to Parliament.
Rahul, thus, has no reason to lose sleep over the Gandhis. He can devote his energies to the spectre that threatens to wrench India from the ideals espoused by the original, and inimitable, Gandhi.