On your marks, get set, go
French satirical magazine Charlie Hebdo has released a cartoon, which depicts Queen Elizabeth II with a knee on Meghan's neck, a sight reminiscent of George Flyod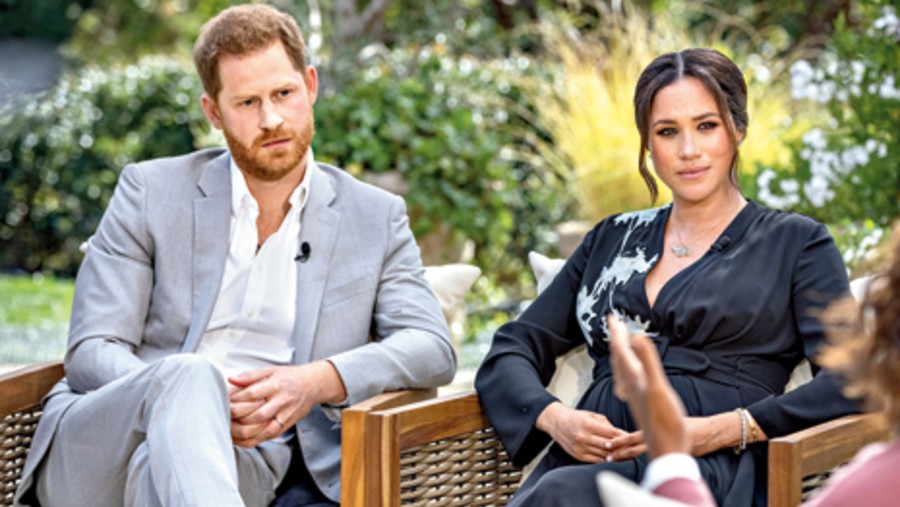 ---
---
Reacting to Meghan Markle's recent Oprah interview about being subject to racism from within the British royal family, French satirical magazine Charlie Hebdo has released a cartoon. It depicts Queen Elizabeth II with a knee on Meghan's neck, a sight reminiscent of George Flyod, the African-American man who was murdered by policemen in Minneapolis in the United States last year. Now, shock and outrage are both socio-culturally embedded reactions. Some people think nothing of smashing weavers' thumbs to reduce to smithereens a rival's industry, or letting a people starve because they anyway "breed like rabbits", or conducting nuclear tests in lands known to be inhabited, and there are others who think nothing of forbidding a community from going about their business by daylight because even their shadows "pollute", still others feel it is justified to flog in public view honest men going about their business of skinning a dead animal. Expectations of shock and outrage and how one negotiates them are typically shaped by one's awareness of the past and equally of the present.
Good Morning Everybody
Leave aside the royal family mess; focus only on the 'R' word. Meghan Markle's recent disclosures, as well as the outpouring of shock and outrage from a global audience on her behalf are proof of a willing suspension of historicity and societal norms. Oprah Winfrey went "WHAT?" Tennis legend Serena Williams dubbed Meghan "noble" and "selfless". The US Vice-President's niece, Meena Harris, also roared in support of Meghan. And then there was the other set who debunked Meghan's allegations altogether. In Britain, TV personality Piers Morgan quit his show, Good Morning Britain, after coming under criticism for calling Meghan a liar. Indian actor and talk show host Simi Garewal too faced a backlash. She had said, "I don't believe a word… She is using the race card to gain sympathy." And the young American poet Amanda Gorman tweeted, "Meghan was the crown's greatest opportunity for change, regeneration, and reconciliation in a new era."
Who is racism-proof?
If there is any take away from what Meghan said, it is this ‑racism is not class-proof. It is not status-proof. It is not achievement-proof either. Yes, the degree of attention it elicits and the criticism it merits might vary with these things, but no one gets a free pass. Former first lady of the United States Michelle Obama just about got it right when she said, "… race isn't new construct in this world… so it wasn't a complete surprise to hear her feelings…"
It wasn't. Really.