Notre-Dame de Paris: Adding fire to fuel
The government is worried about violence during the weekend protests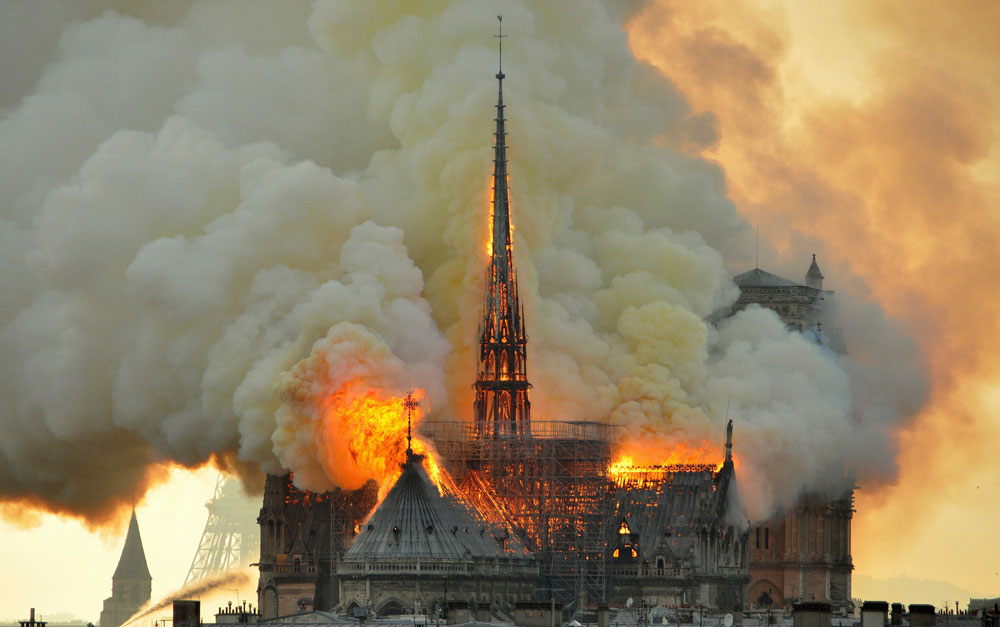 ---
Published 21.04.19, 04:07 AM
|
---
An hour before Notre-Dame Cathedral went up in flames, French President Emmanuel Macron was supposed to address the nation and assuage a people angry with his policies, not entirely uncaring of the impending EU elections. In 2017, when Macron assumed charge, it was hoped that he would "reignite French pride and prosperity". During his election campaign he had promised a "democratic revolution" against a "vacuous" political system. And then he got cracking and imposed taxes on petrol and diesel. (Mind you, within months of taking the hot seat, Mr President had scrapped the wealth tax, a levy that has previously led thousands of France's rich French families to move out.) The idea behind the fuel tax was to discourage fossil fuel consumption. Macron is very, very dogged about environment. But before France turned greener, it took on a jaundiced pallor. An outraged group of people — the Yellow Vests — already saddled with other taxes and struggling with all sorts of economic issues took to the streets in protest. (The yellow vest movement takes its name from the eye-catching yellow vests or les gilets jaunes that the protestors wore.)

The Republic is on the move
Macron's political party is called La République En Marche. It means the republic is on the move. Macron's gilets jaunes speech was postponed because of the Notre-Dame fire. The yellow vests, however, are continuing with their protests this weekend. As one billionaire after another pulled millions of dollars out of their pockets to help restore Notre-Dame, and the President made a televised address to the nation, promising to rebuild the cathedral, the people burned with anger and a sense of neglect. "It took him less than 24 hours to speak about the fire, while he made us wait for three weeks before addressing our issues," Ingrid Levavasseur, a founding leader of the movement, told The Associated Press.
Because you're worth it
The grieving for Notre-Dame has been put aside now. The French government is worried about any violence that may break out during the weekend protests. The Red Scarves and the Blue Vests have emerged in the past few months. In a joint manifesto, they said earlier this year, "We denounce the insurrectional climate installed by the Yellow Vests." Between the LVMH Group, Kering and L'Oreal, $565 million has been pledged for Notre-Dame. And then there are the smaller cheques — $113 million from oil and gas company Total, $1.1 million from Capgemini. François-Henri Pinault, the CEO of Kering, said in a statement: "This tragedy is striking all the French people, and beyond that, all those attached to spiritual values. A certain Monsieur Hugo once wrote in Les Misérables, "To love another person is to see the face of God." He also wrote The Hunchback of Notre-Dame.