Porous borders
The northeastern states seem prone to using force to reverse possession of disputed boundaries as well as to defend their possessions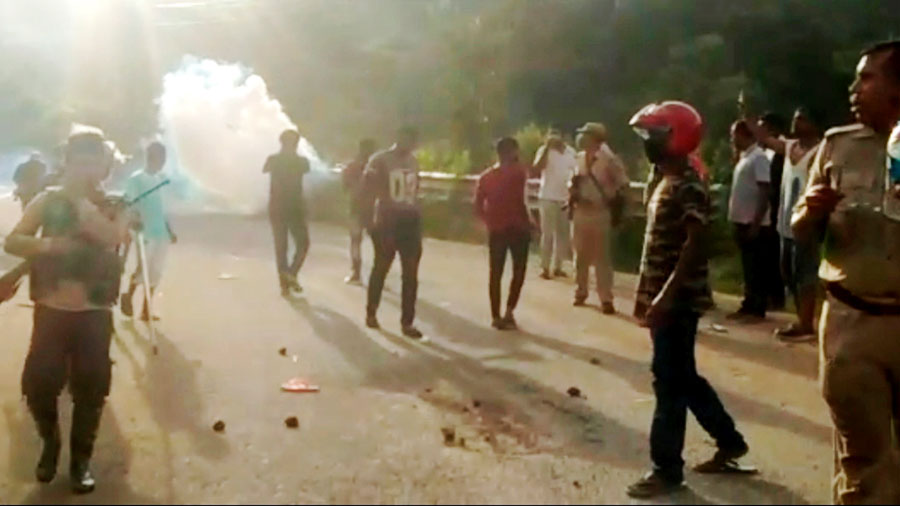 Six Assam Police personnel were killed and over 50 people, including the Cachar SP, were injured in an inter-state border clash between the two northeastern neighbours on July 26.
File photo
---
Published 31.08.21, 12:45 AM
|
---
The reorganization of the Northeast and the creation of new states between 1963 and 1987, all carved out of Assam, left behind unresolved boundaries. The disputed lands have both symbolic and substantive value — natural resources coveted by revenue-deficient states, lush forests with lucrative timber and so on. All these factors combined make for competitive electoral subnationalism. When politicians ignite passions to boost vote banks, one can see why two state police forces of the same country would attack each other.
On a visit to Vairengte, after a clash left six Assam policemen dead and scores injured on both sides, three facts became clear. First, the Assam police crossed the buffer zone manned by the Central Reserve Police Force on July 26 and took over the Mizoram police camp at Vairengte. Assam thus tried to revert the status quo by force. Second, the Mizoram policemen, evicted from the Vairengte camp, took positions on the hills around it and, after a brief warning, opened fire on the Assam policemen, inflicting heavy casualties. Third, Assam retaliated with a punishing economic blockade, leading to huge scarcity of essential commodities, especially medical supplies, at a time when Mizoram is battling a particularly vicious wave of Covid-19.
The northeastern states seem prone to using force to reverse possession of disputed boundaries as well as to defend their possessions and resorting to inhuman measures like economic blockades when crossed. Assam has a border problem with all states carved out of it. The 1985 Merapani border clash between policemen from Assam and Nagaland led to more than 40 deaths.
Assam and Mizoram returned to the peace table after the Union home minister, Amit Shah, intervened. The two sides have agreed to avoid forward patrolling at disputed points, leaving Central forces to take care of the buffer zones. Assam has also lifted the economic blockade. But tempers are still frayed. Despite the belated peace overtures by both governments, it will take a lot of oversight from Delhi to avoid another such clash. Shah had indicated to chief ministers of the northeastern states to resolve boundary disputes before India turned 75 next year. But within days, intrusions were reported along Assam's borders with Meghalaya and Arunachal Pradesh as was the clash along the Assam-Mizoram border. This is not enough; enforcing is the key.
A joint action committee in Mizoram, led by civil society leaders and backed by all major political parties in the state, has called for a comprehensive boundary commission to resolve the border dispute. A commission helmed by Supreme Court judges and backed by experts can then work out a boundary acceptable to both sides. That is easier said than done.
Visiting the disputed areas this month, immediately after the clash, one saw the Assam forest department planting teak in the mountains of I-Tlang, with displaced Mizo shifting cultivators complaining about the loss of jhum pastures handed down to them by their ancestors. Assam's pitch for constitutional boundary and the Mizo idea of cultural boundary are different: one is a document-backed possession with clearly demarcated plots, the other a loose, mobile idea of community ownership with possession determined by traditional use.
Trouble is that both sides are right in their own ways, pointing to a need for reconciliation of not just boundaries but also the outlooks towards borders. Mizoram's home minister, Pu Lalchamliana, is not optimistic about the outcome of boundary commissions. He insists that any resolution should be based on 'give and take', pointing to bilateral negotiations overseen by Delhi. When the Mizos noisily celebrated the achievements of the Indian women's hockey team and the local girl, Lalremsiami, it seemed that the days of insurgency were a distant memory. But border clashes and economic blockades ignite those passions and do not augur well for India's global image.