Nirmala Sitharaman's laughable logic
Unlike what the finance minister thinks, there is no correlation between buying a car and hiring a taxi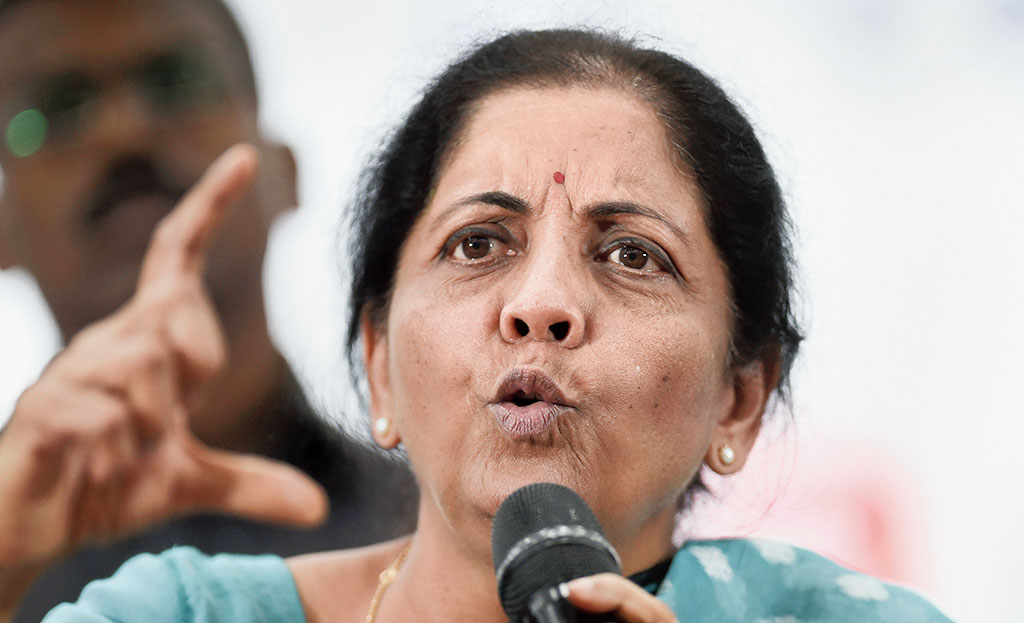 ---
---
Sir — The reasons provided by the Union finance minister, Nirmala Sitharaman, for the slump in sales in the automobile industry elicited a lot of laughter ("Serious problem", Sept 13). Sitharaman said that one of the factors contributing to the slowdown is the preference of the millennial generation for app-based cab services such as Ola and Uber instead of buying a car and paying monthly instalments for it. This, however, is not true. Uber was introduced in India in 2013, and Ola started operations years before that. If Sitharaman's diagnosis were correct, would this not have made a difference to the automobile sector much earlier? There is no correlation between buying a car and hiring a taxi.
Moreover, in many Indian cities, such modes of public transportation are either rare or have not been introduced. Siliguri is treated as a central arrival spot for tourists who wish to visit different parts of North Bengal; most of these people prefer to hire cars from private taxi operators. Then there is the cumbersome process of registration with the district or regional transport authorities, a system that has existed for decades. The Union government should accept its failure as far as the automobile sector is concerned and implement some pragmatic measures to tide over the crisis.
Sebastian Kujur,
Siliguri
Sir — Nirmala Sitharaman should investigate the real reasons behind the auto industry slump and solve the problems that force people to avoid buying cars. Some of these problems include high fuel costs, the terrible condition of roads which causes great damage to cars and the high prices of spare parts. Unless the government addresses these issues, fewer and fewer people will buy cars, and will opt for app cabs instead.
In any case, the latter are more economical. Moreover, people's awareness about growing pollution — to which auto emissions are big contributors — has increased.
Debasish Mukherjee,
Calcutta
Deep hunger
Sir — Even though food production in India is abundant, vast numbers of the population go hungry every day. In 2017, the National Health Survey reported that around 4,500 children under the age of five die every day from hunger and malnutrition. As such, it was heartening to read that the Supreme Court is examining a petition for opening community kitchens in all states to ensure that cheap or free nutritious food is available for the hungry. The concept of soup kitchens is already popular in the West. If such an initiative is implemented, the government must ensure that the kitchens are regularly monitored.
In spite of numerous anti-malnutrition programmes in the country, poor implementation and corruption ensure that hunger levels remain high. It is also true that large quantities of food from restaurants and parties are thrown away instead of being given to the needy. Those of us who are privileged often do not realize that leftover food, if distributed among the poor, may provide at least one meal to someone who needs it.
Kiran Agarwal,
Calcutta
Stupendous win
Sir — Afghanistan deserves to be lauded for winning the one-off Test match against Bangladesh by a massive 224 runs. The Afghan leg spinner, Rashid Khan, who captained the match and became the youngest Test skipper ever, was rightly declared the Man of the Match for his haul of 11 wickets.
For a country sharply divided along lines of ethnicity, Afghanistan's cricket team has been a great unifier for the people. The squad has taken giant strides in the game since 2008, when it was admitted into Division V of the World Cricket League, which is considered to be the lowest rung in the cricketing hierarchy.
The war conditions that many Afghan cricketers witnessed during their youth were horrific. They endured great hardships and became the kind of cricketers who could play in difficult conditions. Many players such as Asghar Afghan, Mohammad Nabi and Mohammad Shahzad honed their skills at refugee camps across the border in Peshawar. A number of them grew up in such camps in Pakistan, and some could not even make ends meet or say for certain whether they would live to see another day. They had nothing but an unflinching desire and a common will to see Afghanistan play cricket on the world stage. The team's rapid rise in international cricket has been astonishing.
Ranganathan Sivakumar,
Chennai
Perilous act
Sir — 'Influencers' on Instagram use the social media platform to attract followers, 'likes' and sponsors. However, this practice must be questioned when such people willingly endanger their own lives — and, by extension the lives of followers who wish to emulate them — by posting photographs of risky stunts simply for attention. Recently, Kelly Castille and Kody Workman, a couple with an Instagram profile, were rightly castigated for posting a picture showing Castille hanging precariously off a cliff. Should not the power to influence people be tempered with a sense of responsibility? Instagram is known to screen objectionable content; such pictures should fall within that purview.
Farah Noorani,
Mumbai