Great Indian sale of its wilderness
The National Board for Wildlife is meant to provide essential checks and balances to protect wildlife, but a more apt title for it would be 'National Board Against Wildlife'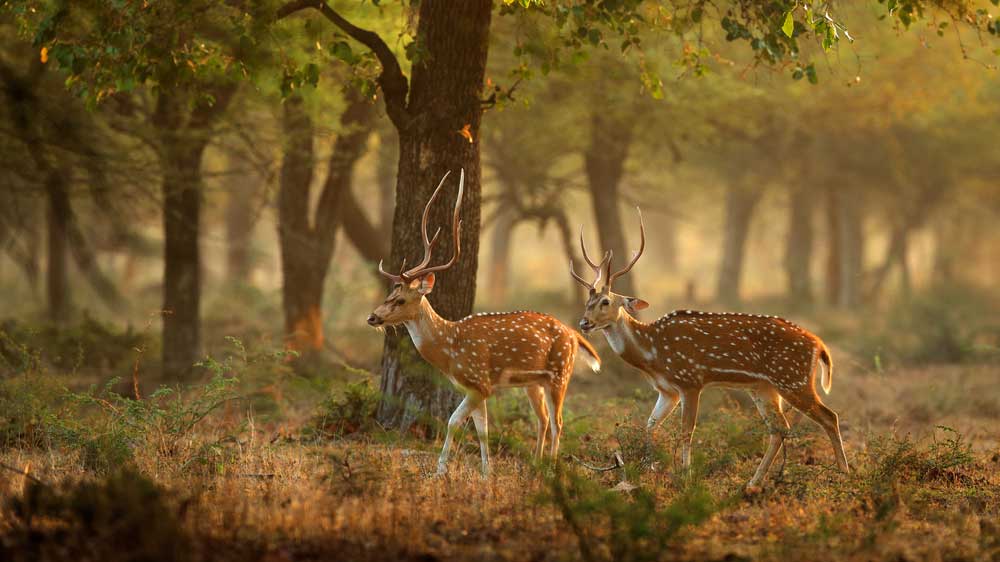 Representational image.
Shutterstock
---
Published 23.09.21, 12:35 AM
|
---
In a meeting held on August 2021, the Standing Committee of the National Board for Wildlife, chaired by the Union environment minister, Bhupender Yadav, took a decision to levy 2 per cent of the proportionate cost of projects falling inside protected areas and eco-sensitive zones on user agencies, thereby legitimizing infrastructure and development inside a national park or wildlife sanctuary. You could, for instance, have a six-lane highway tear through, say, Ranthambore National Park as long as you coughed up 'compensation' for the fact that a pristine forest would be destroyed and fragmented and wild animals — from tigers to bears to snakes — killed by speeding vehicles.  
Leaving aside the obvious matter of wildlife not having any use of money (as was commented upon in a SC-NBWL meeting that I was part of), in taking this decision, the Standing Committee, a core working group drawn from the larger body of the NBWL, contravenes both the letter and the spirit of the law it draws powers from. Section 5C of the Wildlife (Protection) Act, 1972 mandates the NBWL to promote the conservation and development of wildlife and forests, a duty further strengthened by various court judgments, including one in 2013 where the Supreme Court laid emphasis on the board's role "to frame conservation policy and advise governments on promoting wildlife conservation".
The board, however, is doing anything but that: so much so that in my book, The Vanishing, I termed it the "Notional" Board for Wildlife. The environment lawyer, Ritwick Dutta, goes a step further, calling the NBWL a "big threat to India's wildlife".
The SC-NBWL is meant to regulate activities in PAs, which constitute barely 5 per cent of India and are the last remaining refuges of our beleaguered wildlife such as tigers, lions, pangolins, floricans, rhinos and so on. Only those activities that benefit wildlife may be permitted. However, between 2015-20, the committee permitted 680 projects within PAs and its eco-sensitive zones. As per an analysis by the Legal Initiative for Forest and Environment, in just one meeting held in October 2020 — ironically during 'Wildlife Week', the SC-NBWL cleared over 1,000 kms of wildlife-rich areas, including the denotification of a chunk of Hastinapur Sanctuary, an excellent riverine habitat which harbours otters, Gangetic dolphins and in its meadows wallows the rare swamp deer. In the first meeting in July 2014 that was held after the Bharatiya Janata Party-led National Democratic Alliance government came to power, it cleared over 130 projects, including a road through the Kutch Wildlife Sanctuary that threatens to destroy the only known nesting site of flamingos in India. Subsequently, it approved the Ken-Betwa river-linking project that would affect about a third of Panna tiger reserve's core area, drowning breeding sites of critically endangered vultures and tigers.
The above is a tiny representation of the litany of destruction that the NBWL has unleashed in a blatant abuse of its power. The minutes of SC-NBWL meetings — I pored over a few recent ones — make for depressing reading: they are an inexhaustible list of decisions that recommend either deleting parts of PAs or diverting land for roads, railway lines, power projects and so on. How these are beneficial to wildlife is best explained by the incumbent NBWL; science, however, establishes that habitat losses and the degradation they cause threaten flora and fauna and can potentially lead to local extinction.
Barely one per cent of projects are rejected; these usually work their way back to the table and are mostly cleared, as was done in the case of a ropeway through Girnar Wildlife Sanctuary in Gujarat in January 2015. This one would mine the cliffs, a death knell for the long-billed vulture — its population has plummeted by 98 per cent — that nest there.
It is not just about the number of clearances; what is even more problematic is the frivolous manner in which they are granted. The decisions are hasty — dozens of projects are cleared in a matter of hours, leaving little room for deliberations. Site visits that provide for detailed and thorough scrutiny of project impacts are scant. Some were conducted after the approval had been granted, thus defeating its purpose — the possibility of rejecting a project if ground surveys indicate detrimental wildlife impacts.
During the lockdown, as the country grappled with a pandemic, the business of the NBWL continued through virtual meetings, leaving little room for debate, detailed scrutiny, opinions of experts and other stake holders. Projects cleared in the April, 2020 'VDO meeting' included a highway through the Mollem National Park — part of a global biodiversity hotspot — in Goa and a hydroelectric project that would drown no less than 768 hectares in the eco-sensitive zone of the Binog Wildlife Sanctuary (Uttarakhand), home to rare pheasants and where the now extinct Himalayan Quail was last recorded.
The downfall of the NBWL has been ongoing for at least the past two decades. But of late, it has shed any pretence of conservation, focusing instead on easing the path of 'development' through easy approvals of destructive projects within wildlife parks and sanctuaries. The Great Indian Clearance sale of our natural heritage continues. It hurts to say this for the NBWL is meant to provide essential checks and balances to protect wildlife, but a more apt title for it would perhaps be 'National Board Against Wildlife'.