Narrow vision of Modi govt
Under BJP, swadeshi has turned into rhetoric of exclusion and hatred for others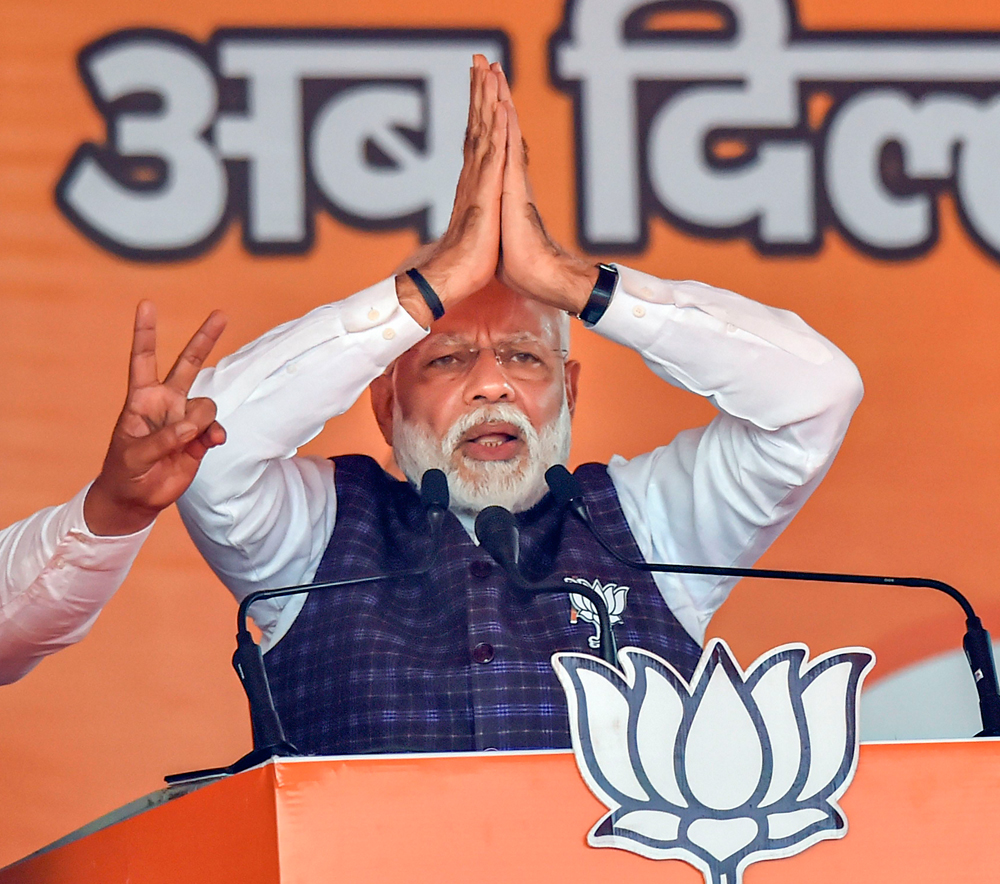 Prime Minister Narendra Modi at an election campaign rally ahead of the Delhi Assembly polls, at Dwarka in New Delhi, Tuesday, February 4, 2020.
(PTI)
---
Published 06.02.20, 06:44 PM
|
---
In the last few years, scholars and intellectuals have raised their concerns over the Bharatiya Janata Party's pursuit of the ideals of Vinayak D. Savarkar and M.S. Golwalkar. The economic policies of the ruling dispensation lay bare its intentions. Under Narendra Modi, India is moving towards an isolationist position by imposing higher tariffs and being sceptical towards free trade and globalization. New Delhi's withdrawal from the Regional Comprehensive Economic Partnership is a recent example.
According to Global Trade Alert, India is the most protectionist nation after the United States of America among the economies comprising the G20. In a report on global trade barriers, the US trade department singled out India as having the highest tariffs "of any major world economy". The echoes of swadeshi, which has deep roots in the thinking of Savarkar and other right-wing intellectuals, resonate in the BJP's trade policies. Swadeshi has social, political and cultural connotations. In its economic aspect, it evokes the nationalist-protectionist sentiment against foreign capital and endorses the promotion and use of indigenous goods.
Savarkar envisaged a highly protectionist State and prioritized the setting up of domestic industries to produce goods to compete with foreign imports. Barring a few exceptions, the BJP has been steadfast in its contempt towards opening up the economy further. It must be remembered that protectionism comes at a cost. Free trade has helped accelerate the integration of economy and business. Studies have found that gross domestic product falls after tariffs rise because of a significant decrease in labour productivity. Protectionism also leads to some unemployment, while the concomitant rise in tariff leads to greater inequality after a few years.
How do protectionist parties then garner public support? Right-wing ideologues have always seen globalization as an attack on cultural identity and specificity. They capitalize on the fear that foreign trade and investment could be the thin end of the wedge for international economic and cultural domination. For it to be politically viable, protectionism is, therefore, cast in terms of national pride and self-sufficiency. Free trade is often associated with the idea of assimilation with such requisites as cultural exchange, individualism, secularization, racial and sexual diversity and so on. Protectionists have succeeded in rallying populations against these elements by portraying them as 'threats' to social order. Protectionism also aims at pacifying voters anxious about the impact of free trade. The BJP, for example, strongly favours protection for small business owners and traders who form its core support base.
Some form of protectionism is, indeed, desirable for the domestic industry. But the swadeshi in the economic thought of the BJP-RSS reflects self-absorption, which, interestingly, is in conflict with M.K. Gandhi's notion of swadeshi that embraces assimilation in the case of the political economy. Savarkar's swadeshi made a distinction between self and other, while Gandhi believed in the eradication of the boundary between the two. Gandhi's rejection of foreign goods was not an expression of antagonism towards other people. In Gandhian thought, swadeshi was more of a sociological theme rather than an economic concept, designed to encourage the wholesomeness of the human essence.
The universalism of the Mahatma's swadeshi should serve as the basis of the moral and material regeneration of India. Far from being a narrow form of economic nationalism, Gandhi's swadeshi was meant to serve the causes of political freedom, justice and equity in their fullest sense. Crucially,
it was devoid of violence. Instead of being emblematic of an economic nationalism that seeks to industrialize India through investment and labour, swadeshi, in the BJP's hands, has been turned into a rhetoric of exclusion and hatred for others.