Mutating virus
What makes love jihad effective is its slippery form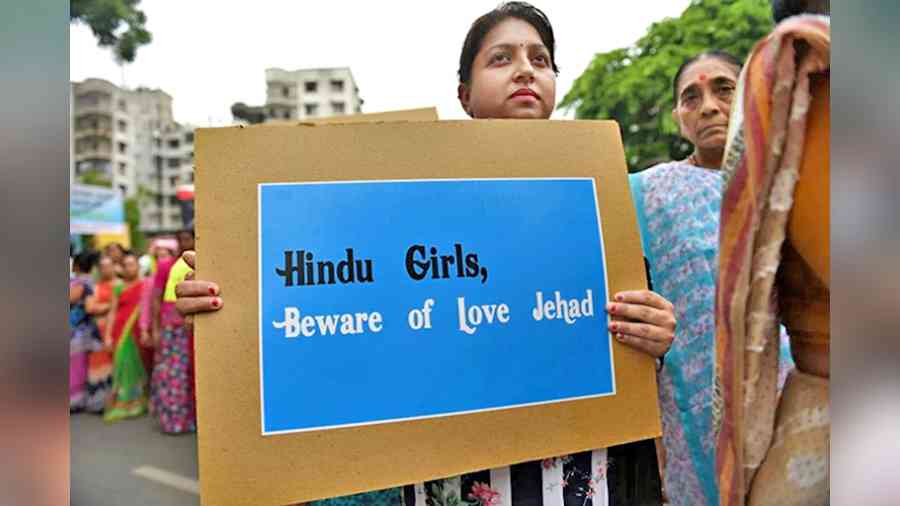 ---
Published 21.01.23, 04:29 AM
|
---
What is 'love jihad'? There is the quasi-formal, barebones definition characterising a widespread conspiracy to lure Hindu women with love and convert them to Islam. In practice though, it is more akin to a phantasmagoria that is Everything Everywhere All at Once, to borrow the title of a recent science fiction blockbuster depicting an absurdist multiverse.
In the Hindutva as well as the mainstream media discourse, love jihad seems to be any instance of a Hindu woman and a Muslim man entangled in a story of a doomed romance. "[W]hen a Muslim man kills a Hindu girl, we will analyse it from the point of criminality and also from the point of love jihad," the Assam chief minister, Himanta Biswa Sarma, has stated explicitly. But it can also be love jihad when the romance is not quite doomed, such as the marriage of Kareena Kapoor (who ended up on the cover of a Durga Vahini magazine as the face of love jihad) to Saif Ali Khan. It can even cover the representation of fictional romance, such as that between Shah Rukh Khan and a saffron garment-clad Deepika Padukone in the movie, Pathaan. Even though 99% of Hindus say they are married within the community (Pew survey), 54% Indians believe in a "widespread" and "organized" love jihad conspiracy (India Today survey) and close to a dozen BJP-ruled states have now passed laws or regulations aimed at curbing the menace of love jihad.
The elusiveness of the meaning of love jihad does not make it, as some critics suggest, a less politically explosive device. A concept, which itself cannot be defined yet can hold together a richness of symbolic associations, is uniquely powerful because it can open the door to a universe of inter-networked meaning.
This kind of fertile conceptual container was theorised by the Brazilian left-wing ideologue, Paulo Freire, as a "generative theme". In his widely influential work, Pedagogy of the Oppressed (1968), Freire formulated a specific method of politicising the working classes towards a "critical consciousness" based on his experiences educating peasants in Chile. The road towards ideological hegemony for the Left did not lie, Freire argued, in a top-down dissemination of doctrine but a socially-rooted discourse emerging out of a participatory dialogue. In this scheme, the role of activists is to facilitate discussions of "generative themes": a word, phrase or a symbol which can act as an ideational seedbed for illuminating many of the political contradictions between 'oppressor' and 'oppressed' (for example, the symbol of an 'abusive boss').
This Freirean framework also lies at the heart of the Hindutva mode of discourse, which is remarkably untethered to fixed ideological doctrines and, instead, flows from the imperative of constantly highlighting contradictions between 'Hindus' and 'Muslims', using the discursive device of generative themes such as love jihad.
The shape-shifting nature of Hindutva's 'thin ideology', unencumbered by a coherent moral/cognitive system of belief, prompted the historian, David Ludden, to remark that "Hindutva may not be one singular thing at all, but rather disparate bits of ideology lumped together by specific groups in specific times and places." Or, as Mohan Bhagwat stated a few years back: "It is not possible to shut ourselves in rigid thinking. That is why 'Sangh's thoughts' are not an ideology. Balasahab [the third chief of the Rashtriya Swayamsevak Sangh, Madhukar Dattatraya Deoras] said that India is a Hindu nation. Apart from that everything can change in the Sangh."
The absence of fixed ideological doctrines is necessary to the construction of Hindu political unity (the overarching ideological principle of Hindu nationalism) because doctrine can potentially act as a lightning rod for intra-group struggles and schisms, especially in a polity marked by deep divisions of caste, language and ethnicity. Hindutva is best understood from the lens of praxis whose essential nature can only be gleaned through studying its discourse and the political action enacted from the discourse.
What are the criteria for a good generative theme in Hindutva discourse?
A good generative theme is a discursive device which unlocks the thematic universe of Hindutva by acting as a blowtorch illuminating all of the fundamental, dialectical contradictions that constitute the paranoid universe of Hindutva. These fundamental contradictions (or shall we say foundational themes) are the following: 'Muslim aggression/ domination vs Hindu passivity/subjugation'; 'Muslim demographic expansionism vs Hindu demographic decline'; 'shared Muslim consciousness vs divided Hindu consciousness'; 'Muslim separatism vs Hindu patriotism'. A few examples of Hindutva generative themes can be 'Babri Masjid', 'Muslim appeasement', 'Islamic terrorism', 'Kashmir'. The difference between a generative theme and a political issue lies in the capacity of the former to break down into multiple foundational themes under sustained interrogation. Cow slaughter and religious conversion, which mostly explicate a singular contradiction, therefore, can be seen as potent political issues but not as generative themes. The power of love jihad lies in its capacity for creative interlocking with all of the four foundational themes.
What makes love jihad such an exquisite linking frame not just for revealing the patterns of all of these foundational themes but also for fusing them together in a universe of networked meaning? The answer lies in its symbolic fertility: love jihad can be associated with the theme of 'Muslim aggression vs Hindu passivity' (the construction of a hyper-masculine Muslim subject); the theme of 'Muslim demographic expansion vs Hindu demographic decline' (its linkages with religious conversions); the theme of 'shared Muslim consciousness vs divided Hindu consciousness' (the construction of an organised conspiracy of a monolithic Muslim Other, preying on the Hindu nations' weak flanks of Dalits and tribals, hence the exemplary punishment accorded when 'victims' belong to the latter category); and 'Muslim separatism vs Hindu patriotism' (the represention of love jihad as a metaphorical violation of the purity of Bharat Mata).
Consider the following revelatory passage by the right-wing columnist, Sharmi Adhikary, in the RSS mouthpiece, Organiser, in an article expounding on the "Cinematic Promotion of Love Jihad": "But what explains the [love jihad] trend repeating itself! When the perpetrator is always from the same religion and the victim from an identified target! When the means are conniving and the end is directed at annihilation, can we continue dwelling in denial? Won't we bother about the attacker and the attacked? Who earns and who pays! And on what diktats is this mechanism based? What is the modus operandi or the mood behind them!"
Assume, for a moment, that love jihad is a real phenomenon. Now make an attempt to answer the set of questions posed by Ms Adhikary above. You would be hard-pressed to give a coherent explanation without according some validation to most of the above foundational themes.
Generative themes such as love jihad are posed as hydra-headed puzzle problems for a reason. The French sociologist, Pierre Bourdieu, argued that no linguistic product can be intelligible without investigating its socio-historical genealogies. In the case of generative themes, such an interpretative process tends towards a comprehensive and open-ended exploration. Local RSS pracharaks not only instantiatelove jihad to concrete cases but also graft the concept into their particular socio-cultural milieu. In Jharkhand, Hindutva ideologues frame love jihad as a Muslim assault on tribal land through the entrapment of their women. In Kerala, the RSS has fused love jihad and Islamist violence, using the galvanising story of a few converted women who went abroad to join the ISIS. The whole landscape of cultural products — movies, songs, poetry, advertisments — is combed every day by right-wing social media warriors obsessed with detecting any radioactive trace of love jihad.
The import of generative themes can also be gauged from their role in the construction of a charismatic Hindutva leadership. The discourse of generative themes dovetails seamlessly into the yearning for a redemptive leader strong enough to solve the intractable puzzle problem posed by the themes. Much like L.K. Advani rose on the wave of 'Babri Masjid' and Modi on the post-9/11, post-Godhrawave of 'Islamic extremism', Yogi Adityanath has risen on the wave of love jihad as the principal redemptive figure of the generative theme that has most stimulated the Hindu nationalist imagination over the last decade. It is no longer a conspiracy theory which suggests a worldview at odds with the commonsensical understanding of social realities or with a shared normative paradigm. Instead,it is closer to the dominant expression of the national zeitgeist.