Mind the gap: A flawed Kashmir policy
Changing lieutenant-governors periodically is not the answer to the Valley's growing alienation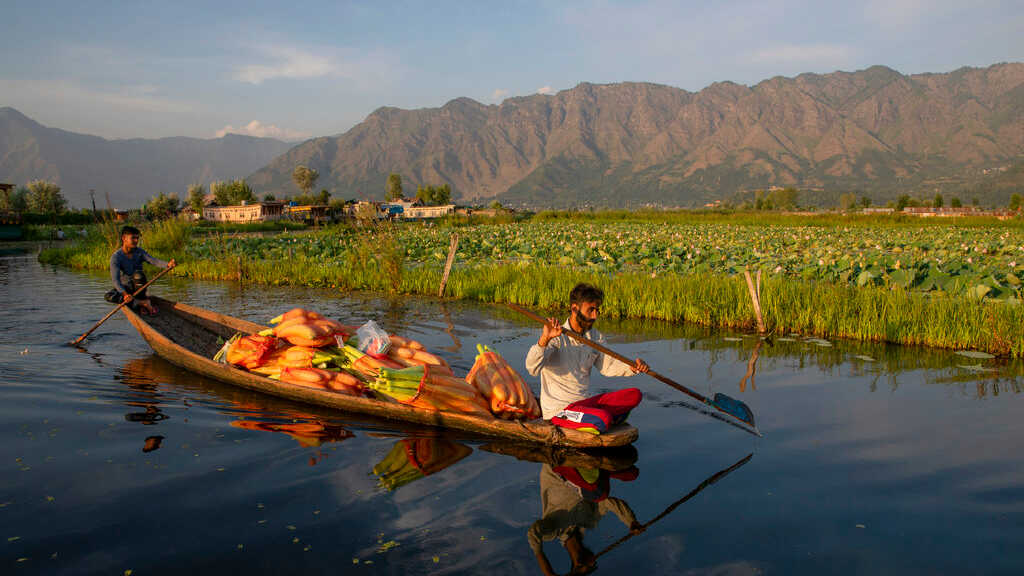 Kashmiris row their shikara filled with vegetables on the Dal lake in Srinagar, Friday, Aug. 7, 2020.
AP Photo/ Dar Yasin
---
Published 11.08.20, 01:11 AM
|
---
Vox populi — the voice of the people — should ideally be the kernel in the fruit of democracy. A polity sans the political agency of the people is thus the very antithesis of democracy. It is being argued that the appointment of Manoj Sinha as the new lieutenant-governor signals a political outreach on the part of the Narendra Modi government to Kashmir's people and political parties. Mr Sinha is a seasoned politician; he replaces a bureaucrat who has not exactly distinguished himself when it comes to ushering in normalcy in this restive Union territory. But it takes two to engage in constructive political dialogue. Kashmir's political system is in tatters. Some of its principal leaders remain in detention. Mehbooba Mufti of the Peoples Democratic Party, with which the Bharatiya Janata Party shared power briefly, is the most prominent example. Others — the National Conference's Omar Abdullah — may have been released from detention but remain enfeebled politically. The BJP may be itching to fill the political vacuum but the lack of local political representation is proving to be ominous. Militancy is on the rise. The people remain anxious about the Centre's motives. The anxiety is not unwarranted. The principle of proportional representation seems to have been undermined in the administration with Muslims and residents of the Valley being overlooked for key posts. There is also concern that the redrawing of assembly seats may lead to a disproportionate representation from Hindu-dominated Jammu. Meanwhile, deliberations continue over the restoration of high-speed internet, a basic entitlement in the rest of India. India's highest court has expressed its dismay over the delay. Strikingly, Indians in other parts of the country remain blasé about the everyday challenges faced by their brethren in Kashmir.
The cumulative result has been the erosion of the credibility of Mr Modi's dispensation. The prime minister seems to be ignoring two fundamental aspects in his flawed Kashmir policy. The restoration of the people's confidence in New Delhi is of paramount importance. But such a renewal is predicated upon the creation of a level turf of engagement between the Centre and Kashmir's political representatives. The other, equally important, missing element concerns the dignity of Kashmir. Dismantling statehood in the name of integration was a cynical blow not only to Kashmir's political framework but also to the self-respect of the people. The BJP has its task cut out when it comes to re-establishing that trust. The deficit will widen if Mr Modi prioritizes electoral and ideological compulsions over the welfare of and equitable representation from Kashmir. Changing lieutenant-governors periodically is not the answer to Kashmir's growing alienation.