#MeToo on Indian university campuses: Heartbreaking and hopeful
Women are constantly infantilised on campus, where faculty members and hostel wardens stand in for the family patriarch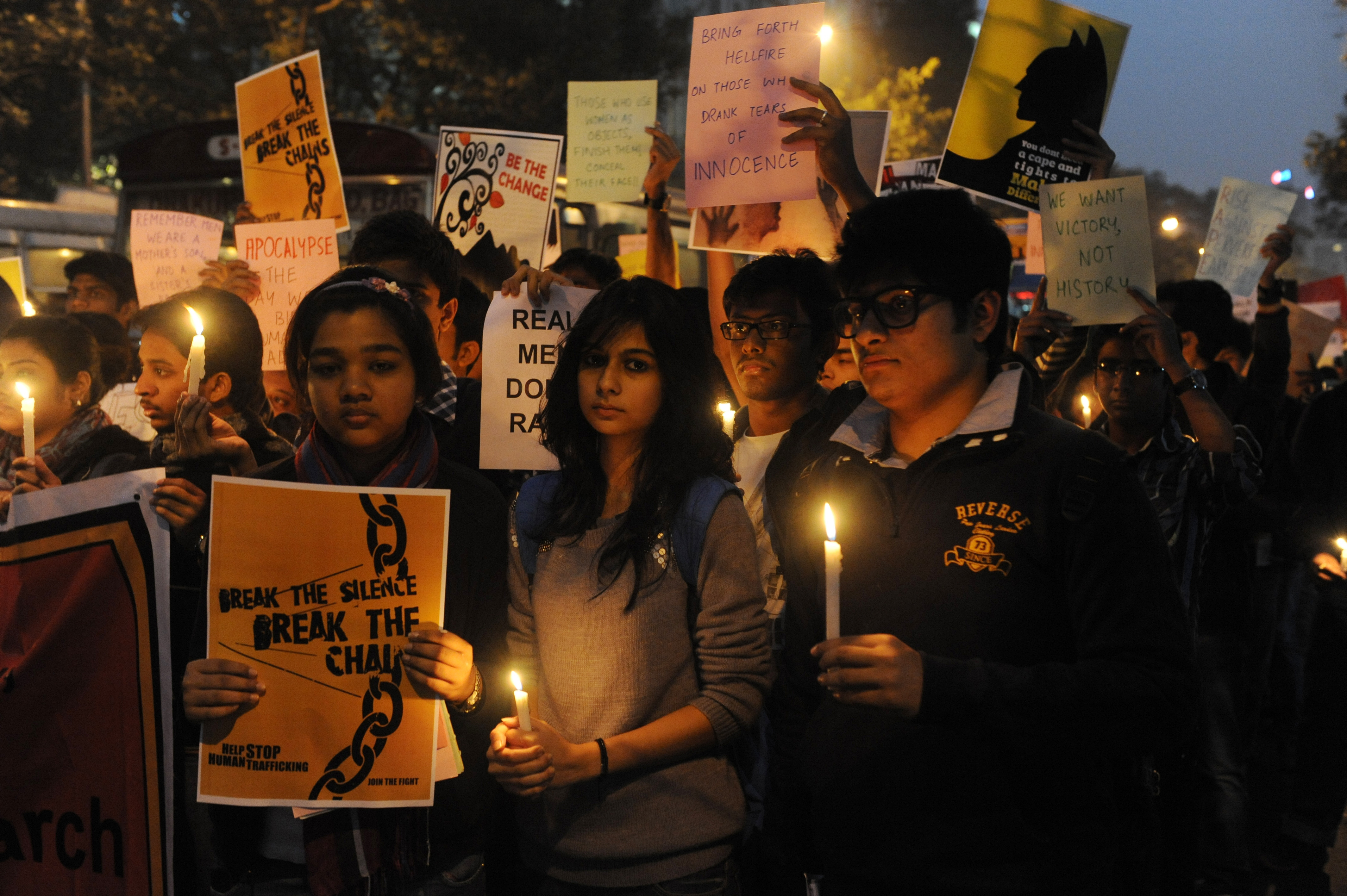 Students rally in Kolkata on December 29, 2012, after the gang rape of a 23-year-old woman in Delhi horrified the nation
Pradip Sanyal
---
Published 17.12.18, 02:02 PM
|
---
I travelled to several universities across India earlier this year for a research project on sexual and gender-based violence on campuses, speaking to students, faculty, workers, administration and activists. Against the backdrop of the larger #MeToo movement, in this article I look at what is happening on university campuses in India.
What I found was both frustrating and heartbreaking. There was not one campus that I went to where women staff and students felt completely safe. In cases where the administration painted a picture of safety and freedom, the students almost invariably had a different story to tell. Stories of patriarchal protectionism, victim-blaming, and slut-shaming were rife on every campus.
Adrija Dey is a researcher at SOAS University of London, and is currently studying sexual and gender-based violence in Indian universities.
One day, in an all-women focus group of PhD researchers, participants joked about how, as they went higher in the university, their clothes became longer – they would wear long-sleeved high-necked kurtas so as not to attract undue attention. One student said that one day when she left her hair untied, instead of plaited as usual, several male faculty members commented on it. Her PhD supervisor also remarked that she looked pretty and should leave her hair down more often. She learned her lesson and never went back to university with her hair loose.
Another day, after I had finished a meeting with a focus group, a female student came up to me and told me about her experience in the university. One day, she was walking back from the library to her hostel at 8 pm with a male classmate. The proctor who patrolled the campus every evening saw them walking together, and started questioning them about their relationship. When the woman resisted, the proctor forced her to call her father, and then took the phone and told him that his daughter was a prostitute and slept around with boys on the campus. According to the student, the proctor told her father, "Apni beti ko sambhaal lijiye" (keep an eye on your daughter). She spoke about this incident to the head of her department, who further shamed her. When she went to lodge a complaint with the internal complaints committee (ICC), she learned that the proctor was the head of not only the ICC but also the student grievance cell. The complaint was never registered.
On the same day, a female political activist on campus spoke in a personal interview about how groups of men from a rival political party stalked her every single day before the elections. They sent her rape threats and even gave out her personal number and spread the rumour that she was a prostitute. She was the only female candidate, and the administration took no action against the harassers. When she went to file a complaint at the police station she was told, "Mard ka kaam mard ko karne dijiye. Aap kya kar lenge election ladke?" (let men do the work of men. Why do you want to contest the election?)
Somehow I was not surprised by these stories. When I spoke with female department heads, faculty and administrators, many asked me questions such as "When do you plan to get married?" On learning that I was married, they would ask, "How is your husband managing without you? You left for two months and your husband is okay with it?"
There were also male political activists from different parties who would bring large groups of men when I interviewed them. They would constantly whisper in each other's ears and pass comments in Hindi, possibly because they thought I wouldn't understand what was being said. On almost every occasion, at least one person from the group would send me flirtatious texts or ask to meet me again after the interview.
I navigated the university space in exactly the same way I navigated the rest of the city – guarded, scared, harassed. Many regard universities as spaces of freedom, safety and liberty. Unfortunately, they are merely an extension of society. The same violence and discrimination that exists in society manifests itself within the university space. The patriarch in families is replaced by other patriarchs in the university in the form of vice-chancellors, proctors, department heads, and hostel wardens. Women are constantly infantilised, with little importance being given to their choices. They are caged in the name of protection and controlled in the name of izzat. In any moment of crisis, it is women's bodies that become the first site of violence. In some cases, universities are even more violent and discriminatory than society.
In almost every university I visited, caste still shaped the nature and structure of the institution. Which professor would get promoted, which student would get a grant, and who would become the next department head all depended on caste. A Dalit student told me that on her first day of university, her professor openly humiliated her for not answering a question correctly: "Tumhare jaise student ko kam number paake bhi university mein admission mil jaata hai. Answer nahi pataa hai to seat chhod do' (Students like you get admission despite poor marks. If you don't know the answer, leave the university). She said her classmates openly mocked SC/ST/OBC students.
I was shocked to learn that in many university hostels, the worst rooms or the rooms next to the toilets were always assigned to Dalit students. A female Dalit student told me that when she tried to file a report against a professor for harassing her, the ICC refused to investigate, saying that as a Scheduled Caste student she was plotting to malign a perfectly good man: "Yeh sab aap logon ki gandi politics hai (this is the dirty politics of your people).
During my trip, universities were still recovering from the first phase of the #MeToo movement in India, which started in 2017 with law student Raya Sarkar's crowdsourced list of academics accused of sexual harassment (LoSHA). Reactions to the list were varied. It seemed to have had little to no impact on most of the semi-urban or rural universities I visited. However, in universities in the bigger cities, it raised questions and started conversations. Some faculty members openly supported the list, others introspected, and still others were in complete denial.
The students, on the other hand, seemed frustrated. The list itself was a product of years of frustration against a system that did not work.
I asked a female student about the experience of taking a class taught by a known sexual predator. He was named on Sarkar's list, students had known about his behaviour, but he continued to teach. The student told me that female students were petrified to go to the instructor's office, and that he had used his knowledge and charm to keep women quiet for years. She said everyone knew, but pretended not to notice.
In most institutions where questions are being raised, administrations have neither taken a stand nor any suitable action. A couple of months ago, as the #MeToo movement in India gathered momentum again with Tanushree Dutta's allegation against Nana Patekar, institutional silence and denial have become even more apparent. Academics, actors, journalists, politicians have failed to acknowledge the bigger structural issues, and have chosen to dismiss each case on apparent individual merits/demerits. They fail to see this as a problem rooted in patriarchal structures, they fail to address power relations, they fail to understand the failures of 'due process'.
In academia, while there have been fervent debates around accountability, due process and power structures after LoSHA, it is questionable how much of that has resulted in changes on the ground. Sexual harassers continue to teach and to hold powerful positions, while victims and survivors continue to get blamed, doubted and silenced.
While this is heartbreaking, there is reason for hope. In almost every university I visited, I saw pockets of dissent led by women, women's solidarity, women raising their voices, and women fighting, failing and fighting again. I heard calls of Azadi and Pinjra Tod.
In this article, I have specifically discussed women and their narratives. I am conscious that queer voices are missing. The main reason for this is that queer voices are still largely missing from university campuses. When I asked a male political activist if there was a conversation around sexuality on their campus, he mocked me, saying, "Madam, hum sex ki baat nahin karte yahaan, aap toh sexuality pe chale gaye" (we don't even talk about sex, and here you are talking about sexuality).
Women's oppression does not exist in silos; all oppression is connected. Since the gang rape that occurred in a Delhi bus in December 2012 and horrified people across the country, Indian universities have become sites of dissent around gender issues. These were not isolated voices but women raising their voices collectively. Different movements and campaigns learned from each other and supported each other. Hence, the MeToo movement in universities also does not exist in isolation. It is also Pinjra Tod, #PadsAgainstSexism, #HappytoBleed, #WeWillGoOut, and a host of movements with no names or hashtags. All these campaigns and movements together are trying to draw attention to the larger problem of patriarchal oppression, and to reclaim spaces for women.
It is time that institutions took notice. They should be wary of individualising women's issues – the more they try that, the stronger the collectives will become. Women's movements are sometimes messy, but the critique, debate and action they spur is undeniable. In all that cacophony of voices and experiences, one message is clear: time's up.