Mary Kom proves that sporting skills are not gender-specific
The idea that men are stronger is so deeply ingrained that men get more opportunities to participate in sporting events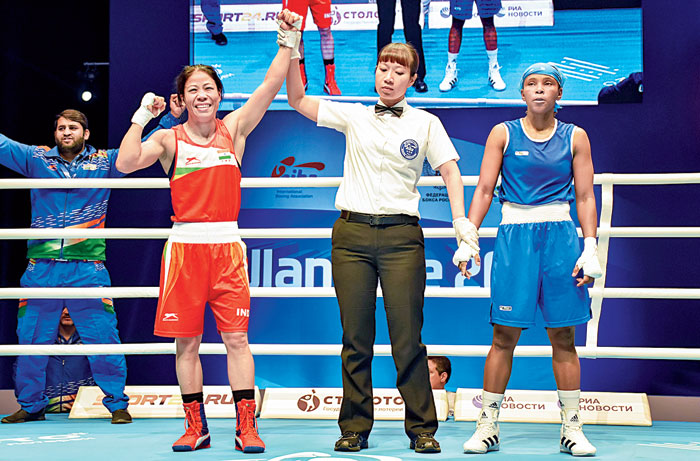 India's Mary Kom is declared winner after her bout with Colombia's Valencia Victoria, advancing to semi-finals at AIBA's Women's World Championship, in Ulan-Ude, Russia, Thursday, October 10, 2019. Kom defeated Victoria 5-0.
PTI Photo
---
Published 16.10.19, 09:03 PM
|
---
Sir — The six-time gold medalist in boxing, M.C. Mary Kom, has shown, once again, that excelling in sports has little to do with one's gender. The idea that men are "stronger" and more capable than women has become so deeply ingrained that men are given more opportunities to participate in sporting events. They also get more sponsorship and have more followers. As such, achievements like the latest one by Mary Kom — she became the most successful boxer in the history of the World Boxing Championships — help break the glass ceiling by proving that sporting skills are not gender-specific.
Sarthak Chopra,
Delhi
Just imagine
Sir — It is true that these days the curriculum provides hardly any opportunity for critical thinking as Anup Sinha points out in his article, "Classroom views" (Oct 11). But it must also be admitted that audio-visual teaching attracts the students' attention to the way a solitary teacher would not be able to. Whereas earlier, a section of students would be bored with the teacher being the sole source of information in a class, now, with audio-visual aid, almost all students are engaged in the lesson.
With reading, an imagination is needed to understand what is being taught. But smart teaching with audio-visual aid can show all students what is being taught, even the ones who may have difficulty understanding lessons. It cannot be denied that this may, at times, hamper the development of the imagination. But teaching has certainly become more inclusive and interactive with smart classes.
Abhijit Chakraborty,
Howrah
Sir — The article, "Classroom views", is a wonderful analysis of the present education system. The internet and other modern technology have destroyed the ability of students to think critically. This is not to say that one must denounce modern technology. But it is important to be aware of the threats that it poses. Students should not lose their creative edge or become puppets. They should be bold in their thinking.
Chandi Charan Das,
West Midnapur
Sir — Anup Sinha's article, "Classroom views", was interesting. The primacy of the audio-visual medium in education might indeed be detrimental to students' cognitive abilities. But such new technology would be put to better use in rural schools, where good teachers and laboratories might be lacking. Science lessons, especially, would become so much more engaging and easy to understand with audio-visual demonstrations. Students could watch experiments unfold right before their eyes even if they do not always get to try their hands at these.
Buddhaditya Bagchi,
Calcutta
Costly picture
Sir — The recent decision of the Madhya Pradesh government to release funds to a would-be bride under a welfare scheme only if the groom provides a picture of himself inside a toilet is wrong. First, the money that the would-be bride is entitled to from the state is a pittance compared to the expenditure incurred by the bride's family. More important, any expenses for a wedding should be shared equally by the families of the bride and the groom. Yet, wedding arrangements are seen as the responsibility of the bride's family. A State grant for the woman's family would only endorse the existing discriminatory practice.
Further, the precondition of the groom taking a photograph in a toilet before such funds can be transferred for the wedding is adding insult to injury. Instead, the government can fine those who do not have toilets at home and can continue to extend financial support to those who do not have the money to build them. A one-time expenditure to stop open defecation is better than numerous payments over time.
Chanchal Nandy,
West Burdwan
Parting shot
Sir — Thousands of Iranian women watched a football match in their country for the first time in decades. The World Cup qualifiers against Cambodia was attended by women who had previously only been allowed to watch matches on TV. They were granted access to a special women-only section in the stadium. Photographs from inside the stadium showed female football fans excitedly waving Iranian flags and cheering their team. Women must be given access to basic human rights.
Samira Khan,
Calcutta