Living the lie
How parakeets are invented without a break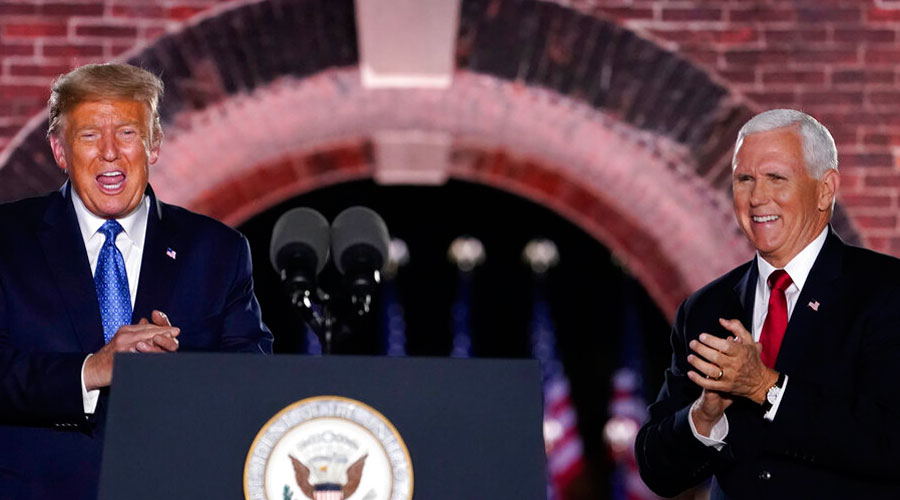 ---
---
On August 31 last, the Republican National Convention and Kenosha were the themes of Last Week Tonight with John Oliver. Oliver, as everyone knows, is not fond of his president. He said the RNC was an "event to celebrate the stewardship of Donald Trump, a tough sell at the best of times, but something that felt particularly out of step this week, considering we have a pandemic on the rampage, an economic catastrophe unfolding, and wildfires and hurricanes battering the country". More, "it [was] a little jarring that the Republicans' opening argument seemed to essentially be this. Ladies and gentlemen, leaders and fighters for freedom and liberty and the American dream, the best is yet to come!"
This is familiar to chasers of the dream of Bharat, surely? Oliver had video excerpts of Republicans throwing their arms out triumphantly to substantiate his unkind comments. For Indians, since the achchhe din promised by the Bharatiya Janata Party in 2014 has not, in September 2020, seen Rs 15 lakh deposited in every citizen's bank account with the return of black money from abroad, the best remains yet to come. That is, if the achchhe din hope is not just a jumla, a way of speaking — a joke? — that the Union home minister, Amit Shah, called the Rs 15 lakh promise later.
Oliver recreated a scene that we have grown addicted to in our country: "The main theme of the convention seemed to be telling lies in front of flags…four days of full-throated denial of objective reality…" If "the misleading portrait painted of Trump's opponents" can be taken as fair game, what followed can make us sit up excitedly: "Convention speakers also claimed that Trump never called white supremacists 'very fine people', which he did." That was Charlottesville, 2017, with waffling thereafter. And that he passed the veteran's choice act, "which he didn't" — Barack Obama did. Also "that he is trying to protect patients with pre-existing conditions, which he very much is not". This is a proactive lie, ignoring that Republicans have gone to court against the protection of patients with pre-existing conditions in medical insurance, somewhat reminiscent of the unnecessary government rhetoric around the Citizenship (Amendment) Act that is surely not discriminatory. The fantasy about Trump's sympathy for these patients ignited Oliver's imagination: "And I am honestly surprised that a speaker didn't…claim that Trump invented parakeets, or that he stopped the murder of hornets by sucking them straight out of the air." No, Trump's "loyal friend" Narendra Modi did not invent parakeets either, but he does enjoy inventing medical and technological achievements of ancient India with a prime ministerial authority that sends his inventions straight into history books and scientific conventions.
"[I]n the midst of a blizzard of lies," Oliver continued, "some still managed to stand out." The White House economic advisor, Larry Kudlow, referred to the coronavirus "with an off choice of verb tense". Kudlow is shown saying, "Then came once in 100-year pandemic. It was awful, health and economic impacts were tragic. Hardship and heartbreak were everywhere. But presidential leadership came swiftly and effectively, with an extraordinary rescue for health and safety to successfully fight the Covid virus."
This is marvellous, this game with "verb tense". Because on August 31, 2020, the United States of America reported 31,313 new coronavirus cases and 560 virus-related deaths, according to data from Johns Hopkins University. The national total stood at 6,028,617 Covid-19 cases and 183,579 fatalities. On September 22, the total was 7,046,216 and deaths were 204,506. This is a terrible tragedy, in the US as in the whole world, a strange time to boast about successful presidential leadership and rescue.
Indians, however, are not assailed by a "blizzard of lies"; blizzards pass. They breathe lies, they wade in them, they sleep and wake in them; lies constitute the air around them. The coronavirus tragedy in India, for example, was compounded by the suffering and deaths of thousands of migrant workers caught unawares in a lockdown at four hours' notice. Besides, experts said that the lockdown was wrongly timed for proper control of the virus. Presumably to counter such negativity, the full spread of the virus in early May was sought to be falsified by pressure on researchers to delete the data from hotspots and containment zones in their survey that showed high incidence of the infection — or not publish the paper. Never mind the misdirection in a dangerous situation, the lockdown could be shown to have been successful. The direction reportedly came from the director-general of the Indian Council of Medical Research, which is tasked, among other things, with establishing medical ethics.
The question of ethics becomes obsolete when information from government agencies turns out to be misleading, evasive, or confusing, whether economic data, or that about migrant workers' job losses and deaths, or farmers' suicides. Do Indians know yet what demonetization achieved? Falsehood has many forms. For instance, the Union minister of state for home said in Parliament that as of September 11, 2020, 223 persons were in detention in Jammu and Kashmir and no one was under house arrest there. Politicians from the Peoples Democratic Party not only called this a 'blatant' lie, but posted videos to show that they were forbidden to step out of their homes. So did Saifuddin Soz, the Congress leader, about whom the Jammu and Kashmir administration had said in Supreme Court that there was no restriction on his movements. Then there is the obdurate defiance of contract, as for example in the Centre's refusal to pay states their full share of goods and services tax revenues. That is perceived as part of the programme of depriving states of their legitimate powers and agency, demonstrated again by the repeated passing of policies and bills with inadequate or no consultation with stakeholders, as in the National Education Policy, or the bland refusal to debate or vote on the farmers' bills.
Maybe these laws and policies are as good as the Modi government claims, and do not have sinister, self-serving designs — for surely inventing parakeets is a good thing? But the blinding aura of falsehood that the BJP and its adherents have created, fuelled by a sense of power and protected by the steady refusal to answer questions, would depend on their ability to keep on inventing pretty birds. Lies have an almost lyrical flow, sliding sinuously into institutions and processes, poisoning all they touch in their unceasing attempts to make the illegitimate look legitimate. There are occasional disruptions, as in the Allahabad High Court's direction to the Uttar Pradesh government to release the doctor, Kafeel Khan, whose detention under the National Security Act for an allegedly incendiary anti-CAA speech — in which he reportedly spoke of unity and harmony — the court considered illegal.
But jails continue to fill up with young people who protested against the CAA and are accused of having incited the violence in northeastern Delhi last February, while writers, teachers and activists, some arrested two years ago for allegedly having 'aggravated' the violence at Bhima Koregaon on January 1, 2018 by their speeches encouraging caste hatred, remain in prison without trial or bail. How could two statements attributed to two arrested students, naming teachers and Opposition politicians as instigators of the Delhi riots, be exactly the same, bearing also the students' refusal to sign them? Not important. Neither incendiary speeches by right-wing leaders nor the originators of the violence during the peaceful Dalit celebrations at Bhima Koregaon are considered culpable. Power, the ruling regime seems to believe, makes legitimacy irrelevant.
Lies, clearly, are addictive. Can anything be more intoxicating than "telling lies in front of flags"? Perhaps we should now decide whether we shall continue to get drunk on lies or begin shaking off their magic attraction.