Liberty first: SC justifies Arnab bail
The ruling strikes at the culture of detaining people by refusing bail, even when the application is made after more than a year of waiting for charge-sheet or trial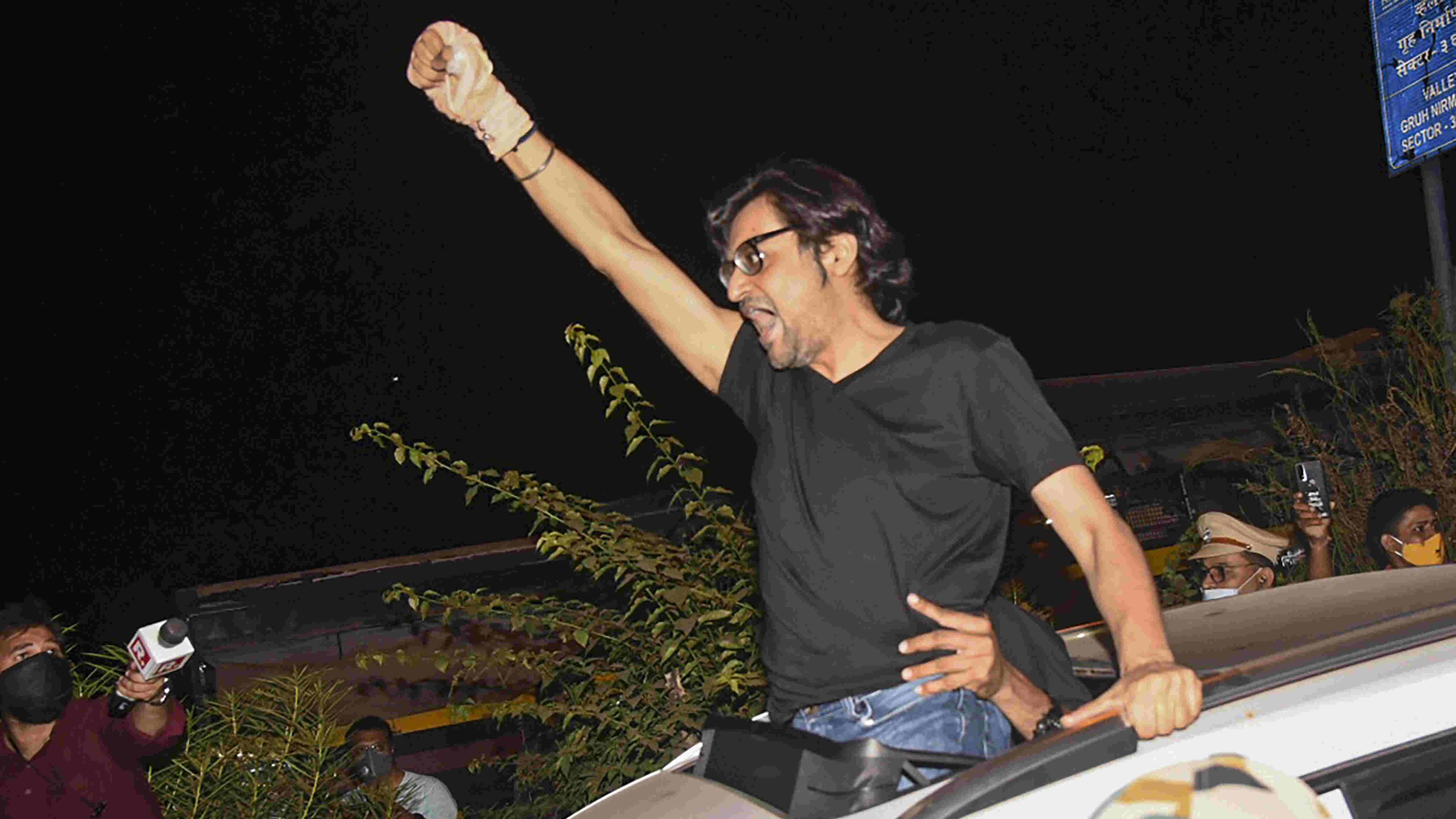 Republic TV Editor-In-Chief Arnab Goswami after being released from Taloja Central Jail on interim bail in the 2018 abetment to suicide case, in Navi Mumbai, Wednesday, Nov. 11, 2020.
PTI
---
Published 16.11.20, 02:32 AM
|
---
A constitutional court is concerned with an individual's fundamental right to liberty. This principle, reportedly enunciated by the Supreme Court while granting interim bail to the managing director of a television channel, is of overwhelming importance. There are numerous individuals whose applications for bail are either not being heard or being rejected by the courts. The principle that bail is the rule, not the exception, seems to have been forgotten. Incarceration without trial or even charge-sheets for months or years is a violation of personal liberty and of the principles of justness understood in the widest sense. The Supreme Court set aside the Bombay High Court's dismissal of the television channel's managing director's interim bail plea as an error, and reportedly directed high courts to exercise their jurisdiction to protect human liberty, which is why constitutional courts exist. It also said that state governments should refrain from going after persons who do not agree with them.
The ruling strikes at the culture of detaining people by refusing bail, even when the application is made after more than a year of waiting for charge-sheet or trial. Sudha Bhardwaj, arrested in the Bhima Koregaon case, for example, was reportedly advised by the Supreme Court to withdraw her bail application made on grounds of ill health, and apply instead 'on merit'. In recent times, others arrested in relation to the Bhima Koregaon violence and that in East Delhi have often found bail to be elusive in different courts. Yet the Supreme Court has emphasized the importance of personal liberty more than once. In 2011, for example, it said that since personal liberty is precious, the remedy of the writ of habeas corpus cannot be hindered by technical objections. Of the 554 habeas corpus cases filed when Article 370 was revoked in Kashmir on August 5, 2019, the Jammu and Kashmir High Court has reportedly decided 29. The latest ruling by the Supreme Court also suggests that such cases should be heard with the same punctuality as that of the managing director. That may help undertrial prisoners who, on December 31, 2017, made up 68.50 per cent of prison inmates. Many of them are too poor to afford the bail fee. Maybe the State should look into this, too, in order to honour the Supreme Court's ruling on personal liberty?