Letters to the Editor: Will virtual chats change how we date?
Readers write in from Calcutta, Goa, Chennai, Tamil Nadu, Visakhapatnam, Murshidabad, Kanpur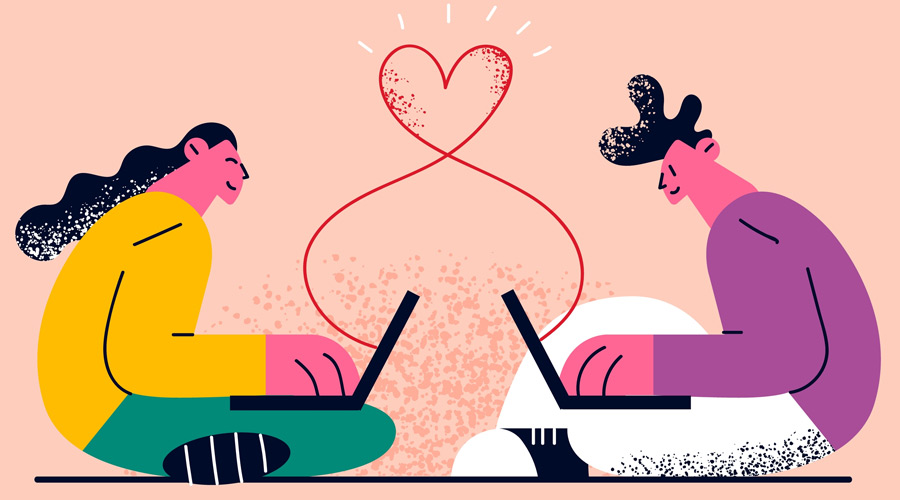 Representational image
Shutterstock
---
Published 20.01.22, 12:28 AM
|
---
Honest encounter
Sir — Before the pandemic, the words, social distancing, may have sounded alien and counterproductive in the world of dating. But in the new normal, the rules of engagement have changed. Surveys show that more people now prefer the comfort of getting to know each other over virtual dates. Apparently this saves money and allows people to dress casually, taking the edge off those worried about a first date. Dating is not only expensive business, but it is also stressful as couples feel the need to project an image of themselves that they think would be appealing. Could the scope for actual conversation without having to play dress up provided by virtual chats change how people date?
Nikita Singh,
Calcutta
Clear bias
Sir — It is surprising that the Republic Day tableau by West Bengal on Netaji Subhas Chandra Bose was rejected by the Centre. This is at odds with the announcement that this year, Republic Day celebrations would start on January 23, to commemorate the 125th birth anniversary of Bose. Tableau proposals by Tamil Nadu and Kerala have been rejected too. This reveals the Central government's political bias. Perhaps such behaviour is to be expected from a political party that does not boast of freedom fighters of its own.
S. Kamat,
Alto Santa Cruz, Goa
Sir — It is shameful that freedom fighters from the southern states — Tamil Nadu and Kerala are cases in point — are not given the same importance as those from other parts of the country. The suggestions that were made about prominent people from Tamil Nadu — the freedom fighter, V.O. Chidambaram, was called 'just a businessman' — by the expert committee selecting the tableaux are proof of this disregard. It is obvious that the Centre is trying to keep states that are not ruled by the Bharatiya Janata Party out of the limelight. This is undemocratic.
Tharcius S. Fernando,
Chennai
Sir — The exclusion of Tamil Nadu, Kerala and West Bengal from this year's Republic Day parade has no rational explanation; it is a politically motivated move. It is hard to come to terms with the rejection of the tableau featuring Sree Narayana Guru, who stands out as one of India's greatest social revolutionaries — he rebelled against the caste system and spoke of 'one caste, one religion and one God'. Perhaps the Narendra Modi government perceives what Narayana Guru preached and practised as antithetical to what it stands for — upper-caste, Hindu revivalism. As descendants of political forces that took no part in the freedom struggle, the BJP does not seem to be interested in celebrating India's valiant freedom fighters.
G. David Milton,
Maruthancode, Tamil Nadu
Sir — The Centre's rejection of Republic Day tableaux by certain states reveals its arrogant disregard for democracy. Mamata Banerjee, the chief minister of West Bengal, has written to the prime minister, urging him to reconsider the rejection in view of the fact that it is Subhas Chandra Bose's 125th birth anniversary. He should accept her plea. The controversy should be nipped in the bud.
K. Nehru Patnaik,
Visakhapatnam
Fond memories
Sir — The demise of the great Bengali comic book artist, Narayan Debnath, is an irreparable loss ("Comic strip pioneer passes on" Jan 19). He created a world full of wit and humour for children and popularized the Suktara magazine. In spite of his popularity, Debnath remained humble and unassuming. His contributions will live on in the hearts of his readers.
Jayanta Datta,
Hooghly
Sir — With the passing of the legendary cartoonist, Narayan Debnath, childhood will no longer be the same for many Bengalis. He created famous characters like Handa-Bhonda, Nante-Phonte and Bantul the Great that were instant hits with people of all ages. He leaves behind a legacy that we will cherish for years to come.
Arun Gupta,
Calcutta
Sir — Narayan Debnath was a true pioneer when it came to Bengali comics. Keen readers would be able to spot the influence of popular British comic magazines like Dandy, Beano and Whoopee! in his works. But his most-loved creation would be Bantul the Great, a character with superhuman strength and a kind heart, who would give any villain goosebumps. Like his creator, Bantul is an inseparable part of being Bengali.
Subhayu Saha,
Murshidabad
Talking up
Sir — When the Trinamul Congress member of the legislative assembly, Madan Mitra, compares Mamata Banerjee to Mahatma Gandhi and her nephew, Abhishek, to Netaji Subhas Chandra Bose, it is hard to suppress laughter. Mitra seems to have emerged as the Gopal Bhanr of West Bengal. His videos on social media give the impression of someone who is not in his right mind. That people enjoy these videos is a shocking testament to the level to which the Bengali public discourse has sunk.
S. Sarkar
Murshidabad
Sir — Madan Mitra has taken political sycophancy to new heights with his comments about the West Bengal chief minister and the Trinamul Youth Congress leader.
Jyotsna Nandi,
Calcutta
Parting shot
Sir — The problems plaguing today's youth are great indeed ("Troubled youth", Jan 19). Unemployment, climate change, education and gender gap are just some of the hurdles they have to overcome.
Kirti Wadhawan,
Kanpur