Letters to the Editor: Will the 'Gates of Hell' be extinguished for good?
Readers write in from Mysore, Calcutta, Noida, Gaya, Ujjain, Kannur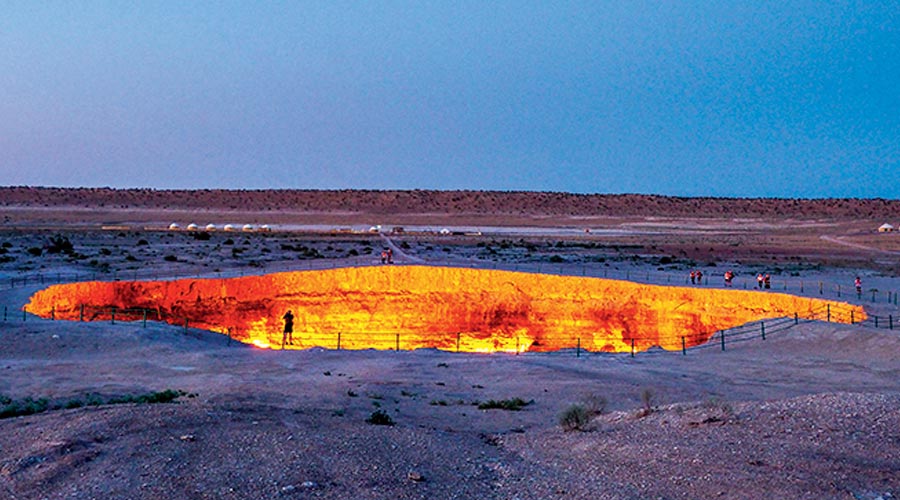 Darvaza Gas Crater
[Getty Images]
---
Published 24.01.22, 12:04 AM
|
---
Delicate balance
Sir — Turkmenistan aims to extinguish the infamous 'Gates of Hell'. The country's president, Gurbanguly Berdymukhamedov, has ordered authorities to find a solution to put out the fire that has been burning for decades in a crater in the middle of the desert. The closing of the Darvaza gas crater will be a welcome relief for the environment. The crater is known to leak methane — a component of natural gas. A significant proportion of this escapes into the atmosphere without being burnt off in the fire. But if the fire in the crater is put out only for it to be turned into a mining site — the president has highlighted that a valuable resource is being wasted — any environmental benefits accrued will be lost.
Sonali Singh,
Mysore
Unequal music
Sir — The Centre has apparently decided to drop "Abide With Me" from this year's Beating Retreat ceremony ("Monica, O Modi's India's Darling", Jan 23). Allegedly, playing 'Indian tunes' has been considered more appropriate in view of the prime minister's flagship programme, 'Azadi ka Amrit Mahotsav', which celebrates the 75th year of India's Independence. But can music be bound by national borders? Moreover, the poignant words of "Abide With Me" — one of Mahatma Gandhi's favourite hymns — make it the perfect choice for a solemn occasion like Republic Day. The Centre must reconsider its decision at once.
Kajari Chatterjee,
Calcutta
Sir — The Narendra Modi-led government seems bent on wiping out India's cherished legacies. As such, the queries posed by Gopalkrishna Gandhi in response to the decision to remove "Abide With Me" from the Beating Retreat ceremony assume special significance. He had asked — "Who does the verse affront? What does it offend? Has anyone been, can anything be, hurt by a song that is about the healing of hurt?" Each Indian must ponder the answers to these questions for there lies the crux of what is ailing the largest democracy in the world.
Sumit Sen,
Calcutta
Sir — It is time India took pride in its heritage. The government was right to remove "Abide With Me" from the Republic Day celebrations in favour of Indian music.
Rakesh Jha,
Noida
Danger ahead
Sir — The Indian SARS-CoV-2 Genomics Consortium has said that the Omicron variant is now in the community transmission stage. Yet, states across India seem to be preparing to lift restrictions — schools are reopening in Mumbai and Delhi has proposed to lift weekend curfew. Is this the most prudent decision? It is true that the number of Covid cases appears to be on the decline in most places, but this is all the more reason to keep restrictions — which are yielding desired results — in place. The Centre should hold a meeting with the chief ministers of various states and caution them against rushing into a business-as-usual mode.
Bihan Banerjee,
Calcutta
Sir — Given the alarming rise in Covid infections already registered in India, it is worrying that the Omicron variant is said to be just entering the community transmission phase. INSACOG, the Centre's Covid research body, has also said that the BA.2 lineage, an infectious sub-variant of Omicron, has been detected in a considerable fraction of people in India. This is cause for concern. People should be more careful, follow precautions and stay at home as much as possible.
The idea that Omicron infections are mild is misguided. India has a significant burden of lifestyle diseases like hypertension and cardiac ailments. These are what can cause a Covid infection to get out of hand. India's beleaguered healthcare system cannot handle the pressure of too many critical patients.
S.A.K. Sinha,
Gaya
Mixed feelings
Sir — The last two seasons of the Indian Premier League had been held in the United Arab Emirates owing to Covid-19. This year, the Board of Control for Cricket in India plans to hold the tournament in Mumbai without spectators. One hopes Covid-19 does not play spoilsport as this season of the IPL promises to be special for cricket fans with the induction of two new teams, Ahmedabad and Lucknow.
Vishal Patidar,
Ujjain
Sir — It is foolish to consider holding the IPL at a time when the country is in the middle of a third wave of Covid infections. Even if spectators are kept away from the games, the players and other staff required to hold the matches properly will be at risk. The BCCI should reconsider its decision.
Sandip Datta,
Calcutta
Sound of silence
Sir — The railways ministry must be lauded for its decision to take strict action against those speaking loudly over the phone or playing music or creating a ruckus while travelling in trains. There are already restrictions against creating such noise pollution on trains, but few abide by these rules. Railways staff have been directed to take strict action against those breaking these rules. The ministry has also instructed its staff to work in a manner that will not disturb passengers. Proper travelling etiquette can make train travel a pleasure.
M. Pradyu,
Kannur
Sir — The decision to check noise pollution on trains might be right in spirit, but it is impractical in reality. Apparently, passengers travelling in groups will not be able to interact late into the night. This will take the fun out of travelling in trains. Bustle is an inseparable part of train journeys in India.
Rima Roy,
Calcutta