Letters to the Editor: Touch of humanity in scorching summer
Readers write in from Sholavandan, Calcutta, Mumbai, Visakhapatnam, Faridabad, Nadia and Chennai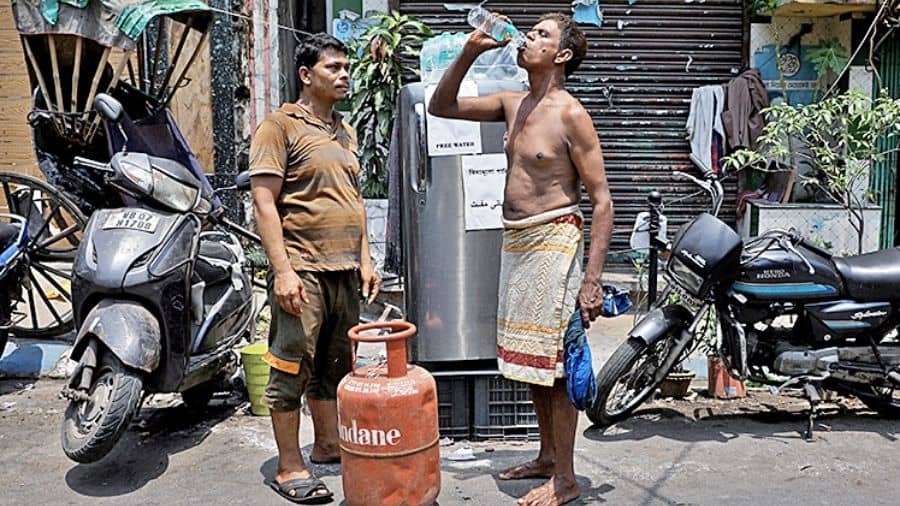 Two residents of Alimuddin Street have set up a community fridge for passers-by where cold water is available for free all day.
Sourced by The Telegraph
---
Published 03.05.22, 03:12 AM
|
---
Stand together
Sir — The respite provided by the recent thunderstorms notwithstanding, Calcutta is experiencing a scorching summer. Heatwave warnings forced government schools to close early for summer vacations. Private institutions are shifting online. Most people are staying at home, seeking solace in air-conditioned rooms. But this is a luxury not available to everyone. Hearteningly, two residents of Alimuddin Street have set up a community fridge for passers-by where cold water is available for free all day. Locals have also pitched in, filling up water bottles whenever they run out. Such efforts can be catalysts for bigger change in society. This should serve as an example for other cities and states. When the community comes together, no obstacle is too daunting.
Titir Bose, Calcutta
In revenge
Sir — A court in military-ruled Myanmar has found the former democraticallyelected head of government, Aung San Suu Kyi, guilty of corruption. This is not surprising. The military has routinely crushed voices of dissent in that country. Suu Kyi, a popular leader and a crusader for democracy, has always been considered a bête noire by the military. The latter will do everything in its power to prevent democracy from blooming in Myanmar. The junta must realize that continued military rule in Myanmar will only exacerbate civil strife and economic woes in the country.
M. Jeyaram, Sholavandan, Tamil Nadu
Long road ahead
Sir — According to a recent report released by the Reserve Bank of India, the theme of which is "Revive and Reconstruct", the Indian economy may need over 12 years to recover from the losses incurred owing to Covid-19. The pandemic ravaged the global economy. Neighbouring nations like Sri Lanka and Pakistan are also going through unprecedented difficulties. The RBI's prediction is thus not unexpected.
Dattaprasad Shirodkar, Mumbai
Healing touch
Sir — Assam Cancer Care Foundation, a joint venture by the state government and the Tata Trusts, is building South Asia's largest affordable cancer care network with 17 specialized hospitals across the state. While inaugurating some of these hospitals, the prime minister, Narendra Modi, reiterated the Centre's commitment to improving healthcare in Assam. Studies have shown that the Northeast is particularly vulnerable to cancer. One hopes that this project will help not just Assam but also the neighbouring states.
Bidyut Kumar Chatterjee, Faridabad
Language politics
Sir — Mukul Kesavan's article, "Hind or Hindi?" (May 1), provides a fair analysis of the popularity — or lack thereof — of Hindi. The southern states are especially averse to it. It is fair to say that the controversy surrounding Hindi is a political one. Had the issue not been politicized, few people would have had objections to learning the language.
K. Nehru Patnaik, Visakhapatnam
Fall from grace
Sir — The tennis ace, Boris Becker, has been sentenced to two-and-a-half years of imprisonment for concealing assets following his declaration of bankruptcy in 2017 ("Becker gets jail for lying on assets", April 30). This is a tragic turn of events. Becker, a six-time Grand Slam champion, took the world by storm after winning his first Wimbledon singles title in 1985 at the age of 17 as an unseeded player. But he has always received more attention for his misadventures outside the court. Personal and financial troubles have plagued him since he hung up his racket. It is ironic that the player who was once known as 'Britain's favourite German' has been sent to prison by the same country.
Ranganathan Sivakumar, Chennai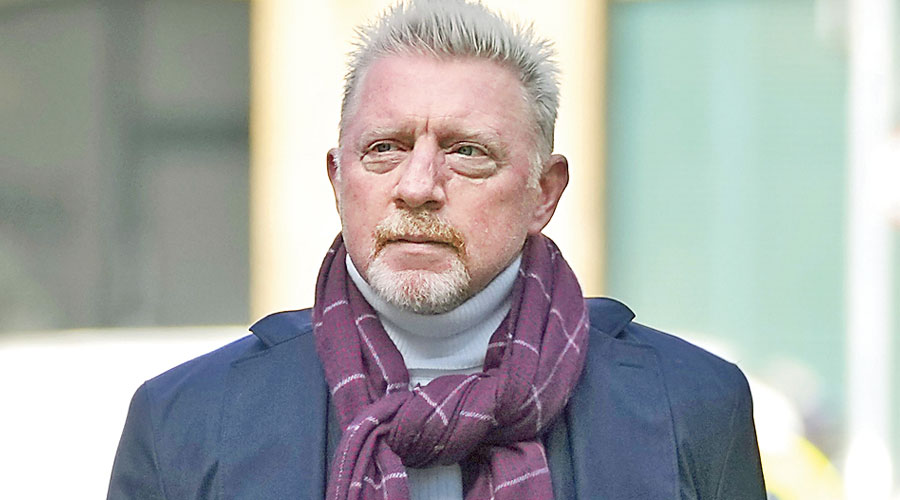 Sir — Boris Becker's jail sentence has shocked the world of tennis. He has had a shining sporting career. It is sad that his reputation has been ruined.
Fakhrul Alam, Calcutta
Ill repute
Sir — The life of a clerk in India is really pathetic ("Bengali Babu", May 1). He toils through the day on paperwork and is often chastized by his superiors. All this for a meagre salary. He cannot even become a labourer or low-level worker because he is incapable of physical labour. One may look at him as worthless, but without him life in offices will come to a standstill. Some unscrupulous clerks take advantage of this, giving the whole bureaucratic system a bad name. It was interesting to read that this colonial designation is being done away with. Clerical jobs now have monikers like 'Executive Assistant'. Such titles give job aspirants a boost. They are considered contemporary professionals and are honoured in society. The clerk, unfortunately, does not have this privilege.
Alok Ganguly, Nadia
Sir — The article on the Bengali babu was gripping. The word, kerani, is much maligned and looked down upon. It evokes the image of a lowly-paid, non-aspirational government employee who does little work and wastes his time indulging in gossip. Unfortunately, Bengalis are visualized as quintessential keranis, mostly because Calcutta was the British seat of power till 1911. With the shift of the capital, many Bengali babus went to work in Delhi. Their efficiency was appreciated by the British and, often, the children of keranis would inherit their position. Black sheep do exist within the group, but that is true for all professions. That is no reason to slander all keranis.
Amit Brahmo, Calcutta
Correction
Rakesh Chaurasia is the nephew and not the son of Pandit Hariprasad Chaurasia as was inadvertently mentioned in the review, "Music as therapy for the parched soul" (April 30). We apologize for the error.