Letters to the Editor: Thrift shopping's benefit
Readers write in from Calcutta, Chennai, Delhi, Ujjain, Nadia Faridabad and Sholavandan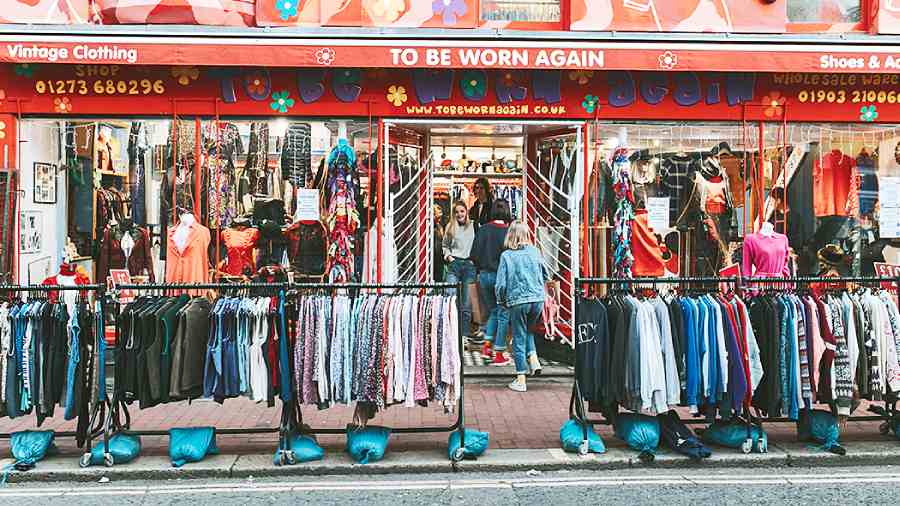 What is strange about this is that generations of Indian children have grown up wearing hand-medown clothes from cousins and relatives.
Telegraph picture
---
Published 24.05.22, 02:20 AM
|
---
Smart shopping
Sir — Thrift shopping — buying used items at reduced prices — has gained popularity in the West, especially when it comes to clothes and accessories. India, too, has its fair share of second-hand retailers. But few people are keen on using second-hand items. What is strange about this is that generations of Indian children have grown up wearing hand-medown clothes from cousins and relatives. Could it then be that the deeply entrenched class and caste biases are what stop people from thrift shopping? Thrifting is a great way to not just save money but also take care of the environment. Fast fashion accounts for 20 per cent of the global wastewater produced. That is not all. Thrifting allows people to buy even designer clothes for an absolute steal.
Preet Singh, Delhi
Great relief
Sir — The decision of the Union government to reduce excise duty on petrol by Rs 8 per litre and on diesel by Rs 6 per litre is welcome. The meteoric rise in fuel prices over the past few months had catapulted the costs of essential commodities. This put an unbearable burden on people, particularly the poor. Requests to reduce Central duties on fuel had fallen on deaf ears for quite some time now. Nevertheless, by slashing excise duty to some extent, the Centre has shown that it is not completely blind to the sufferings of ordinary folk. However, many states have been affected by the goods and services tax regime and, thus, cannot cut down on value-added taxes on fuel. The Centre should share collections under the GST and other such cess with the states. This could bring down fuel prices further.
M. Jeyaram, Sholavandan, Tamil Nadu
Sir — The cut in fuel costs by the Central government has come as a great relief. State governments, too, should come forward and reduce state duties and cesses. Efforts should also be made to bring petrol and diesel under the GST regime.
Sravana Ramachandran, Chennai
Obey the law
Sir — The Supreme Court appointed three-member panel investigating the 2019 Hyderabad encounter case, involving the death of the four accused in the gang-rape and murder of a veterinarian, has said that the encounter was staged. Many were overjoyed with the actions of the police. The chief minister of Andhra Pradesh, Y.S. Jagan Mohan Reddy, even praised his Telangana counterpart, K. Chandrashekar Rao, for the encounter. Now the commission has recommended that 10 policemen be tried for murder. Not even the police should dispense punishment before the courts pass their judgment. All police encounters and deaths in custody need prompt judicial enquiry.
Bidyut Kumar Chatterjee, Faridabad
New vision
Sir — Australia has a new prime minister: Anthony Albanese has replaced Scott Morrison ("Scott concedes, Labor wins polls", May 22). A number of 'teal independents' — candidates who ran on a strong climate platform in formerly safe Liberal party seats — have also won. The Australian Greens, too, have gained in some capital cities. The dominance of the two major parties — Labor and Liberal-National coalition — seems to be diminishing. Albanese's victory signifies that people have embraced his vision. The Greens and the Tasmanian Jacqui Lambie Network will play key roles in determining the future of Labor's parliamentary agenda, which includes more spending on child and elderly care as well as better economic management. The Greens' support will be necessary for any legislation that Labor wants to pass.
S.S. Paul, Nadia
Go green
Sir — The Centre's move to ban single-use plastic from July 2022 is laudable. But it also needs to come up with effective and economical substitutes. For instance, paper straws are more expensive than plastic ones and need to be imported in most cases. They are especially ill-suited for small, packaged juices and dairy products where the straw is included with the packaging. The country needs to grab this opportunity and find ways to manufacture paper straw for cheap. This will not only get rid of plastic but also make India self-sufficient.
Shruti Sharma, Ujjain
Wasteful expense
Sir — Each elected representative of the country gets 20,000 rupees per month towards telephone allowance. This amount is higher than the salary of some government employees. They are not even required to produce telephone bills to be reimbursed. This is a waste of the taxpayer's money. The upper limit for telephone reimbursements should be set at around Rs 5,000 and producing the bill should be mandatory. If possible, ways to directly pay the service providers should be explored as well.
N. Mahadevan, Chennai
Talented player
Sir — Jammu's Umran Malik has emerged as the fastest pace bowler of this year's Indian Premier League ("Pace pack", May 22). In fact, he is reportedly the only one in the world who is consistently bowling at 150 kilometres per hour. More talent should be scouted from the Valley to represent the country. Malik has become a role model for the youngsters there.
Alok Ganguly, Nadia
Left homeless
Sir — The recent Nor'wester that clocked 90 kilometres per hour has uprooted many trees in Calcutta and its adjoining areas. This would have affected the birds' nests. Civic authorities should hang birdhouses on the surviving trees for the birds to take shelter in.
Sourish Misra, Calcutta