Letters to the Editor: Those paying lip service to gender equality must be held accountable
Readers write in from Siliguri, Bangalore, Calcutta, Ujjain, Nellimarla (Andhra Pradesh), Hooghly, Howrah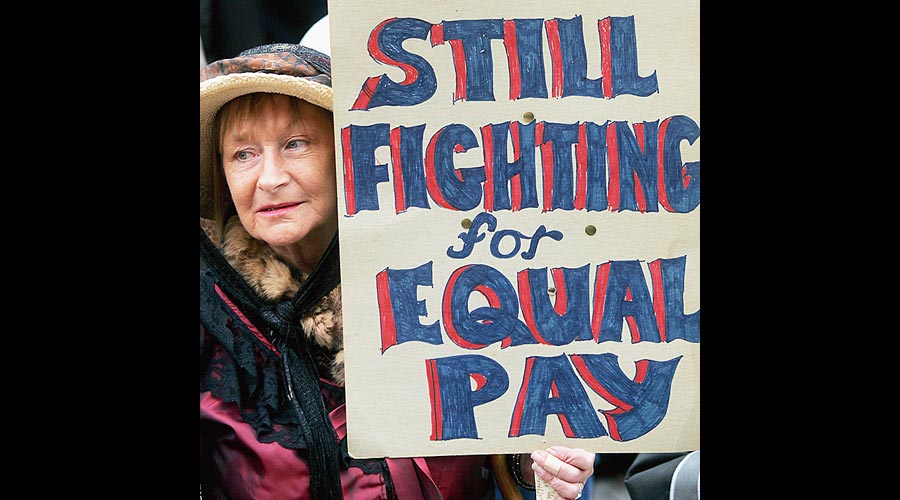 Representational image.
Getty Images
---
Published 11.03.22, 01:12 AM
|
---
Hollow words
Sir — Every year, companies celebrate Women's Day with much fanfare. Corporations send out customary emails and mark the occasion by tweeting about the contributions of women in the workplace. What companies fail to mention is that in spite of equal work, many still pay their female employees far less than men. This year, a bot on Twitter, Gender Pay Gap Bot, refused to let it slide. In response to tweets by companies in the United Kingdom, it highlighted the salary disparity between men and women in that organization. All those guilty of paying lip service to gender equality must be held accountable.

Madhura Sanyal,
Siliguri
Step back
Sir — In a massive shift in policy, the president of Ukraine, Volodymyr Zelensky, has announced that the country will no longer seek NATO membership. Ukraine's insistence on joining NATO was one of the major reasons for its conflict with Russia. Zelensky is right in saying that he does not wish to beg for NATO membership. Furthermore, Zelensky has announced that he is willing to discuss the situation in the two breakaway eastern provinces, Donetsk and Luhansk, and come to a compromise. Ukraine seems to be taking concrete steps towards resolving the crisis. It remains to be seen whether Russia is open to a free and fair discussion.

N. Sadhasiva Reddy,
Bangalore

Sir — Volodymyr Zelensky has taken a prudent decision to not press for NATO membership. It is amply clear that sanctions notwithstanding, Russia will continue its invasion of Ukraine. More than two million people have been forced to flee the country. It is time that the war in Ukraine came to an end.  

Namrata Sen,
Calcutta

Liquid gold
Sir — The United States of America has imposed an immediate ban on Russian oil and other energy imports ("Price jitters as US bans Russian oil", Mar 9). The United Kingdom, too, has pledged that it will phase out fuel imports from Russia by the end of 2022. This will lead to a massive spike in crude oil prices. Analysts predict that these sanctions could drive up global oil price to a shocking $200 per barrel.
India imports over 80 per cent of its crude oil requirements. Even if several other countries join the US and the UK in their sanctions against Russia, it will be difficult for India to follow suit. The government must take a balanced approach.

Yashi Bairagi,
Ujjain
Sir — Crude oil is not the only thing becoming more expensive owing to the Russia-Ukraine conflict. India is also experiencing a rise in the price of cooking oil: the country imports more than 90 per cent of its sunflower oil from Russia and Ukraine. Many have lost their jobs or seen a dip in their incomes because of the pandemic. A hike in cooking oil prices will make it difficult for them to meet their minimum consumption needs.

D.V.G. Sankararao,
Nellimarla, Andhra Pradesh
Sir — As crude oil prices reach a near-14-year high, India is now facing the direct repercussions of the Russia-Ukraine war. How will we cope with the rising expenses?

Mousumi Ray,
Hooghly

Tough fight
Sir — The Turtle Survival Alliance, a global organization that works for captive management of freshwater turtles and tortoises, and the Bengal forest department must be lauded for their efforts to bring back the northern river terrapins, Batagur baska, from the brink of extinction ("Cross-border turtle project", Mar 9). There were as few as 50 northern river terrapins in the Sunderbans in 2008. But the joint conservation effort has led to a significant increase in its numbers to almost 400.
While this is certainly good news, it must be noted that turtles and tortoises are still consumed in the coastal areas. Local authorities need to be roped in so that they can keep a strict vigil on the illegal sale and consumption of endangered species.

Pradip Ranjan Rit,
Howrah

Anxious times
Sir — The article, "In-person class anxiety in kids" (Mar 9), by Jhinuk Mazumdar draws attention to a sense of unease among some students about returning to in-person classes. Even before the pandemic, academically weaker or anxious students had a hard time attending school and would shy away from taking part in classroom discussions.
It is important that students return to classrooms as studies show that there has been a massive learning loss in the last two years because of school closures. But the anxieties of students cannot be dismissed. Teachers must be sensitive to this and help them transition to in-person classes.

Tanika Mazumdar,
Calcutta

Sir — Online classes may have shielded many from harassment and bullying, but they are a poor substitute for interactive, in-person teaching. Schools must take steps to help students who are worried about returning to school.

Nita Saha,
Calcutta