Letters to the Editor: The simple act of caring for a pet can be therapeutic
Readers write in from Mumbai, Maruthancode (Tamil Nadu), Navi Mumbai, Calcutta, Chennai, Ujjain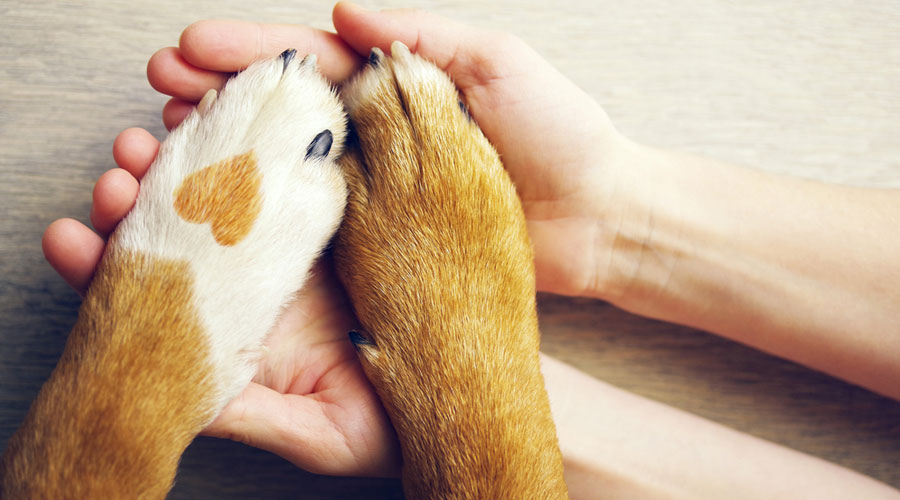 Representational image
Shutterstock
---
Published 12.04.22, 12:23 AM
|
---
Friend in need
Sir — Mental health issues have aggravated since the onset of the pandemic. Many have reported experiencing a sense of helplessness and detachment along with anxiety and depression — the two most commonly reported mental health concerns. Being forced to stay indoors with limited social interaction did not help matters. This is where the companionship of pets can come in handy. Not only do they alleviate loneliness but the simple act of caring for a pet can also be therapeutic. Research shows that daily activities like feeding or bathing pets can help people find the energy to take care of themselves. Feeling needed by another being is a truly magical experience.

Abhishek Mishra,
Mumbai
Rocky future
Sir — After the Supreme Court of Pakistan reversed the dissolution of the National Assembly, Imran Khan expectedly lost the trust vote ("Imran gets the boot", April 10). Even if claims of a 'foreign conspiracy' to topple the government are to be believed, Khan's disregard for constitutional procedure cannot be excused. Khan is a shrewd politician, but under his leadership inflation kept rising in the country; corruption, too, had become deeply entrenched.
As whispers of the military's involvement emerge, so do doubts about the restoration of democracy in Pakistan. Hopefully, over time, the army will limit its role to the country's defence and leave matters of governance to the elected leadership.

G. David Milton,
Maruthancode, Tamil Nadu

Sir — The recent verdict of the Pakistan Supreme Court declaring the dissolution of the National Assembly as unconstitutional is historic. If its judiciary remains astute, Pakistan might still be able to shake off the overwhelming influence of the army.

C.K. Subramaniam,
Navi Mumbai

Right sequence
Sir — The Rajya Sabha chairman, Venkaiah Naidu, has asked the Centre to ensure that all signboards related to government facilities are written in state language first, then in Hindi and English ("Language sequence for govt signboards", April 6). Many Central government establishments have signboards written in Hindi and English only. India is a multilingual, multicultural country. The presence of the local language on government signboards is crucial.

Kajal Chatterjee,
Calcutta
Sir — While the decision of the vice-president, Venkaiah Naidu, to accord primacy to state languages on government signboards is laudable, one does not understand his need to prescribe a specific order for the languages. There are several states where English and not Hindi or other vernacular tongues is the unifying language. Each establishment should be free to decide how its signboard should read. Moreover, states may benefit from the presence of more than one local language on the signboard rather than Hindi.

Kuntal Dey,
Calcutta

Hollow words
Sir — The Congress legislator, S. Vijayadharani, recently requested the Tamil Nadu government not to shelve the 'Gold for Thali' scheme. The programme provides financial assistance for weddings depending on the bride's level of education. The Dravida Munnetra Kazhagam government has already failed to keep its electoral promises of providing Rs 1,000 every month to housewives and giving a Rs 100 subsidy on LPG cylinders. Yet, it wants to scrap the wedding assistance scheme introduced by the former chief minister, J. Jayalalithaa, and replace it with a monthly aid scheme for girls pursuing higher education.
That is not all. When the All India Anna Dravida Munnetra Kazhagam government proposed to increase the property tax in 2018, the DMK protested against it. Now that the DMK is revising the tax, M.K. Stalin is asking the AIADMK not to politicize the move. There is a clear gap between what the DMK practises and what it preaches.

N. Mahadevan,
Chennai

Time to change
Sir — Women are still recruited mostly for training and supporting roles in the Indian armed forces. As per the report of the comptroller and auditor general of India, only 4 per cent of the total strength of commissioned officers in the army comprises women. Vacancies for women in the short-service commission of the army must be increased as there are far more applicants than the seats available. The Indian navy and the air force have 6.5 per cent and 1.08 per cent of women in their ranks, respectively, while the army has a meagre 0.56 per cent. Increasing the vacancies for women SSC officers is an urgent need.

Nirmala Chouhan,
Ujjain

Hidden motive
Sir — Social media platforms are plagued with privacy concerns and allegations of bias. Elon Musk, a billionaire and a frequent critic of the micro-blogging site, Twitter, has revealed that he now holds 9.2 per cent shares — a clear majority — in the company. It is still unclear whether he wants to transform Twitter into a free and fair space or just use it to prepare for the launch of his own social media platform.

Shruti Sharma,
Ujjain

Game on
Sir — Hats off to the wicket-keeper and batsman, Dinesh Karthik, for saying that he is not ready to hang up his gloves yet. It shows his dedication and determination to the sport. There is no doubt that his run with the Royal Challengers Bangalore has been successful. He reminds fans of a great finisher like M.S. Dhoni. The selectors should heed Karthik's words. He has good cricketing years left in him.

Vinay Mahadevan,
Chennai