Letters to the Editor: The side-effects of text messaging
Readers write in from Calcutta, Raipur, Ujjain and Chennai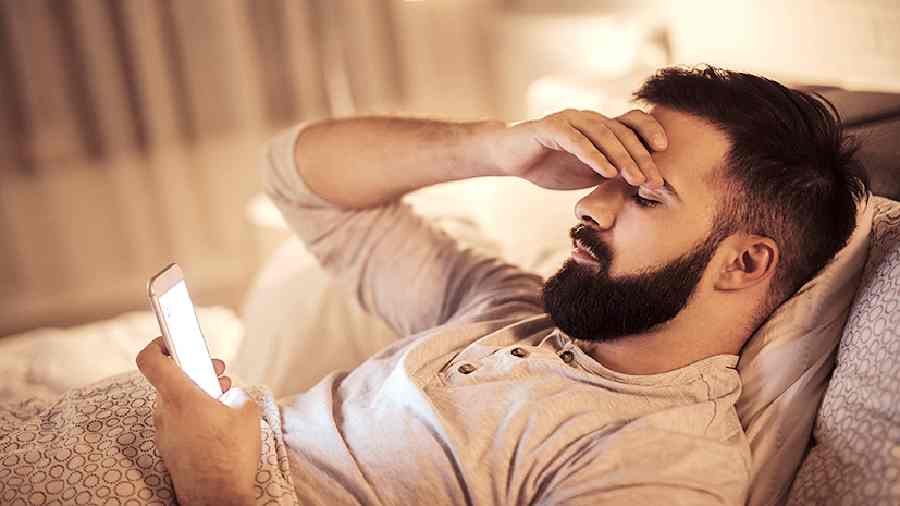 An unusually delayed response from a loved one can become an emotional roller coaster while a curt reply from a co-worker can send the blood pressure soaring.
Representational picture
---
Published 14.07.22, 03:36 AM
|
---
Text time
Sir — Text messages have become an integral part of our social and professional lives. But the world of texting is perilous. A lot can be read between the lines or missed out when reading or sending a text message. For instance, an unusually delayed response from a loved one can become an emotional roller coaster while a curt reply from a co-worker can send the blood pressure soaring. These apprehensions have only become worse with the pandemic, which has increased our dependence on messaging. Unnecessary stress over messages is not healthy. Sometimes, when the situation is tense, there can be better ways of communicating. Although nothing can beat the charm of a face-to-face interaction, even a video call can save the day.
Mugdha Jain, Raipur
Rejoinder
Sir — In Ramachandra Guha's reminiscences about growing old with The Telegraph ("Deep imprint", July 2), a factual omission stands out starkly — the mention of the paper's former editor, M.J. Akbar. The history of Indian journalism will record that the editorial project of The Telegraph was envisioned and executed by Akbar with a carte blanche from the owners. Akbar was the driving force behind the group of equally young journalists who strove day and night to create a product that was 'unputdownable'.
It was, as Guha acknowledges, a widely admired product that came like a breath of fresh air. Akbar's contribution in terms of ideas, ingenuity, imagery and implementation translated into a daily morning accompaniment that successfully breached the citadel of the entrenched rival and, as Guha records, quickly "[became] the English newspaper of choice in Calcutta". The months and years around July 7, 1982 will forever be etched in the hearts of those of us who were involved in the making of The Telegraph as they were continuously goaded, chided and encouraged by Akbar.
In the days of typewriters, teleprinters, landline telephones, rudimentary television and massive power cuts, turmoil was omnipresent. But backed by an enthusiastic ABP management, a winning formula emerged that history bears testimony to. While upholding Guha's right to his viewpoint, we believe it does not behove a leading historian like him to ignore Akbar's salutary role in the birth of The Telegraph.
Faizan Ahmad, Umesh Anand, Rajni Bakshi, Indranil Banerjie, Soumitra Bose, Manas Bhattacharya, Shoma Bhowmik, Tapas Chakrabarty, Manini Chatterjee, Aditi Chowdhury, Monimoy Dasgupta, Sudipta Datta, Sanchali Ganguly, Tarun Ganguli, Yubaraj Ghimire, Sattam Ghose, Ruchira Gupta, Susmita Gupta, Ajay Kumar, Santosh Kumar, Dheer Kothari, Usha Mahadevan, Jyoti Malhotra, Barnali Mitra, Sharmistha Mohanty, Aniruddha Mookerjee, Ambar Mukherjee, Mita Mukherjee, Sarada Prasanna Nanda, Charles Nandi, Lekha Rattanani, Debasis Ray, Janajit Ray, Soumitra Ray, Sudeshna Roy, Suvra Roy, S. Sabanayakan, Lokendra Pratap Sahi, Moyna Sen, Ramananda Sengupta, Ratnottama Sengupta, Uttam Sengupta, Vivek Sengupta, Rupamala Singh, Sudhir K. Singh, Arun Sinha, Amit Ukil, Paromita Ukil
Ramachandra Guha replies: I have met M.J. Akbar only once, some three decades after he left The Telegraph. I, therefore, see no reason to have mentioned him in an essay on my personal relationship with the newspaper. But now that the subject has been raised, let me state that given his subsequent record of obsequiousness to power — he was the first, and we may hope the last, journalist to have been an official spokesperson of both the Congress and the Bharatiya Janata Party — I doubt I could have functioned as a columnist in any periodical he edited. This correspondence allows me to make amends for a genuine omission in my original piece; the names of the three editors of this page who have handled my column since it began in 2003. They are Rudrangshu Mukherjee, Bhaswati Chakravorty and Uddalak Mukherjee. I am grateful to them for their graciousness and generosity.
Regressive legacy
Sir — The article, "Titled scales" (July 11), by Atanu Biswas, illustrates how the present composition of the Supreme Court of the United States of America is responsible for some of its regressive decisions — the overturning of the Roe versus Wade precedent that guaranteed the constitutional right to abortion is just one such instance. Of the nine justices in the Supreme Court at present, six have been appointed by Republican presidents. Three among them have been put there by the former president, Donald Trump, alone. The loyalty of the justices to their appointing political party is no secret. This is eroding people's trust in the judiciary. The separation of powers among the various arms of the State is necessary for a democracy to function smoothly. 
Srija Maji, Calcutta
Cleaner alternative
Sir — Niti Aayog, the apex public policy think tank, recently highlighted the need to form green hydrogen corridors. It advised the Centre to provide grants to start-ups and entrepreneurs to promote green hydrogen — it has significantly lower carbon emissions than regular hydrogen. This is a noble idea. Green hydrogen is a cleaner and relatively cheap substitute for natural gas and will thus go a long way in achieving India's net-zero targets. 
Ishika Asodiya, Ujjain
Wrong move
Sir — The Central government has allowed machine-made and imported polyester to be used in the manufacturing of the Tricolour ahead of the upcoming Independence Day celebrations. This is in line with the prime minister's 'Har Ghar Tiranga' initiative, which will require the production of around 20 crore national flags. However, the flag code mandates that the national flag be made of hand-spun and hand-woven wool, cotton, silk or khadi bunting. Khadi is the fabric associated with the Indian freedom struggle; it played a pivotal role in the Swadeshi movement. The Centre's decision not only undermines the fabric's historic legacy but will also affect the industry that produces it ("Irony of foreign cloth for Tricolour lost on govt", July 9). The government must rethink this notification. 
M.C. Vijay Shankar, Chennai