Letters to the Editor: The Netflix show, Bridgerton, has turned Indian culture into a messy mix
Readers write in Calcutta, Kanpur, Jalpaiguri, Mumbai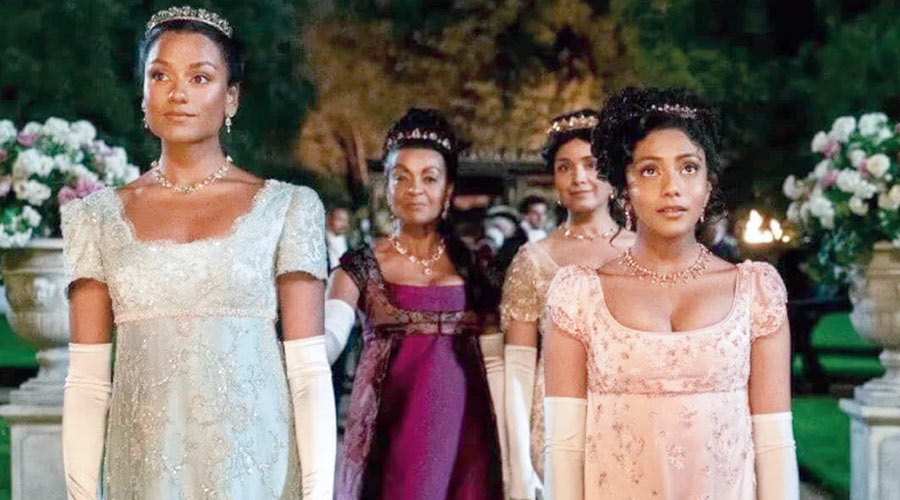 Bridgerton
Screengrab from YouTube
---
Published 01.04.22, 12:07 AM
|
---
Poor research
Sir — The representation of diverse groups of people on screen is crucial. But it must not be half-hearted. The Netflix show, Bridgerton, which portrays a racially-integrated society in Regency-era England, has drawn flak for turning Indian culture into a messy mix in its second season. The show introduced three Indian characters in leading roles. The Sharmas were shown to be from Bombay. However, that is where their Indian-ness ended. The sisters claim to speak Hindustani — Hindi? — and Marathi, but call their father 'appa' — an address common to South India — and each other didi-bon, which is Bengali. There were many other blunders that could have been avoided with just a little research.  

Ananya Chakraborty,
Calcutta
Collateral damage
Sir — Tobacco use is a leading cause of death in India. A recent study has found that second-hand smoking is just as harmful ("As damaging", Mar 28). The prevalence of SHS is especially high in the age group of 20-24 years. The direct annual healthcare expenditure on SHS is Rs 567 billion. The findings also reveal that 38.7 per cent of adults are exposed to SHS at home and 30.2 per cent at work.
There are strict laws prohibiting smoking in public places but these have not been implemented properly. Unless smokers are mindful of the damage caused by passive smoking, the situation will not change.

Paramita Sarkar,
Calcutta

Sir — In spite of extensive campaigns to raise awareness about the ill effects of tobacco use, India continues to be one of the largest consumers of tobacco products in the world. Tobacco manufacturers have been mandated by the health ministry to devote at least 85 per cent of the surface area of cigarette packets to a graphic statutory warning. But this has achieved precious little. Most of those addicted to tobacco, fail to understand the extent of the damage it causes. Unless people educate themselves and seriously heed the warnings of health experts, many more will lose their lives to preventable diseases.

Kirti Wadhawan,
Kanpur
Sir — Preventing smoking at an early age is crucial in the fight against tobacco use.
It is imperative that movies stop glamorizing smoking. Additionally, the price of tobacco products should be raised further and the government must do away with designated smoking spots. India should also consider adopting New Zealand's method of tackling tobacco consumption by banning the sale of such products to future generations. These steps must be taken immediately.

Suparni Haldar,
Calcutta

Prolonged pain
Sir — In the article, "Dignity on death row" (Mar 30), Shaileshwar Yadav has drawn attention to the pitiful condition of hundreds of death row prisoners who are counting days, waiting for redemption or for execution. The report, Deathworthy, published by Project 39A of the National Law University, Delhi as well as several Supreme Court judgments have laid out that the right to life and dignity applies to all prisoners. But the reality is quite different.
There has been a systemic failure in protecting the mental health of prisoners. According to Deathworthy, 34 out of 36 death row prisoners, who were later acquitted or had their sentences commuted, experienced suicidal tendencies and as many as 30 reported major depressive disorders. The loss of dignity affects the prisoners' families too — they fall prey to media attention and continuous stigmatization. There is no place for such barbaric treatment of prisoners in modern society.

Jahar Saha,
Calcutta

Critical situation
Sir — Sri Lanka is facing one of its worst-ever economic crises. The mismanagement of government funds, ill-timed tax cuts as well as the impact of the Covid-19 pandemic have adversely affected the economy. Another major reason for this grim situation is China's 'debt-trap' tactic — Beijing pushed Sri Lanka to undertake large infrastructural projects on Chinese loans, thus increasing its financial burden.  
In recent years, ties between India and Sri Lanka have been strained owing to the latter's growing bonhomie with China. But India has provided financial relief to Sri Lanka in its hour of need. One hopes the island nation will be able to get back on its feet soon and mend its relations with India. 

Janga Bahadur Sunuwar,
Jalpaiguri

Ease the burden
Sir — It was wonderful to learn that the chief minister of Punjab, Bhagwant Mann, has directed all private schools to not increase fees or compel children to buy books, uniforms or stationery items from select shops. Private schools will have to provide children and their parents with addresses of all shops selling stationery items, books and uniforms. It will be up to the parents to decide where they want to purchase these items from.
This decision is laudable; other states must follow suit. Private schools in Mumbai often charge an exorbitant fees, making it very difficult for families to meet their children's educational expenses. The Maharashtra government should direct private schools to refrain from hiking their fees.

Bhagwan Thadani,
Mumbai
 
Another chance
Sir — Cristiano Ronaldo will play his fifth Fifa World Cup in Qatar this year as Portugal defeated North Macedonia 2-0 in the European qualifying play-offs ("Another crack at Cup for Cristiano", Mar 31). Ronaldo might be one of the greatest football players of all time but he is yet to lift the World Cup trophy. One hopes that Ronaldo and his millions of fans will not be disappointed this time. 

Sourish Misra,
Calcutta