Letters to the Editor: The dangers of beauty enhancing medical procedures
Readers write in from Calcutta, Chennai, Cuttack and Hooghly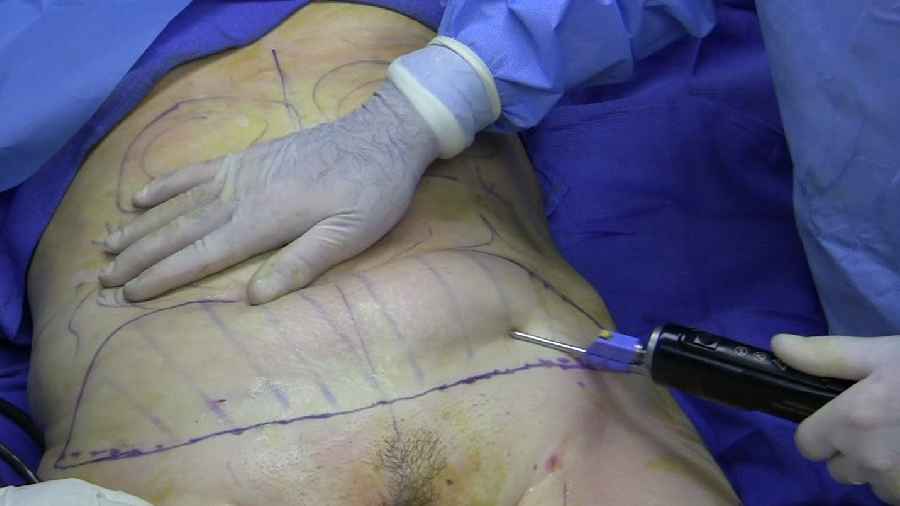 A plastic surgeon performing liposuction surgery
Representational picture
---
Published 21.05.22, 02:32 AM
|
---
Dangerous standards
Sir — Regressive beauty standards have taken many lives. A 21-year-old Kannada television actress, Chethana Raj, recently passed away owing to alleged complications after she underwent a liposuction procedure. She was healthy and had no medical need for this surgery. It is true that excessive body weight is associated with diseases, such as diabetes, hypertension and sleep apnea. In many cases, surgical intervention may be necessary. However, medical procedures come with potential risks. It is foolish to opt for them because of aesthetic concerns. People must not jeopardize their health.
Baisakhi Pal, Calcutta
Just move
Sir — The Supreme Court has granted bail to Indrani Mukerjea, the prime accused in the murder of her daughter, Sheena Bora ("Indrani gets bail in Sheena case", May 19). The bail was granted on the grounds that she has already spent six-and-ahalf years in prison and her trial will not be completed in the near future. The apex court was right to take this decision. But the court should seek answers from the prosecution for the delays in the case. Like Mukerjea, many undertrial prisoners are languishing in jail because of unnecessary delays in the judicial process. The court should also consider the possible release of such prisoners. 
Arun Gupta, Calcutta
Maiden flight
Sir — Earlier this week, an indigenously-developed naval anti-ship missile had its successful maiden launch from a helicopter at the Integrated Test Range at Chandipur. The test was conducted by the Defence Research and Development Organisation and the Indian navy. Increased success in the development of weaponry will reduce India's dependence on other nations for the supply of arms. This will not only strengthen India's self-reliance on matters of defence but will also help reduce expenditure on the import of arms. This will benefit the economy in the long run. With cross-border tensions rising along multiple fronts, this development will also send a strong message to India's neighbours.
Manoj Kumar Jena, Cuttack
Right course
Sir — The performance of the Dravida Munnetra Kazhagam government in Tamil Nadu in the past year, under the leadership of M.K. Stalin, has been fairly good. Within months of assuming office, Stalin ably handled the Covid-19 pandemic and the torrential rains that flooded several parts of the state. The implementation of innovative schemes like Makkalai Thedi Maruthuvam — it aims to bring healthcare facilities to the doorsteps — and free bus rides for women have endeared him to the people. Although one year is a short period of time to evaluate the performance of any government, it seems that the DMK is off to a good start. 
Ranganathan Sivakumar, Chennai
Shameful acts
Sir — It is shameful that residents of some housing complexes have prohibited Muslims and non-Catholics from buying and renting flats ("Sigh society", May 8). Housing complexes that have a majority of upper-caste residents make it difficult for Dalit families to live there. LGBTQI+ people, single women and non-vegetarians are discriminated against as well. It is shameful that such vigilantism and moral policing are on the rise. 
Kajal Chatterjee, Calcutta
Parting shot
Sir — It is concerning that neem trees across Calcutta are getting infected. The disease is yet to be identified but it is likely to be a viral or a fungal infection. The weather may also have played a part. Neem is commercially and ecologically important. These trees must be saved. Sukhendu Bhattacharjee, Hooghly