Prized company
Readers' Speak: This 'honour' should not be taken too seriously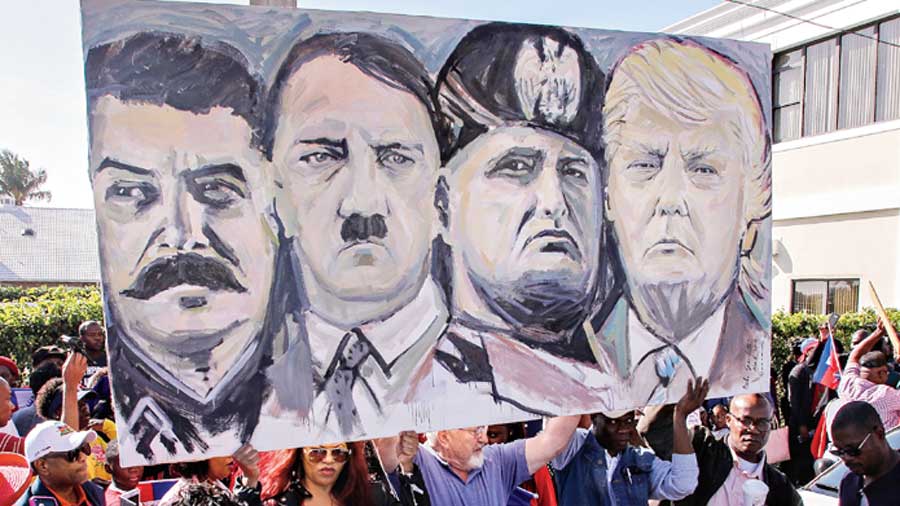 Several infamous world leaders — Josef Stalin, Benito Mussolini and Adolf Hitler, for instance — had been nominees.
AP file picture
---
Published 11.09.20, 04:12 AM
|
---
Sir — The news that the president of the United States of America, Donald Trump, has been nominated for the Nobel Peace Prize has stunned many. But given the controversial history of the award, this should not come as a surprise. Several infamous world leaders — Josef Stalin, Benito Mussolini and Adolf Hitler, for instance — had been nominees in this category. The Norwegian body's choice of awardees is no less dubious. In the recent past, as Greece was struggling with a massive debt crisis, the Nobel committee handed over the prize to the European Union. As such, this 'honour' should not be taken too seriously.
Madhumita Das
North 24 Parganas
Stand tall
Sir — At a time when most people take photographs or videos of people in trouble on the streets instead of helping them, Nilanjana Chatterjee and her husband, Deep Satpati, put their own lives at risk in order to rescue a 31-year old woman, who was allegedly being assaulted in a car by her acquaintance on a nearly deserted road ("Family rescues woman molested inside car", Sept 7). The couple stopped their car as soon as they heard cries for help; they tried to intervene as they saw the woman get thrown out of the car. Chatterjee sustained severe injuries on her leg and head after the driver struck her with his car. But the family did not rest until they had called the police, who arrived shortly and helped take the two women to the hospital. The couple has proven that they are not just good but also brave samaritans. They have set an example for others to follow.
It is unfortunate that crimes against women and children are increasing by the day across India. More disconcerting is the fact that such crimes are often committed by people known to the victim — be they relatives, neighbours or friends. The prime suspect in this case has been arrested. One hopes that the woman will testify without fear and exemplary punishment will be meted out to the culprit. The concern shown by the Calcutta police commissioner, Anuj Sharma, is also heartening. The chief minister, Mamata Banerjee, has assured that the state will help Chatterjee bear the hospital expenses. This sends out a positive message to other states — they, too, should support honest citizens who risk their lives for a good cause. 
The Tamil philosopher, Thiruvalluvar, wrote in one of his couplets that just as rain does not expect anything from the world, people should demand no return for their duty to society. Chatterjee and Satpati have done exactly that.
S. Balakrishnan
Jamshedpur
Sir — It is heartening to learn that the brave couple, Nilanjana Chatterjee and Deep Satpati, came to the rescue of a woman in the dead of the night. Such acts of courage have become few and far between as more people have begun to stay cocooned within their social-networking circles. The couple's courage almost cost Chatterjee her leg.
We often shout our lungs out demanding citizens' safety, but we fail to understand that keeping society safe is dependent on our own actions to a great extent. People may suffer immensely in their pursuit of justice — consider the struggles of freedom fighters — but they must never veer off the correct path.
There are movements against injustice both in India and abroad. But our protests should not remain restricted to hashtags. In the real world, too, citizens should take a stand and not look the other way when a fellow passenger is assaulted, a majestic tree is illegally felled or an animal is lynched. Only then can the world be a better place.
Dyutiman Bhattacharya
Calcutta
Sir — The recent incident on the EM Bypass has shown once again that women's safety is at stake. But the bravery of Nilanjana Chatterjee and Deep Satpati is commendable. Chatterjee's action was exemplary. Chatterjee refused to abandon another woman in her plight even after suffering severe injuries. She would inspire many others to not just be empathetic but also to do the right thing at the right time.
Sarupa Roy
Calcutta
Sir — One salutes the couple, Nilanjana Chatterjee and Deep Satpati, for risking their own lives to save another person. One also wishes the two injured women a speedy recovery. This news truly deserved a place on the front page.

Rajiv Roy
Patna
Sir — Thanks to the courageous act of Nilanjana Chatterjee and her family, I will be able to proudly defend Calcutta the next time someone says that the city is becoming selfish. The family has brought glory to the City of Joy.
Sabari Chatterjee
Calcutta
Wait a while
Sir — This year there will be a 35-day gap between Mahalaya and Mahashasthi because, for only the second time in the 21st century, there will be two new moons in Ashwin. This phenomenon — called 'mala maash' — is considered unholy for rituals related to Durga Puja. While this could have dampened the spirits of pandal hoppers on any other year, this time it might prove to be a blessing. Given the Covid-19 situation at present, perhaps it would not be too bad to have the Puja postponed by a month.

R. Pal Choudhury
Calcutta