Letters to the Editor: SC forms panel to probe Pegasus snoopgate
Readers write in from Nadia, Calcuuta, Mumbai, Chennai, and Ujjain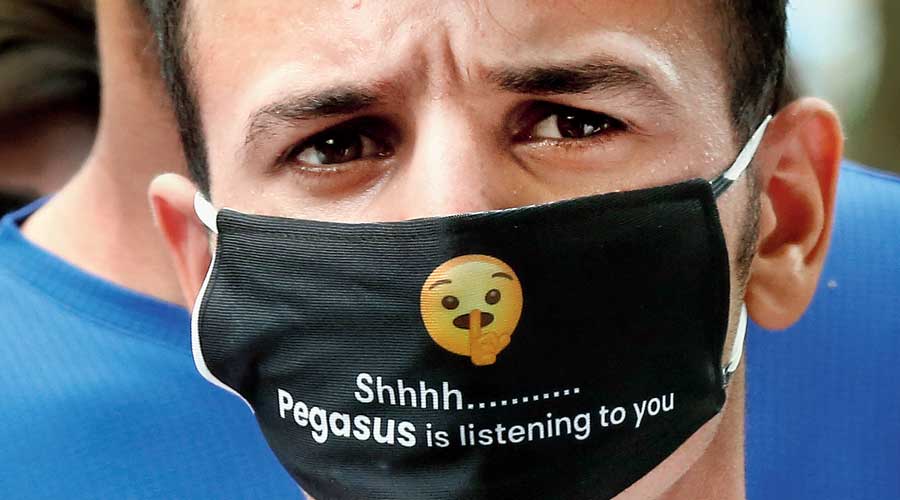 Representational image.
File photo
---
Published 30.10.21, 02:03 AM
|
---
Mind the minders
Sir — The Supreme Court order for an independent probe into the possible use of the Israeli spyware, Pegasus, to spy on Indian citizens is welcome ("Fresh air", Oct 29). The apex court has decided to form a committee, overseen by a former judge, that will look into every aspect of the Pegasus snooping scandal and submit a report within a stipulated period of time. 
Over the last few years, people have become increasingly disenchanted with government institutions which have rebuffed any demands for transparency by citing 'national security'. Hopefully, this court-mandated probe will compel the government to come clean about its involvement in the Pegasus affair.
S.S. Paul,
Nadia
Sir — The Supreme Court's statement that the government cannot get a free pass every time by raising the spectre of 'national security' will have implications beyond the Pegasus scandal. Nobody will deny that national security is of paramount importance, but it is imperative that a democratic nation ensures the right to privacy of all its citizens. The Pegasus row has raised uncomfortable questions about unlawful surveillance by the government. The Centre must answer for its missteps.
Iftekhar Ahmed,
Calcutta
Wrong decision
Sir — There is no denying that Kangana Ranaut is a fine actress. She fully deserved to win the three national awards for Fashion, Queen and Tanu Weds Manu Returns. However, this year's national award for best actress — it is her fourth win overall — reeks of favouritism. There is no way that her performances in Manikarnika and Panga can be considered worthy of this prestigious award. There were clearly other considerations at play.
Anthony Henriques,
Mumbai
Sir — Kangana Ranaut may be a good actress, but Manikarnika was one of the worst films I have had the misfortune of sitting through. Ranaut was awkward and stiff and the script was lacking, if not borderline absurd. She should not have won the national award for best actress this year.
Ankita Dey,
Calcutta
For the people
Sir — The chief minister of Tamil Nadu, M.K. Stalin, has always been sensitive to the plight of Sri Lankan Tamil refugees. In August, the government had announced welfare measures worth around Rs 317 crore for the refugees living in special camps in the state. Recent reports indicate that the government is also planning to announce a housing scheme on Diwali. Such moves have truly endeared Stalin to the people of Tamil Nadu.  
Ravi Iyer,
Chennai
Facile change
Sir — Mark Zuckerberg seems to be under the impression that changing the name of Facebook to Meta would be the solution to all its woes. The rebranding exercise comes after Frances Haugen, a former employee of the company, laid bare its faulty algorithm that amplifies hate speech and encourages violence. The company is clearly trying to divert attention from the current crisis. But such tactics are unlikely to go down well with lawmakers who are keen on holding the social networking giant accountable. At this point, no amount of damage control can save Zuckerberg.
Anamika Saha,
Calcutta
Parting shot
Sir — Children these days are constantly exposed to electronic gadgets. Any advice to engage in physical activities like sports or exercise falls on deaf ears. But parents must take an active role in breaking this habit. Kids must be encouraged to read more books, meditate, paint and so on so that they can grow up to be well-rounded individuals. However, it will only work if parents lead by example.  
Anushka Jaiswal,
Ujjain