Letters to the Editor: Restaurants on toy train in the hills
Readers write in from Calcutta, Siliguri, Visakhapatnam, Gurgaon, Barnala and Chennai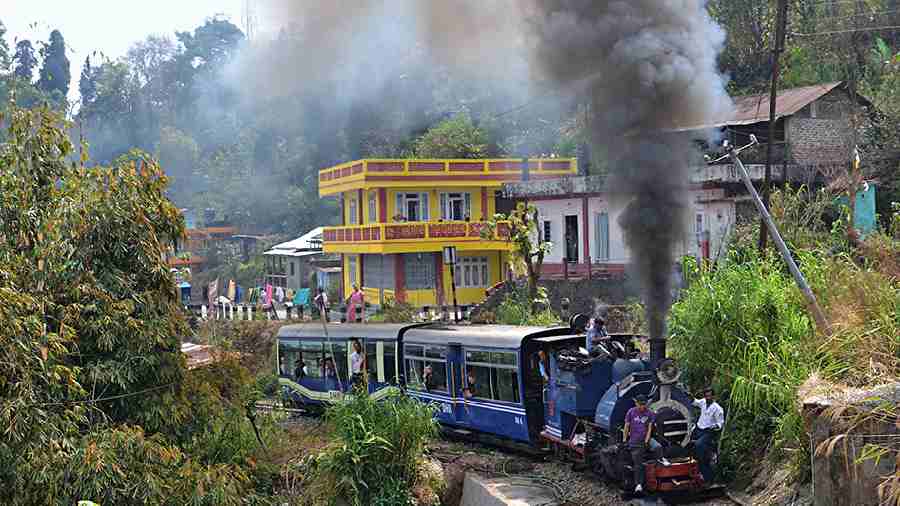 . These eateries, like the one that has already been opened at the New Jalpaiguri station, will undoubtedly become popular additions to the list of 'Insta-worthy' locations in North Bengal.
---
Published 09.11.22, 04:15 AM
|
---
Picturesque meal
Sir — Darjeeling has always been the first destination of choice for Bengalis looking for a short trip to the hills. While an unobstructed view of the Kanchenjunga and a family meal at Glenary's will never get old, tourists are always on the lookout for novel experiences. The plan of the Darjeeling Himalayan Railway to convert abandoned toy train coaches into restaurants is thus welcome ("Toy train icing on hill restaurant cake", Nov 5). It will be a treat to see the old railway stations at Sukna, Tindharia and Kurseong renovated. These eateries, like the one that has already been opened at the New Jalpaiguri station, will undoubtedly become popular additions to the list of 'Insta-worthy' locations in North Bengal. 
Saikat Sinha, Siliguri
First among equals
Sir — It was sad to learn about the demise of Shyam Saran Negi, the first voter of independent India. Negi never missed a chance to cast his vote, even voting by postal ballot for the upcoming elections in Himachal Pradesh. He will remain an inspiration for all Indian citizens.
Sourish Misra, Calcutta
Sir — Shyam Saran Negi was the Election Commission's brand ambassador and had voted 34 times since 1951. His commitment to the democratic process was evident from his eagerness to visit the polling booth for the upcoming Himachal Pradesh elections even after he has been voting for more than 70 years. A fitting tribute to him would be for each citizen to exercise his or her franchise dutifully, as Negi did through postal ballot three days prior to his death.
C.K. Dorai Ramani Suresh, Ghaziabad
Sir — In 2024, the world's largest democracy will vote to elect new representatives. Voters should keep in mind the story of Shyam Saran Negi, who is proof that 'the ballot is stronger than the bullet'.
T.S. Karthik, Chennai
Rotten state
Sir — As in Hamlet's Denmark, something seems to be rotten in the state of West Bengal — sackfuls of money are found in the possession of a minister's associate, crores are recovered from a leader involved in a cattle scam. In light of such events, incidents of numerous policemen caught in the acts of kidnapping and robbery are quite frightening for the common man ("Stop thief! No, it's a cop in uniform", Nov 6). If officers of the law themselves behave like criminals, who can we turn to for protection?
Sanjit Ghatak, Calcutta
Selective rage
Sir — Nazma Parveen hit the nail on its head by highlighting the game of pick-and-choose that Indian celebrities play while speaking about human rights issues ("Picky lady", Nov 7). Priyanka Chopra is not alone in this; several other members of Bollywood keep mum about human rights abuses in their own country. Their silence can perhaps be attributed to a fear of reprisals from the Establishment but it also highlights their moral hypocrisy.
K. Nehru Patnaik, Visakhapatnam
Wrong approach
Sir — Alarmed by the increasing number of dengue cases, the mayor of Calcutta, Firhad Hakim, has called for the imposition of fines on littering and dumping garbage in public places ("Fine for littering public places", Nov 6). Rubbish bins being few and far between on the streets of Calcutta, even well-meaning citizens have to dispose their garbage in a corner of the road on occasion. It might perhaps be wiser to instal garbage bins at every street corner and ensure daily, efficient cleanup of the waste. Affirmative action is better than punitive legislation.
Zubaida Ali, Calcutta
Half measures 
Sir — It is unfortunate that the Union ministry of agriculture and farmers' welfare has just restricted the use of glyphosate instead of banning it outright. While recognising the chemical's health hazards, the Centre has allowed pest control operators to use it only in tea plantations and to remove weeds from non-crop areas. Even more worrying is its widespread illegal use in states like Uttar Pradesh where there are no tea estates. The government needs to act now and impose tighter curbs on the production and sale of such a carcinogenic substance.
Shovonlal Chakraborty, Calcutta 
Spend more
Sir — The editorial, "In private" (Nov 7), rightly pointed out the significant shortfall in quality public education. In a welfare state like India, the government should not shirk from its responsibility of imparting education and ensuring free healthcare.
Prem Sharma, Barnala, Punjab
Sky high
Sir — It seems that sky is the limit for Surya Kumar Yadav — his nickname is SKY — who has bailed out his team from tough spots time and again. His unbeaten 61 off 25 deliveries against Zimbabwe featured some unparalleled 360-degree shots. If he continues his streak during the semi-final and final, India can lift the coveted Twenty20 World Cup. 
Vinay Mahadevan, Chennai
Sir — Surya Kumar Yadav is a perfect encapsulation of how professional cricket is rapidly resembling gully cricket. In the past, to an extent, kids would ape cricketers. Now, cricketers let their inner child shine through. Some of the shots — the laps, ramps, lap-scoops, insane sweeps and so on — all have their origin on the streets.
Aditya Mukherjee, Gurgaon