Letters to the Editor: Picturesque destination in Rajasthan actually hazardous
Readers write in from Calcutta, Visakhapatnam, Coonoor, Guwahati, Faridabad, and Ujjain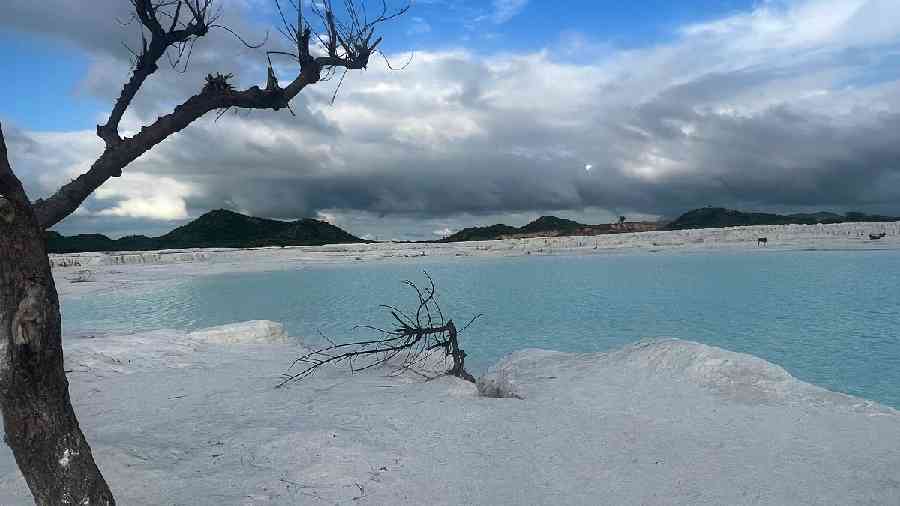 Tourists and Instagrammers flock to this destination for its surreal beauty.
---
Published 31.10.22, 02:57 AM
|
---
Nightmarish scene
Sir — A pocket-friendly alternative to picturesque white beaches and blue lakes is the Kishangarh marble dumping yard in Rajasthan, which is often used for film shoots, bridal photoshoots and so on. Tourists and Instagrammers flock to this destination for its surreal beauty. But few consider that the marble dust and slurry there are dangerous. Locals not only suffer from severe lung ailments like bronchitis but wounds in Kishangarh also take twice as long to heal. The slurry has ruined the topsoil and made it less porous, decimating the water table. This is the stuff of nightmares not dream sequences.
Rohith Pillai, Coonoor
Misguided idea
Sir — Mukul Kesavan's article, "Colour blind politics" (Oct 30), provides a balanced perspective on the status of democratic politics in the world. Rishi Sunak has become the prime minister of the United Kingdom because there was no alternative for the Tories. Sunak needs to have his wits about him to keep the country afloat, not to mention face general elections and win a majority for the Conservatives. As for a Muslim becoming a chief minister in India, it is certainly possible. Even though the country has taken a majoritarian turn, if a candidate wins people's trust, he can come to power.
K. Nehru Patnaik, Visakhapatnam
Sir — The war of words between the Indian and the Pakistani media regarding the ancestry of Rishi Sunak is meaningless. Both should remember that Sunak is British to the core. It will be foolish for either country to think that Sunak will have anything but the interests of the UK at heart. His first task will be to stabilise the British economy.
A.K. Chakraborty, Guwahati
Thrilling tales
Sir — Dacoits are often romanticised in Bengali literature and folklore as Uddalak Mukherjee pointed out in his article, "Black and white men" (Oct 26). The article reminded me of a hilarious anecdote from Sanjib Chattopadhyay's Agyatabas. In it, the dakats help the zamindar fake a dacoity so that his subjects come to him with gifts and money. However, actual dacoity was not all fun and games as Chattopadhyay's novel makes it out to be. Even when they robbed the rich to aid the poor, dacoity was still a crime. But it also must be admitted that those were different times and thus the dakats cannot be judged by present-day standards.  
Kajal Chatterjee, Calcutta
Sir — "Black and white men" by Uddalak Mukherjee was an absorbing read. It rekindled childhood memories of grandparents reciting stories of dacoits and their exploits. Raghu dakat's encounter with Sarada Ma in the jungles and, later, his worshipping of Kali are the stuff of legends. The principles of the dakats that Mukherjee talks about are also wellknown. Apparently, they never robbed the poor or harassed women and children. It can be argued that even modern-day dons like Fata Keshto — also a Kali worshipper incidentally — provided safety and security to women in their neighbourhoods. 
Amit Brahmo, Calcutta
Level playing field
Sir — It was encouraging to learn that the Indian women's cricket team will now receive the same match fee as the men's team. Indian women cricketers have proven themselves time and again — they got a silver medal at the 2022 Commonwealth Games and won a one-day international series against England with a record 3-0 margin followed by clinching the Asia Cup crown. The decision of the Board of Control for Cricket in India is significant for another reason. Women's cricket does not generate as much revenue as men's cricket. Women are also given fewer endorsements. An equal match fee will encourage more women to take up the sport. The BCCI must now consider changing the retainers of the women cricketers. Currently, women in the highest retainer bracket take home Rs 50 lakh, while Grade B and Grade C are valued at Rs 30 lakh and Rs 10 lakh, respectively. In comparison, male cricketers are divided into four categories with Grade A+ players getting Rs 7 crore, and those in Grades A, B and C collecting Rs 5 crore, Rs 3 crore and Rs 1 crore.
Bidyut Kumar Chatterjee, Faridabad
Sir — The BCCI should be applauded for deciding to pay men and women cricketers the same match fee. This will not only motivate the current crop of Indian women cricketers but also encourage more girls to pursue cricket as a career in India. The announcement of hosting an Indian Premier League for women is even more heartening.
Shruti Sharma, Ujjain
Parting shot
Sir — In India, about 40% of work accidents have been attributed to alcohol consumption. The economic consequences of alcohol consumption can be severe, particularly for the poor. A survey in Sri Lanka indicated that for 7% of men, the amount spent on alcohol exceeded their income. Awareness programmes to wean people away from alcohol are urgently needed.
Anushka Panwar, Ujjain