Letters to the editor: P.V. Sindhu wins bronze at Tokyo Olympics, football and Bengalis
Readers write in from Calcutta, and Chennai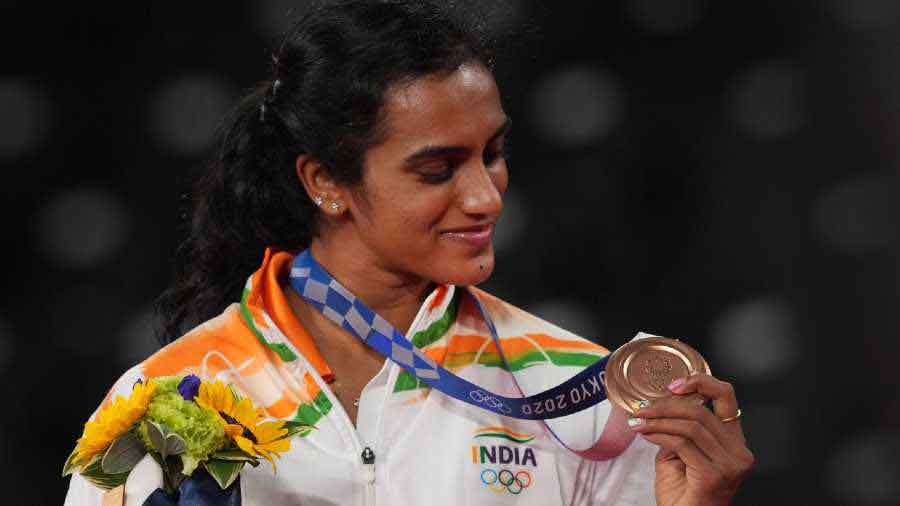 ---
Published 02.08.21, 01:49 AM
|
---
Fall short
Sir — It was heartening that P.V. Sindhu managed to bag a bronze at the Tokyo Olympics. But it was sad to see her slip during the semi-final. She seemed a bit sluggish on the court after her win in the quarter-finals; it did not look like she had the determination to fight, to go for gold.
Encouragingly, the hat-trick of goals by Vandana Kataria enabled the Indian women's hockey team to qualify for the quarter-finals of the Olympics after four decades. Now that the men's hockey team has won the quarter-final against Great Britain, fans are hoping the women's team, too, will play with aggression and confidence while taking on Australia in the upcoming game. We wish them all the very best. Indians are desperate for more medals.
N. Mahadevan,
Chennai
Sir — Every four years, forecasts are made on how many medals India will win at the Olympics, a practice that leads to widely polarized opinions. A leading data and technology company, Gracenote, had foretold that India would finish the Tokyo Olympics with 19 medals, four of them being gold. Such hopes seem to have little chance of being fulfilled. Be it because of a faulty rifle, poor judging or loss of focus, the majority of Indian athletes have not been able to gain a toehold as far as the Olympics are concerned.
This is no different from any other year at the Olympics. But it is pointless to blame athletes for this. India does not encourage sports, and those who take it up have to brave insurmountable odds. One can hardly play well when one bears the burden of having to perform just to live a decent life. Players must be given the assurance that irrespective of how they perform, they will have livelihood options that enable them to take care of themselves and their families.
More important, sports must be made integral to education. At the school level, 'physical training' classes that pass for sport education prepare students for next to nothing. In most schools there is one measly PT period a week, which is taken lightly since its grades do not have an impact on the student's promotion at the end of the year. If India wishes to win more medals, sports must be taken seriously early on in life and be taught on a par with the curriculum.
Riya Ghosh,
Calcutta
Not fun and games
Sir — Cricket may be India's most popular sport, but nothing matches the ability of football to tug at a Bengali's heartstrings. A huge part of the emotionally high-strung club games at the Maidan tents and the Salt Lake stadium were the snacks and sweets that were ferried around for the supporters. While football fans are now missing the snacks as much as the games, few are thinking of the fate of the vendors whose livelihoods have been disrupted drastically. Fans should come together to help them out.
Kallol Pramanik,
Calcutta