Letters to the Editor: Neil Young and others are forcing Spotify to face the music
Readers write in from Mumbai, Calcutta, Nadia, Hooghly, New Delhi, Ujjain, Nainital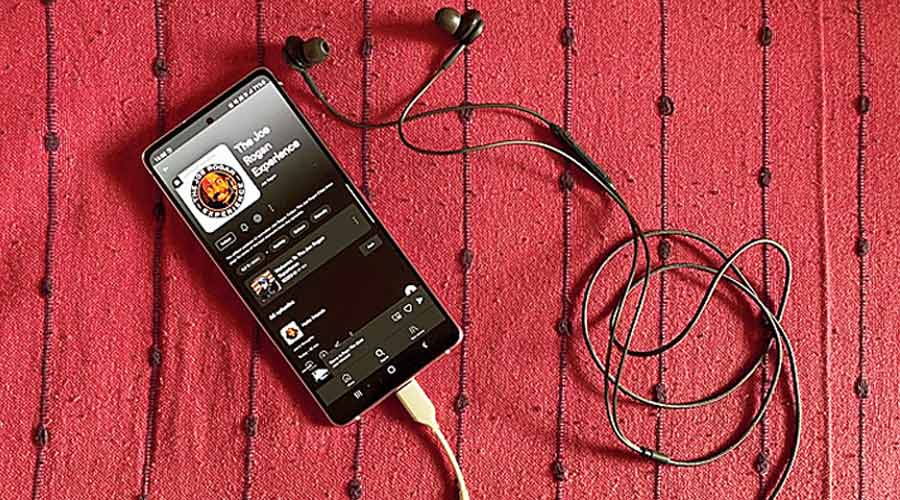 ---
Published 01.02.22, 12:54 AM
|
---
Out of tune
Sir — The prospect of losing billions of dollars is not music to the ears. Spotify, a music streaming app, is facing an exodus of both subscribers and artists owing to a controversy over one of its podcasts spreading misinformation about Covid-19. Artists like Neil Young, Joni Mitchell and Nils Lofgren have removed their music from the platform in protest against Joe Rogan, who spins conspiracy theories about healthcare and Covid-19. These musicians have now forced Spotify to start guiding listeners of podcasts discussing Covid-19 towards more information about the pandemic. But would a brainwashed listener follow such a guide?
Ritika Sanyal,
Mumbai
Crucial difference
Sir — The differences between Hinduism and Hindutva that Ramachandra Guha outlines in his piece, "A yawning chasm" (Jan 29), are very important. In fact, it could be argued that an acceptance of M.K. Gandhi's vision of Hinduism — it preached brotherhood and peace — could go a long way towards eliminating Hindutva. The abhorrence for and dismissal of anything remotely religious by the so-called educated liberals is what allows Hindutva to flourish.
Sreetama Dey,
Calcutta
Sir — Ramachandra Guha's article, "A yawning chasm" (Jan 29), reminded me of a popular Hindi song from the movie, Dhool ka Phool, which goes "Tu Hindu banega, na musalman banega, insaan ki aulad hai, insaan banega". These lines are still relevant. Historically, the British used religion to divide and rule. Nothing has changed since then. The acrimony owing to religious, caste and other such divides can be wiped only if leaders raise awareness about the fact that such biases just lead to destruction.
Alok Ganguly,
Nadia
Renewed hope
Sir — Scientists at Washington University in St Louis and Bharat Biotech deserve praise for developing an intranasal vaccine against Covid-19 ("Nod to nasal vaccine trials", Jan 29). India's drug regulatory authority has finally allowed clinical trials for this vaccine. Intranasal vaccines are easier to administer to large sections of the population. It is hoped that the vaccine would provide sterilizing immunity so that infection is prevented completely.
Biswajit Sharma,
Hooghly
Sir — Congratulations are due to the researchers who developed the intranasal vaccine, which has shown promising results. Only time will tell if the clinical trials confirm the findings of the research and lab tests, but there is cause to believe that the vaccine may provide complete immunity against Covid-19.
Suparni Haldar,
Calcutta
Sir — The intranasal vaccine being tested by the Washington University in St Louis and Bharat Biotech offers a glimmer of hope in these dark times. If the clinical trials are successful, the end of the pandemic may be nigh.
Shadab Alam,
New Delhi
Back to school
Sir — Children's education, especially of those from underprivileged backgrounds, has been seriously affected by the Covid-19 pandemic. They have missed out on learning opportunities, social contact and physical activities. One can understand that the government's decision to close schools was in the interest of children. But now that vaccines have been made available for children above fifteen years of age, offline classes should be started once again.
Tarun Patidar,
Ujjain
Blinded by light
Sir — The types and sources of pollution are not unknown to us. But many of these are not part of the popular discourse. For instance, light pollution is a major problem, especially for those residing in cities. One possible solution to this is dimming the streetlights. This, expectedly, raises concerns about road safety. But even replacing blue/white LEDs with warm-toned bulbs of colour temperatures less than 3,000 Kelvins can go a long way.
According to the International Dark-Sky Association, artificial light at night can increase the risk of obesity, depression, sleep disorders, diabetes, breast cancer and so on. It can also have devastating effects on animals and birds. Preserving the night sky is the collective responsibility of every citizen, not just astronomers and sky-watchers.
Nishantika Sengupta,
Calcutta
Golden era
Sir — It was saddening to read about the demise of the hockey legend, Charanjit Singh, on January 27 ("Captain Courageous, played firm but fair", Jan 29). It was also a reminder that for nearly two decades, Indian hockey ruled the international arena. Singh, who played centre-half, was instrumental in the medals India received at the 1960 Rome Olympics as well as the 1964 Tokyo Olympics, where it beat Pakistan to win a historic gold. Those days are long gone. But the recent bronze at the Tokyo Olympics is a ray of hope.
Vijay Singh Adhikari,
Nainital
Parting shot
Sir — The Bharatiya Janata Party is still trying to woo Bengal by offering Padma awards to the likes of Buddhadeb Bhattacharya and Sandhya Mukherjee and with a statue of Subhas Chandra Bose at India Gate. But to have a firm footing in Bengal, the BJP needs a strong local politician of the calibre of B.C. Roy, Jyoti Basu or Mamata Banerjee. All of the party's other tactics will fail.
Murtaza Ahmad,
Calcutta