Letters to the Editor: Mynahs on course of extinction
Readers write in from Calcutta, Nadia, Mumbai, Hooghly and Burdwan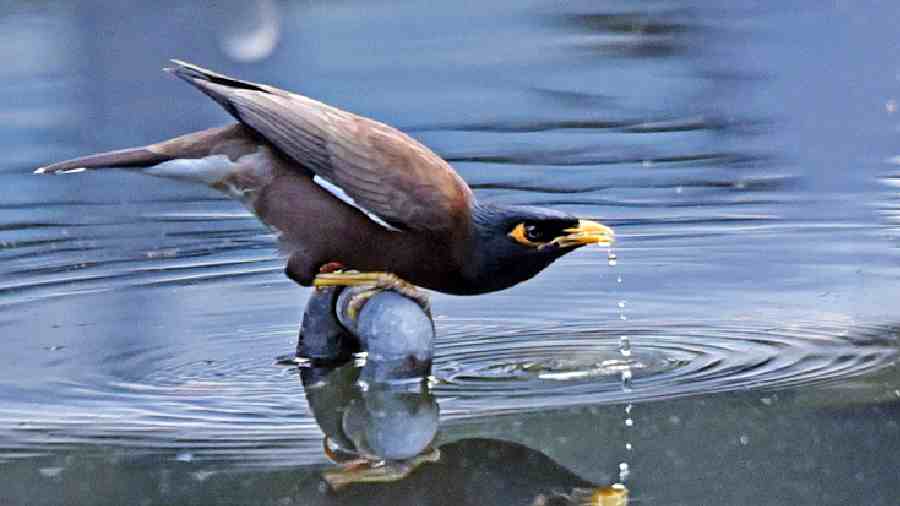 Spotting a solitary mynah apparently brings bad luck whereas catching a glimpse of more than one signals various kinds of good news.
Sourced by The Telegraph
---
Published 09.06.22, 02:31 AM
|
---
Dubious luck
Sir — Many of us harbour harmless superstitions. These give us a sense of control over destiny. Some superstitions are so deeply ingrained that even sceptics would not brush them off. One such superstition is about the mynah — shalik in local parlance — which is supposed to bring good or bad luck. Spotting a solitary mynah apparently brings bad luck whereas catching a glimpse of more than one signals various kinds of good news. However, mynahs are increasingly rare these days owing to urbanisation and pollution, which have shrunk their nesting spaces. One fears that the day might not be far when the winged creatures may no longer be around. Clearly these harbingers of fortune could not bring any luck to themselves.
Arindam Sinha, Calcutta
Hateful words
Sir — It is shameful that two members of the Bharatiya Janata Party, Nupur Sharma and Naveen Jindal, made derogatory comments against Islam and Prophet Mohammed on live television and on Twitter. This brought India widespread censure, especially from the Arab nations, and a call for the boycott of Indian goods. Sharma has been suspended from the party and Jindal has been expelled ("W. Asia seethes, Delhi calls its own duo 'fringe', June 6). However, such hate speeches are not unheard of in 'New India'. The politics of hatred that has been encouraged by the ruling regime and the massive electoral support for this have emboldened its followers to indulge in acts of bigotry. The State's failure to check lumpen elements in most cases conveys tacit support for them. While the BJP has taken action against Sharma and Jindal, this does not undo their wrongs.
S.S. Paul, Nadia
Sir — The BJP's crackdown on the two members responsible for making incendiary remarks against Islam is placatory at best. The punishment came only after Islamic countries lodged diplomatic protests against India and called for a boycott of Indian goods. The BJP has ignored similar concerns raised within the country in the past. The saffron party is desperately trying to engage in damage control ("Core colour", June 7). The BJP has also issued a statement pronouncing its respect for all religions. This is belied by the acts of polarisation and divisiveness perpetrated by the agents of the sangh parivar. 
Bhagwan Thadani, Mumbai
Pay heed
Sir — As many as 49 workers lost their lives and hundreds were injured in a massive explosion at a container depot in Chittagong in southeast Bangladesh. Many of the containers had chemical substances. Once again, this has shone a light on the poor state of the country's industrial facilities. Bangladesh is the third-biggest exporter of garments in the world. Yet, there have been several industrial accidents over the past two decades owing to the lack of accountability and the lax enforcement of safety standards. In 2017, the International Trade Union Confederation had ranked Bangladesh among the top 10 worst countries for workers. The government must ensure adequate safety for its labourers.
Jayanta Datta, Hooghly
Costly tussle
Sir — The differences between the Centre and the West Bengal government over the implementation of the rural job scheme have led to beneficiaries being deprived of their wages for the past six months. The chief minister, Mamata Banerjee, has accused the Central government of withholding a sum of 6,500 crore rupees meant for the payment and material expenses for the scheme. The Centre has argued that the Bengal government created an extra three crore mandays of work without its approval. As a result of this, thousands of MGNREGA workers have been forced into economic hardship. The Centre and the state must iron out their differences.
Shyamal Thakur, East Burdwan
Out of bounds
Sir — Stalls set up by hawkers that encroach upon the roads are commonplace in Calcutta. Important intersections at places like Gariahat and Esplanade have fallen prey to encroachment. These have left footpaths out of bounds for pedestrians. In spite of several promises, the Calcutta Municipal Corporation has failed to rein in unruly hawkers. It is also important to note that unemployment and economic instability have led to the proliferation of such stalls. The authorities must not only conduct regular drives to check encroachment but also ensure the proper rehabilitation of hawkers. 
Rathin Kumar Chanda, Burdwan
Historic win
Sir — The king of the clay court, Rafael Nadal, must be congratulated for winning a record 14th French Open title. With this victory, the Spaniard took his Grand Slam tally to an all-time men's best of 22 ("2005 or 2022, King Rafa reigns", June 6). At the age of 36, Nadal exhibited sheer willpower and determination to achieve the magnificent feat by defeating Casper Ruud in three straight sets in the final match at the Roland Garros. Tennis is a sport that demands one of the highest levels of physical fitness and stamina. However, Nadal dominated his opponents in spite of a serious leg injury and the frequent injections that he had to take to deal with the chronic pain. Such an extraordinary victory will cement his place in the hearts of sports lovers forever.
Indranil Sanyal, Calcutta
Sir — Rafael Nadal has more Grand Slam wins than any other male player. Players like Nadal, Sachin Tendulkar and Diego Maradona have never let fragile ligaments, damaged elbows and mangled ankles — all painful, career-threatening setbacks — downsize their ambitions. They deserve to be lauded for their grit and their passion for their respective sports.
Suchi Sen, Calcutta