Letters to the editor: Modi-Pope meeting unlikely to soothe worries of religious minorities
Readers write in from Maruthancode (TN), Kannur, Mumbai, Nadia, Bangalore, Patna, Ujjain, Calcutta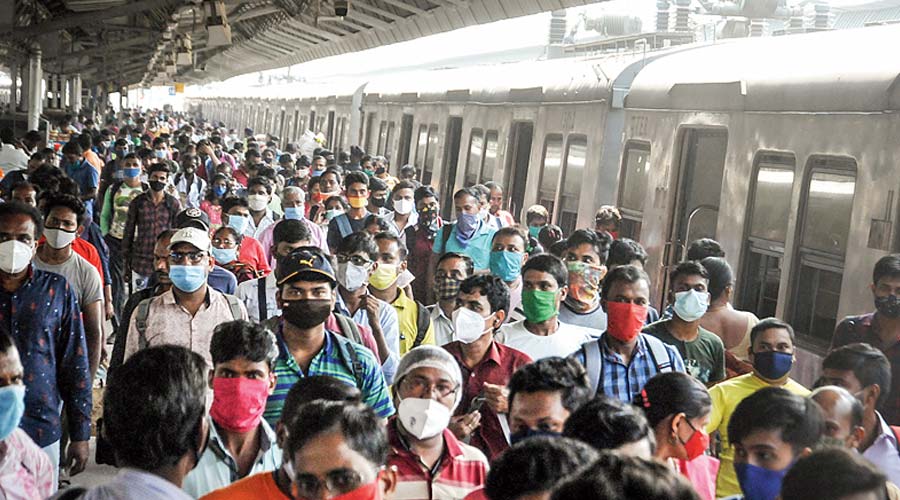 Passengers de-board from a local train after the resumption of local train services with fifty percent capacity, at Sealdah station in Kolkata, Sunday, Oct. 31, 2021
PTI Photo
---
Published 02.11.21, 02:01 AM
|
---
Haste makes waste
Sir — After a prolonged suspension of six months, the West Bengal government has allowed local trains to ply at a 50 per cent seating capacity. Unsurprisingly, a huge number of people thronged to the stations on the first day. There is no doubt that the passengers — as has been witnessed everywhere else even after the second wave of infections — will violate Covid safety measures, thus putting themselves as well as others in danger. The government has also ordered educational institutions to resume on-campus classes from mid-November. These relaxations will spell doom for Bengal. 
Anamika Saha,
Calcutta
New calculations
Sir — In an unanticipated development, the prime minister of India, Narendra Modi, met the head of the Catholic Church, Pope Francis, in Vatican City ("At Vatican, PM invites Pope to visit India", Oct 31). The two reportedly had a fruitful discussion on the Covid-19 pandemic, climate change, poverty and so on. It is, however, unclear if the issue of the treatment of religious minorities in India was discussed. The Pope, who has accepted Modi's invitation to India, has always been sensitive about contemporary troubles plaguing the world and is likely to raise this issue on his maiden visit to the country.
India has lost its credibility as a secular nation under Modi. The meeting between Modi and Pope Francis is unlikely to soothe the worries of the religious minorities. It is clear that the meeting with the Pope was motivated by Modi's need to project himself as a world leader, rather than a commitment to secular values.
G. David Milton,
Maruthancode, Tamil Nadu 
Sir — It was heartwarming to see Pope Francis and Narendra Modi embrace, especially at a time when religious intolerance is on the rise. The Pope's acceptance of Modi's invitation to India is truly historic. This is not only a proud moment for Indian Catholics but also for all Indians committed to secularism and brotherhood.
M. Pradyu,
Kannur
Sir — The meeting between Narendra Modi and Pope Francis has attracted a lot of attention in India. Modi should try to ease his pro-Hindutva approach to politics. This may help the Bharatiya Janata Party win the upcoming elections in Goa. The state's largely-Christian population is likely to view Modi's meeting with the Pope in a positive light.
Bhagwan Thadani,
Mumbai
Model behaviour
Sir — In a refreshing turn of events, Princess Mako of Japan gave up her royal status to marry her "commoner" college sweetheart, Kei Komuro ("The royal knot", Oct 31). The engagement was plagued by a money scandal, intense media scrutiny and a three-year separation. Royal marriages usually involve a series of formal ceremonies and a celebration, but these two forewent rituals and turned down the money usually given to women who leave the royal family.
The couple has invited comparisons with the British royals, Prince Harry and Meghan Markle, because of their decision to give up their royal status. However, the fanfare surrounding Harry and Meghan's departure is in stark contrast to the simplicity of the Japanese couple. We hope that Princess Mako and her husband have many happy years ahead of them.
S.S. Paul,
Nadia
Sir — The British royal family is notorious for making a spectacle out of the weddings of its immediate family members in the name of boosting morale. In reality, it is a huge waste of the taxpayers' money.
Princess Mako, who recently married her college sweetheart in a simple ceremony, has set an example with her preference for simplicity. In contrast, the royal wedding of Prince Harry and Meghan Markle reportedly cost the exchequer $45 million; the figure was some $34 million for Prince William and Kate Middleton's nuptials. These are exorbitant numbers and had the royal family truly cared for the welfare of the citizens of the United Kingdom, they would have desisted from such utter wastage. It is time royals around the world took a leaf out of Princess Mako's book. 
Arunima Das,
Calcutta
Take action
Sir — It seems that more and more fake news is circulating on WhatsApp these days. Most people receiving these messages cannot ascertain whether they are genuine or fake. In many cases, false information spread via social media has led to violent clashes. The government should take strict measures against those responsible for generating false information.
K.V. Seetharamaiah,
Bangalore
Sir — Over the last few years, social media has been used to turn one community against another. Social activists and citizens have urged the Centre to strictly punish those guilty of spreading misinformation. But considering that several pieces of misinformation can be traced back to the information technology cells of the Bharatiya Janata Party, it is unlikely that such measures would be fair or comprehensive.
Rajanya Sharma,
Patna
Truly democratic
Sir — It is astonishing that the highest polling booth in the world at Himachal Pradesh's Tashigang village recorded a 100 per cent voter turnout. All 47 registered voters in the village turned up for the bypoll. The villagers must be lauded for showing up in spite of a sub-zero temperature of minus 16 degrees Celsius.
Many do not realize the importance of being able to vote in a democratic nation and forego the opportunity in favour of some mundane task. This must motivate people, living in far more hospitable environments, to exercise their right to vote at every election.
Rajat Jain,
Ujjain
Parting Shot
Sir — The Indian skipper, Virat Kohli, must be lauded for his unequivocal support for his teammate, who was being trolled on religious grounds. Kohli has sent a strong message by denouncing the link between cricket and communalism.
Sneha Parui,
Calcutta