Letters to the editor: Modern parenting is fraught with rules and regulations
Readers write in from Calcutta, Chennai and Ujjain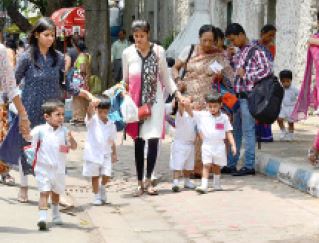 Representational image.
File photo
---
Published 23.09.22, 04:45 AM
|
---
Many paths
Sir — Modern parenting is fraught with rules and regulations. Strict parents who are invested in their child's success are derided as 'tiger parents'. Those who give their children a wide berth are brushed off as 'jellyfish parents' — permissive and endlessly flexible. What, then, is the sweet spot? The so-called ideal type are 'dolphin parents' who have rules and expectations but are flexible enough to value creativity and independence. While it is easy to declare one type of parenting as ideal, every child is unique and must be handled accordingly. There is no one way to raise a child. 
Sonali Thakur,Calcutta
Danger ahead
Sir — The secretary-general of the United Nations, António Guterres, expressed anxiety over the global socio-political scenario ahead of the organisation's annual diplomatic gathering("World is in peril... we are gridlocked in global dysfunction: UN chief", Sept 21). Guterres is right to say that geopolitical rifts are the "widest they have been since at least the Cold War". Some of the pressing issues that he outlined include the undeterred use of fossil fuel, the Russia-Ukraine conflict, inequality in developing countries, rise in food and energy prices, not to mention the instability in Afghanistan, Myanmar, the Democratic Republic of Congo, Israel and Palestine.India has reiterated its commitment to multilateralism,sustainable development goals and reduction in the use of fossil fuel in various fora. There are several massive challenges confronting the world like poverty, hunger, gender inequality, among others. All countries committed to the SDGs must do their best to tackle these problems. 
Sukhendu Bhattacharjee,Hooghly
Shameful outcome
Sir — Scientists who had returned to India to foster a culture of innovation, research and advancement in their respective fields under the Union government's Ramalingaswami Fellowshipscheme are now struggling to recieve both their salaries and funds for their research ("Poor report", Sept 21). In contrast, China has made great advances in science and technology with the Thousand Talents Plan, in which academics — the age limit is 55 years for Chinese citizens and 65 years for foreigners — are given full-time positions at prestigious universities and institutes with larger than normal salaries and resources. A country's economic potential, defence capability, technological eminence and global ranking depend on its scientific prowess. Academics who quit their plush jobs and moved to India should be fairly compensated. If they decide to take up jobs abroad, it would be an immense loss for our country.
J. Iyer,Chennai
New dawn
Sir — Cinemas were shut down in Jammu and Kashmir in the 1990s at the peak of militancy in the region. Three decades later, a first-of-its-kind multiplex has now been inaugurated in the Shivpora locality of Srinagar district. This multiplex has a seating capacity of 520 people and has been designed by INOX using the latest technology. Entertainment is one of the best ways to generate revenue as well as employment. The reintroduction of cinema halls in the conflict-torn region will help its economic growth and provide employment to the people of Jammu and Kashmir. This is the right step.
Swati Pandey, Ujjain
Sir — It is wonderful that Jammu and Kashmir has got its first multiplex. Cinema is a beloved source of entertainment for most Indians.
T.S. Karthik,Chennai 
Historic site
Sir — The chief minister rof West Bengal, Mamata Banerjee, recently inaugurated the Alipore Museum, which has been developed on the premises of what used to be the Alipore Central Correctional Home on Judges Court Road. It aims to help future generations learn about the history of the Indian freedom struggle. People can now see the cells where Netaji Subhas Chandra Bose, Chittaranjan Das, Jawaharlal Nehru and many other prominent freedom fighters were incarcerated. Visitors to the museum will surely have a memorable experience.
Sourish Misra,Calcutta
Sir — There is no doubt that the Alipore Museum will attract tourists in large numbers. Many freedom fighters were interned at this historic prison during the height of the freedom struggle. The authorities of the Alipore Central Correctional Home must be lauded for maintaining those rooms.
 Arun Gupta, Calcutta
Gone too soon
Sir — It was heartbreaking to learn about the untimely demise of the actor and comedian, Raju Srivastava. Millions of people admired Srivastava and were regaled by his sense of humour. People looked forward to watching him on screen. Srivastava catapulted to fame after he took part in the stand-up comedy show, The Great Indian Laughter Challenge, in 2005. He will be missed.
Riya Porwal,Ujjian