Rule breaker
Readers' speak: Gowda even said that certain 'responsible' persons are 'exempted' from the quarantine period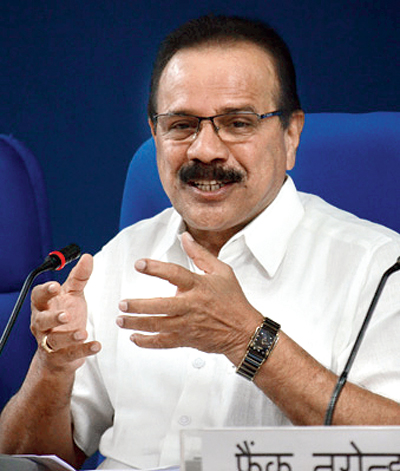 DV Sadananda Gowda
(File photo)
---
Published 29.05.20, 11:00 PM
|
---
Sir — It was distressing to read that the Union minister, D.V. Sadananda Gowda, walked out of the Bangalore airport after arriving from Delhi without going in for the mandatory quarantine period of 14 days ("Quarantine? Not for minister", May 26). He even said that certain 'responsible' persons are 'exempted' from the quarantine period. Is Gowda being a responsible citizen by risking the lives of all the people he will come into contact with, including the chief minister of the state and other ministers? It is a matter of shame when so-called 'educated' and 'responsible' people violate rules and regulations, especially in the middle of a global pandemic. The country and its citizens need to stand in protest against the actions of people who violate safety norms just because they have the power to do so.
Hriktam Mondal
Durgapur
Sir — It appears that D.V. Sadananda Gowda believes that he is such a medical marvel that a deadly contagion cannot affect him — so much so that he found it perfectly reasonable to deliberately breach quarantine rules after disembarking at the Bangalore airport. What is more, he asserted that he ought not to be equated with other people, thereby implying that there should be separate regulations for the 'ruler' and the 'ruled'. It is time Indians stopped putting up with this kind of dangerous netagiri.
On the same day as the report on Gowda, The Telegraph also recorded the Yogi Adityanath-led dispensation's flagrant disregard for the suffering of migrant workers by unlawfully attempting to restrict their right to be hired for work outside Uttar Pradesh ("Yogi migrant plan sparks concern", May 26) and the destruction of a film set by alleged Bajrang Dal activists in Kerala because it depicted a church in the birthplace of Adi Shankaracharya ("Vandals smash church-like film set in Kerala", May 26). These actions do not bode well for the government at the Centre. Moreover, another report on the same day, "India powers surge in global autocracy", highlighted India's steep decline in terms of democratic traditions in spite of the existence of electoral politics. As an Indian, this state of our democracy makes me hang my head in shame. Those responsible for actively eroding our democratic values must be held accountable.
P.T. Mallik
Calcutta
Keep away
Sir — It was both amusing and annoying to read the comment made by the president of the United States of America, Donald Trump, that the Indian prime minister, Narendra Modi, is "not in a good mood" over India's border row with China. The casual tone and language Trump often employs while speaking of matters of grave political concern might elicit laughter, but they are unbecoming of someone who holds such an important position in global politics. Also, it is yet another example of the US meddling in the affairs of other nations: Trump has 'offered' to 'mediate' between India and China. It is high time the US left other sovereign nations alone to sort out their issues.
Malini Bose
Calcutta
Help them
Sir — A slew of measures have been announced by the Central government to improve the condition of the economy and alleviate the sufferings of poor people at this time. But have adequate steps been taken for senior citizens? Children up to the age of 10 years and people above 65 years have been advised not to venture out at all during the pandemic. For children, this ought not to pose too much of a practical problem as long as schools remain shut. But what of the plight of senior citizens, many of whom feel compelled, on account of hardship and family problems, to go out to earn money even at their age? Until the pandemic is brought under control and lockdown norms are wholly lifted, elderly citizens with no income of their own must be supported financially by the government. Pensioners, those with good financial backgrounds or those with children who are financially stable and willing to take care of their parents, could perhaps be excluded from this group. But old people who have none of these avenues must be taken care of.
K.V. Seetharamaiah
Hassan, Karnataka