Letters to the Editor: Make bedtime stories more relevant
Readers write in from Calcutta, Tamil Nadu, Mumbai and Ujjain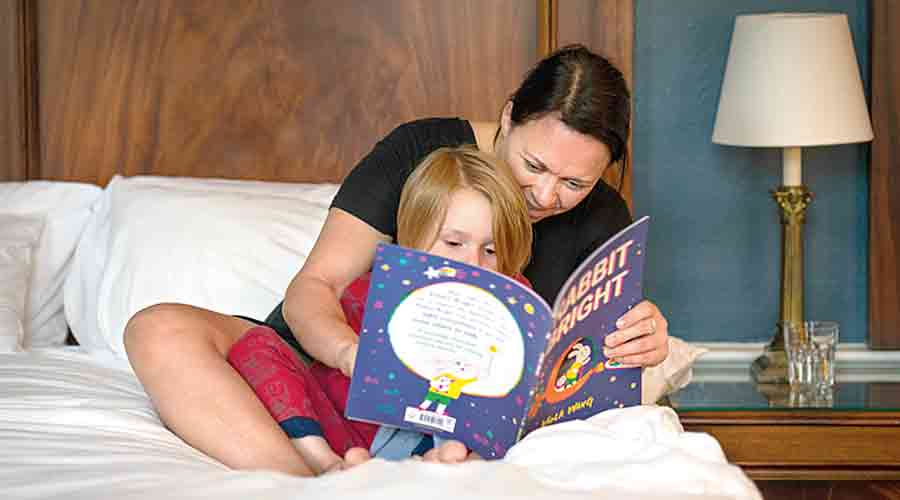 ---
Published 14.01.22, 12:50 AM
---
Not enough

Sir — Literary classics may be a source of comfort, but they are no longer sufficient for shaping young minds. In a laudable move, the Oxford University Press is urging parents to read bedtime stories dealing with pertinent topics like diversity, homelessness and the environment to their wards. While the adventures of Peter Rabbit continue to provide joy, it is also important that children are exposed to books such as Bear Shaped, which focuses on the idea of loss and how to cope with it. Art is a reflection of life and if children are to be sensitized to present-day realities, they must read contemporary literature.

Aranya Sarkar,
Calcutta
 Ominous sign

Sir — The resignations of prominent OBC leaders, Swami Prasad Maurya and Dara Singh Chauhan — both were cabinet ministers in the Yogi Adityanath government in Uttar Pradesh — weeks before the assembly elections must have come as a jolt for the Bharatiya Janata Party ("OBC face does a BJP on Yogi", Jan 12). The leaders cited the neglect of the Dalits, other backward classes, farmers, and the youth by the BJP as the reason for their departure. Curiously, both Maurya and Chauhan had joined the BJP from the Bahujan Samaj Party before the 2017 state polls.
 
No matter what the reason, this turmoil within the BJP may come as a boon for the Samajwadi Party, which is effectively raising issues that concern the people of the state. The Samajwadi Party, under the leadership of Akhilesh Yadav, might just form the next government in Uttar Pradesh.

G. David Milton,
Maruthancode, Tamil Nadu  

Sir — In an unusual development, the BJP is witnessing a surge of resignations with multiple lawmakers accusing the party of neglecting the needs of marginalized communities, especially the OBCs. It may be too early to predict the outcome of the upcoming elections, but these complaints will certainly lead to a dip in BJP's vote share. The saffron party should introspect on this turn of events.

S.S. Paul,
Nadia

 Sir — The departure of Swami Prasad Maurya and Dara Singh Chauhan from the BJP has, naturally, led to the speculation that the saffron party may not win the upcoming assembly polls. This upheaval is likely to benefit the Congress and the Samajwadi Party which seem to be regaining their foothold in the state.
 
It is certainly possible that Opposition parties may forge a post-poll alliance — just like the Congress, the Shiv Sena and the Nationalist Congress Party did in Maharashtra. The BJP is likely to face a tough challenge in all five states going to the polls. 

Bhagwan Thadani, 
Mumbai 

Sir — The situation seems to be heating up in Uttar Pradesh. The BJP's campaign in the state has been marked by rehashing the old tactic of communal polarization. But it seems that such attempts are no longer sufficient. The resurgence of Akhilesh Yadav, who has based his party's campaign on issues such as rising prices, unemployment, healthcare infrastructure, and education, proves that voters are prioritizing bread and butter issues. The BJP must assess its campaign strategy in Uttar Pradesh if it hopes to win the upcoming elections.

Amrita Pathak,
Ujjain
 
 Danger ahead

Sir — The decision of the West Bengal government to allow the Ganga Sagar Mela, Jungle Mahal Utsav, Joydeb Mela and Vivek Chetana Utsav is distressing ("Government green lights for fairs and festivals with Covid rules", Jan 12). This will certainly lead to a massive spike in Covid cases and exert undue pressure on the already rickety healthcare system.
 
The general-secretary of the Trinamul Congress, Abhishek Banerjee, is right to say that all kinds of political, religious and social gatherings must be deferred for at least two months. But it seems that not everyone in the TMC agrees. In the end, it is the common people who will suffer the most. 

S. Sarkar,
Murshidabad

Sir — At a time when West Bengal is battling the third wave of the pandemic, it is surprising that the state government has allowed religious gatherings. The Ganga Sagar Mela should have been cancelled this year.

Swapan Kumar Raha,
Calcutta

Sir — The West Bengal government's prioritization of festivities over the well-being of the people is truly unfortunate.  

Kanika Das,
Calcutta

 
Parting shot

Sir — It was wonderful to learn that the Royal Mail — a British multinational postal service and courier company — will issue a special set of 12 stamps to honour The Rolling Stones on its 60th anniversary ("Rolling Stones get stamp of approval", Jan 12). The Rolling Stones is the fourth music group to have a dedicated Royal Mail stamp after The Beatles, Pink Floyd and Queen. This is a happy occasion for fans. People will be scrambling to get their hands on a set.

Sourish Misra,
Calcutta