Letters to the Editor: In these trying times, switching off can be good
Readers write in from Calcutta, Kharagpur, Nuapada (Odisha), Cooch Behar, New Delhi, Visakhapatnam, Noida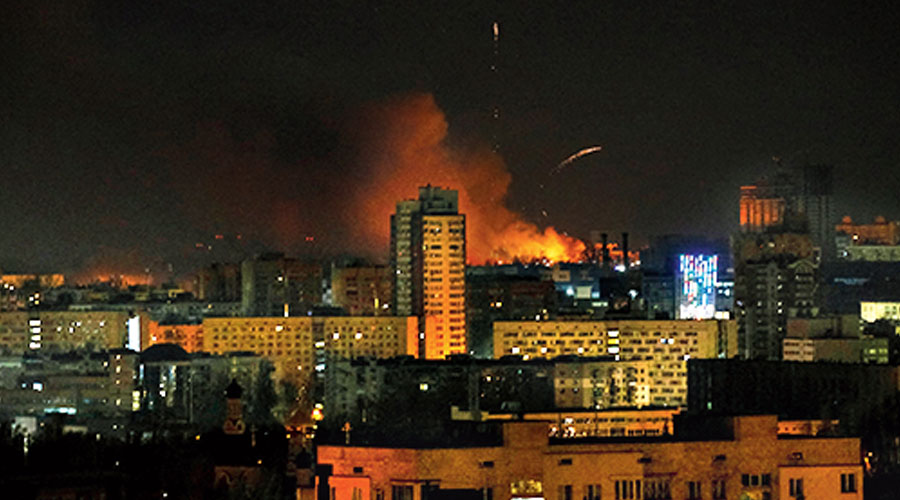 Smoke and flames rise over buildings during shelling as Russia continues its invasion of Ukraine
File picture
---
Published 27.02.22, 01:17 AM
|
---
Switch off
Sir — For those of us who strive to be polite, text-based digital communication — all those chimes and dings and vibrations — can be extremely demanding. Ignoring a Slack, email or text message from work feels rude, but should it? The etiquette of digital communication is and should be different from that of in-person or phone conversations, especially when it comes to the back and forth of hellos, goodbyes and other pleasantries. In these exhausting times, when so many are overburdened with family responsibilities, stress, grief and anxiety, we should learn to appreciate switching off.
Sonia Banerjee,
Calcutta
Dark days
Sir — The Ukraine crisis has been fomenting for a while now. The United States of America and Europe are as much to blame for it as Russia. NATO has been trying to establish its dominance in the region for a long time now. This made Russia wary and pushed it towards declaring war on Ukraine.
As far as India's stance on the Ukraine situation goes, there is no denying that New Delhi cannot afford to antagonize an old and powerful friend like Russia, given China's rising influence in South Asia.
Shivaji K. Moitra,
Kharagpur
Sir — Much is being made of the prime minister of India, Narendra Modi, asking the Russian president, Vladimir Putin, to end the war on Ukraine immediately.  But India has failed the real test by abstaining from the vote at the United Nations Security Council.
Sunil Pradhan,
Nuapada, Odisha
Sir — Russia's war against Ukraine is unjustified. It is a clear violation of international laws. The Ukrainian president, Volodymyr Zelenskyy, has rightly lamented that the world seems to have left his country alone at a time of unprecedented crisis. Concrete steps must be taken to stop Russia.
Samir Das,
Cooch Behar
Sir — The Ukraine crisis will have a long-term impact on global geopolitics. It will reorient defence postures and energy policies substantially for NATO and for the European Union — perhaps in ways that will only corner Russia further. There is bound to be a sustained push for energy independence in Europe and a realignment of NATO forces in the east. It's possible that Finland and Sweden will join NATO.
The long-term responses are ultimately going to be more important than the decisions being made today across the globe in the form of Western sanctions. However, the latter are undoubtedly the ones that are immediately needed. One hopes the situation does not get out of hand.
Shadab Alam,
New Delhi
United stand
Sir — The editorial, "Unity project"(Feb 25), must be read by parties across the political spectrum in India. They must act decisively to come together and fight the Bharatiya Janata Party as a unified front. That is the only way to defeat the BJP juggernaut. The tide in the country is turning against the BJP owing to the mismanagement of the pandemic, joblessness, price rise, the misuse of Central agencies like the Central Bureau of Investigation and so on. A grand alliance to defeat the BJP is the need of the hour.
K. Nehru Patnaik,
Visakhapatnam
Sir — If the BJP is to be defeated, more than two or three regional parties will have to come together. While it is true that after her decisive win in West Bengal, Mamata Banerjee can lead such a coalition, she must remember that leaving the Congress out will be foolish. Moreover, it cannot be a coalition of parties that are united just by their aim of removing the Narendra Modi-led BJP government. The union of parties will have to formulate a clear roadmap for the future and demarcate specific roles for leaders. Only then can Indians repose their faith in such a coalition.
Bal Govind,
Noida