Letters to the Editor: Hairstyle as a symbol of originality
Readers write in from Calcutta, Bengaluru, Chinsurah and Ujjain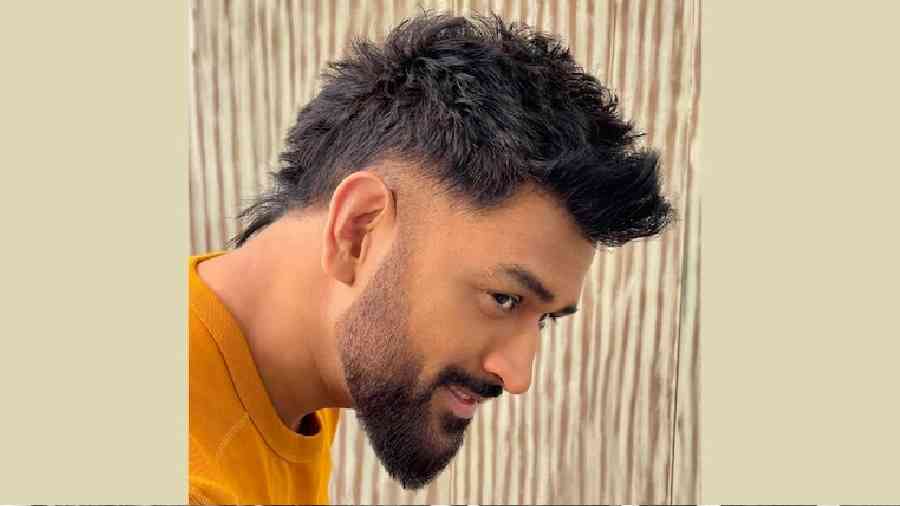 Mahendra Singh Dhoni sporting a mohawk.
File picture
---
Published 01.10.22, 02:57 AM
|
---
Go with the flow
Sir — Hair is much more than just a part of the human body ("Hairy dilemma", Sept 26). Styling hair in different ways has become a way of expressing one's individuality and feelings. Moreover, given the increasing awareness about gender, long hair is no longer associated with just women. Everyone, from trans people to cisgender-heterosexual men — rock bands are full of men with flowing tresses — can now be seen sporting long hair. Patriarchy thus continues to be challenged in a myriad ways. Given the ubiquitousness of long hair, one wonders what tool shall now be used to go snip-snip on women's rights.
Anamitra Ganguli, Chinsurah
Shameful conduct
Sir — It was horrifying to read about the barbarity of Pulkit Arya, the son of a Bharatiya Janata Party leader in Uttarakhand ("Cong questions BJP on women's safety", Sept 25). He allegedly forced the 19-year-old receptionist of his resort to have sex with the guests and murdered her when she refused. It is a relief that the state BJP swung into action and expelled the culprit's father from the party. Although the accused have been taken into judicial custody, there is a need to change the mentality that sees the woman as a commodity to be exploited.
Iftekhar Ahmed, Calcutta
Sir — After the arrest of Pulkit Arya, the Uttarakhand BJP expelled his father, Vinod Arya, and his elder brother, Ankit Arya, from the party. Ankit has also been removed from his post as the Uttarakhand Other Backward Classes Commission deputy-chairman. But this cannot compensate for the loss of a life. How did the son of a prominent leader get away with his misdeeds day after day? Instead of chasing down leaders of the Opposition, perhaps the BJP should employ investigative agencies to clean up its own house.
Rashmika Ghosh, Calcutta
Sir — There may be thousands of women across India like the one in Uttarakhand who are exploited by those they work for. A thorough probe of shady resorts and hotels in the country is the need of the hour.
Anuja Chauhan, Ujjain
Steely spine
Sir — Roop Rekha Verma, the former vice-chancellor of Lucknow University, should be lauded for boldly coming forward to stand as bail surety for the journalist, Siddique Kappan, who was arrested under the Unlawful Activities (Prevention) Act. This selfless, principled act of the 79-year-old academic exemplifies that evergreen line from Rabindranath Tagore's song, "Jodi tor daak shune keu na aashe tawbe ekla chalo re".  
Kajal Chatterjee, Calcutta
Clean it up
Sir — Hate speeches are not only degrading but they also widen existing chasms ("Loveless", Sept 23). This is not the first time that questions have been raised about the quality of television news. The Supreme Court has pulled up the media for their hate-filled content earlier too. Political debates and discussions are vital for democracy but, unfortunately, we are living in a time when civility and fact-based discussions have become rare. The court's query regarding whether a law ought to be brought to regulate the venom spewed on TV needs consideration. 
H.N. Ramakrishna, Bengaluru
Momentous day
Sir—The Uttar Pradesh legislative assembly created history by dedicating an entire day to women members in the Vidhan Sabha. This was the first time in any assembly In India that women legislators alone were given a chance to speak exclusively about the problems faced by them. It may prove to be a milestone in women's empowerment. 
Ashwini Tomar, Ujjain