Letters to the Editor: Goodwill of citizens not enough to run a zoo
Readers write in from Hyderabad, Kochi, Kollam, Ujjain and Calcutta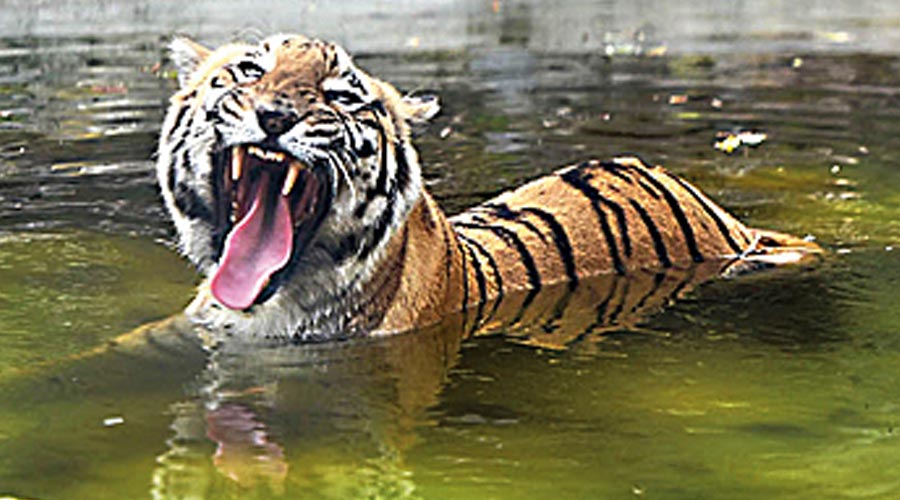 Royal Bengal Tiger- Calcutta Zoological Gardens, Alipore
File picture
---
Published 14.11.21, 12:26 AM
|
---
Pet of the month
Sir — Having an adopted tiger is a boast that few can make. But a recent tweak in the policies of the Alipore zoo can make this possible. People can now adopt a wild animal for just a month — instead of the one-year period that was mandatory earlier. This is more feasible and it already seems to be reaping rich rewards. But depending on the goodwill of citizens is not enough to run a zoo. The last time the zoo got a raise in its food budget seems to be in 2010. Yet food prices have continued to rise. The Alipore zoo can become a world-class facility if only it is given adequate resources.
Abir Mukherjee,
Calcutta
Elusive cure
Sir — Today is World Diabetes Day — it is celebrated every year on November 14, the birthday of Sir Frederick Banting, who was one the people to discover insulin in 1922. Diabetes is not just a leading cause of death globally, but it also affects an estimated 537 million adults. Over the past decade, the prevalence of diabetes has risen in low- and middle-income countries, especially among the youth. Left untreated, diabetes can lead to serious complications like blindness, amputation, heart attack, stroke and kidney failure. Even 100 years after the discovery of insulin, millions with diabetes do not have access to proper care. On this World Diabetes Day, the State must look at ways to improve access to diabetes care.
Krishna K. Vepakomma,
Hyderabad
Sir — India is home to the second-highest population of diabetic people in the world. While this is worrying for most people, for some it is a lucrative business opportunity. Indian markets are full of allegedly nutritious food supplements that are supposed to be 'sugar free'. What this means in reality is that these products do not have refined sugar. But artificial sweeteners such as aspartame and sucralose can do more harm than good to those who consume it. These can actually lead to obesity and, in some cases, even cancer. People should be careful about what they consume.
Dharini Sunder,
Kochi, Kerala
Trust issues
Sir — It is no secret that Indian borders at Punjab, Rajasthan, Jammu and Kashmir and West Bengal are porous. Therefore, it is not a surprise that the Centre intends to increase the territorial jurisdiction of the Border Security Force in these areas. But the resistance to this idea from the respective states is not entirely without reason either. The Opposition no longer trusts decisions taken by the Union government, and rightly so.
Although restrictions have been placed on the powers of the BSF, there are always loopholes in laws that can be misused by the Centre to settle scores with its political opponents in the states. Is this not what the Centre does with the sedition law and the Unlawful Activities (Prevention) Act?
Jayanta Chakraborty,
Calcutta
Equal footing
Sir — The latest edition of the Padma awards shows that the Central government has accorded recognition on the basis of merit and not elitism. How else would the little-known environmentalist, Tulsi Gowda, and the street vendor, Harekala Hajabba, have been recognized for their work? Gowda planted more than 30,000 saplings in her native village and Hajabba started a school for poor children with his meagre income from selling oranges on the road. The government must be lauded for this.
Venu G.S.,
Kollam, Kerala
Parting shot
Sir — According to a report published in Morbidity and Mortality Weekly Report, more than 22 million infants did not get their first dose of the measles vaccine in 2020 owing to Covid-19. While it is critical that countries vaccinate their populations as quickly as possible against Covid-19, this should not come at the cost of essential immunization programmes. That will mean winning a battle, but losing the war.
Kenisha Jain,
Ujjain