Letters to the Editor: Downsides of work from home
Readers write in from Calcutta, Bangalore, Siliguri, Howrah, Barnala, Cooch Behar and Mumbai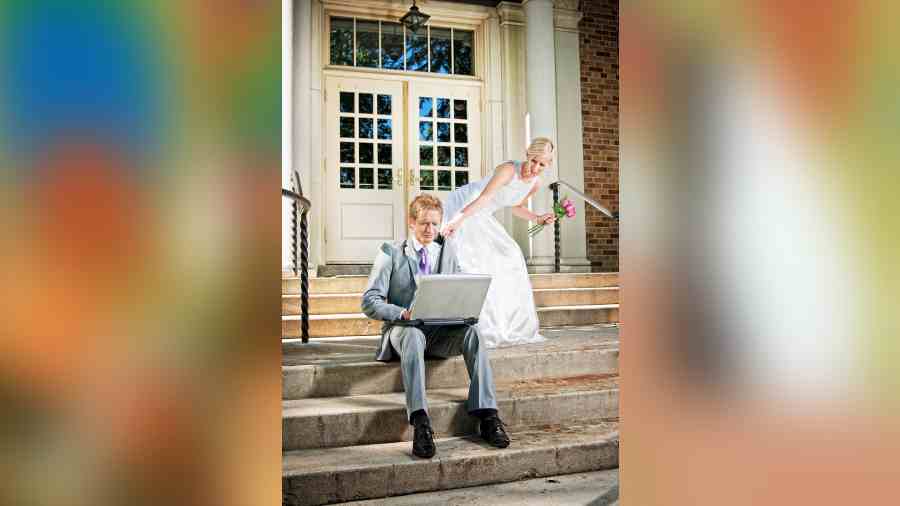 Recently, a photograph went viral showing a groom working on his laptop while sitting in the mandap in his wedding attire.
---
Published 02.12.22, 04:23 AM
|
---
Strike a balance
Sir — Work from home is the new normal. It allows people to work from almost anywhere they wish. The possibilities are endless — one could be working from a cafe, or while commuting, or even from a beach. But there are downsides to this too. Recently, a photograph went viral showing a groom working on his laptop while sitting in the mandap in his wedding attire. The fact that he could not take time off even on his big day speaks poorly about his work-life balance. While the groom's commitment to his work may be laudable, what does it say about his commitment to the life-long relationship he is signing up for?
Rimjhim Das, Calcutta
Work together
Sir — The article, "Conspiracy theories" (Nov 29), by Mehmal Sarfraz discusses the various strategic moves made by the former prime minister of Pakistan and the leader of the Pakistan Tehreeke-Insaf, Imran Khan, to overthrow the incumbent government. Khan has announced that his party will quit the National Assembly en masse — its legislators have already tendered their resignations. This is a desperate bid to force the government into calling for early elections. No democratically-elected government in Pakistan has lasted its full term, mostly owing to military coups. But the former army chief, General Qamar Javed Bajwa, had pronounced that the army must stop meddling in politics. This is laudable. The government and the Opposition must now resolve their differences to ensure stability in the country.
Amit Brahmo, Calcutta
Sir — The Long March in Pakistan led by Imran Khan is another instance of utter disregard for democratic norms in the country. Khan and his party should lodge their grievances in Parliament instead of disrupting public life.
Aranya Sanyal, Siliguri
Dubious claims
Sir — In "Castles in the air" (Nov 30), Charu Sudan Kasturi objectively assesses India's standing on the world stage and also puts its foreign policy in perspective. The current dispensation usually banks on hollow rhetoric to convince people about India's growing might under the leadership of the prime minister, Narendra Modi. Such claims are made in order to reap electoral benefits and divert attention from the shortcomings in the government's foreign policy approach. The Centre has wrongfully boasted of Modi's success at the recently concluded G-20 summit. This is disconcerting. The government must rely on humility, patience and broadmindedness to sustain friendly international relations.
P.K. Sharma, Barnala, Punjab
Conflict brewing
Sir — Amidst severe infighting within the Congress in Rajasthan, similar factionalism is now brewing in its Kerala unit. Most leaders of the Kerala Pradesh Congress Committee have slammed the recent state tour of the Congress leader, Shashi Tharoor, as "parallel politics" ("Turf battles", Nov 28). Tharoor's outreach programme has garnered significant traction among the youth and at the grassroots. This was seen by many as his bid to project himself as a chief ministerial candidate. It seems that the Congress is too mired in internal squabbles to work on its revival.
Samir Das, Cooch Behar
Take guard
Sir — It is heartening that the vaccine manufacturer, Bharat Biotech, has received restricted-usage approval for the world's first intranasal Covid-19 vaccine, iNCOVACC. It has also initiated the development of variant-specific doses. This will ensure preparedness against future outbreaks. Although Covid-19 infections have declined in India, there is no room for complacency. A patchy inoculation drive is one of the key reasons that China is witnessing a resurgence in cases. India has also witnessed vaccine hesitancy. One hopes the intranasal vaccine will be able to overcome this inertia.
N. Sadhasiva Reddy, Bengaluru
Be kind
Sir — The chief minister of West Bengal, Mamata Banerjee, hauled up the district magistrate of North 24 Parganas and other officials after a consignment of sweaters, shawls and blankets that she was to donate at a public event at Samsernagar failed to reach the venue on time ("Mamata's earful for officials", Nov 30). Perhaps Banerjee should have tried to find out why there was a delay. Disciplining subordinates should be done in the kindest way possible.
Suman Sankar Dasgupta, Calcutta
Lost hope
Sir — It was distressing to learn that Prannoy and Radhika Roy, the founders of the news channel, NDTV, resigned as directors of the parent company owing to the takeover by the Adani group. NDTV was the last bastion of independent reporting. One fondly remembers Prannoy Roy in the programme, The World This Week, on NDTV in the 1980s. Dissenting voices like the Roys have become a rarity in the Indian media.
Anshuman Bhattacharya, Howrah