Letters to the Editor: Delinking weddings with exorbitant costs is welcome
Readers write in from Calcutta, Noida, Varanasi, London and Ropar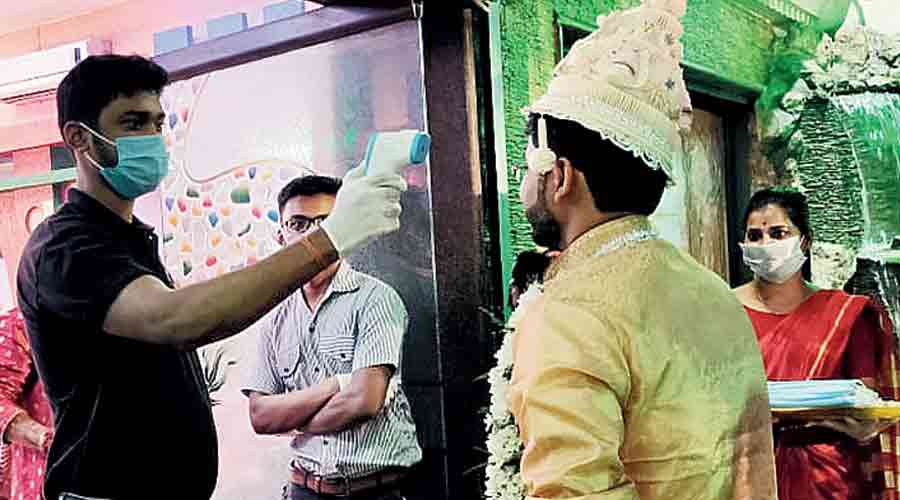 Representational image.
File photo.
---
Published 18.01.22, 12:52 AM
---
Simple formula
Sir — The West Bengal government recently increased the number of people allowed to attend weddings to 200 or half the venue's capacity, whichever is less. Indian weddings are traditionally long-drawn affairs that can sometimes cost tens of lakhs. As such, restrictions related to Covid-19 came as a disappointment to many. But reports also show that several young couples took this opportunity to save on wedding costs without having to upset family members. This shows that there has been a heartening generational shift in priorities when it comes to weddings. This delinking of weddings with exorbitant costs will, in turn, alter the idea of girl children being burdens to parents.

Ruchira Ghosh,
Calcutta
 A call to action

 Sir — As we write this letter to the president and the prime minister of India on the birth anniversary of Swami Vivekananda, we remember the latter's words, "I am proud to belong to a religion that has taught the world [both] tolerance and universal acceptance..." We remain proud inheritors of this legacy and the Preamble to the Indian Constitution embodies this spirit in its founding principles of Equality, Fraternity, Justice and Liberty.

Yet, as we celebrate this legacy in the 75th year of our freedom, dark clouds loom over the country. We are now faced with grave danger from rising calls for genocide of one community. On Dec 24, 2021, a New York Times report claimed that the leaders of the congregation that made these calls for genocide at Haridwar had close ties to the party led by the prime minister. Even as a petition on this lies with the Supreme Court, we urge the prime minister and other leaders of the Bharatiya Janata Party to condemn this act and initiate meaningful legal action against the perpetrators.  

Concurrent with the above event is the shameful saga behind the creation of the Sulli Deals and the Bulli Bai app, where several Indian Muslim women with independent voices found themselves being virtually auctioned. The ages of the youngsters who have been apprehended as suspects suggest how deep communal hatred and misogyny runs in our society. The Wire recently broke a story on Tek Fog, an app that allegedly manipulates online trends and automates hate. Independent women in the media have been the principal targets of this organized abuse. Reports suggest that this is a military grade weapon and in the hands of the wrong people, it can have serious security implications. The prime minister's condemnation of these events is still awaited.  

A recent letter from former chiefs of the armed forces addressed to the prime minister and the president speaks on these disturbing communal trends. Our friends, students and faculty of the Indian Institutes of Management have also underscored their concern regarding the prime minister's silence on such issues in a similar letter.
 
The prime minister has spoken frequently on India's demographic dividend. In his speech while inaugurating the National Youth Festival, he said, "India's demography is young, and the mind of India is also young. There is youth in India's potential, and in its dreams. India is young in its thoughts as well as in its consciousness. India's youths are writing the code of global prosperity. The mantra of New India — Compete and Conquer. Get involved and win. Unite and win the battle." To unite and win the battle, the Constitution must be upheld. The prime minister's decisive action is keenly awaited on these alarming trends that seek to divide India.

Chandru Chawla, Satya Talwar, Bhupinder Sabharwal and 102 others,
Alumni, IIT Bombay, Kharagpur, Varanasi, Madras, Delhi, Kanpur, Gandhinagar and Ropar

 
 Unhappy ending

 Sir — Virat Kohli has stepped down as Test captain of the Indian men's cricket team ("Miffed captain walks in a huff", Jan 16). This comes just four months after he decided to give up his Twenty20 captaincy and shortly after he was removed from his one-day international captaincy last month. Kohli's last days as captain have been unpleasant — not only did his relationship with the Board of Control for Cricket in India grow bitter but the Test side also lost to an underdog South African Test team. There comes a time when even an able leader must gracefully step aside. Unfortunately, for Kohli, this realization dawned late.

Shovanlal Chakraborty,
Calcutta

 Sir — The last few months have been tough for Virat Kohli. The failure in the T20 World Cup, the communal controversy surrounding Mohammed Shami, the loss at the World Test Championship, the tussle with the BCCI chief, Sourav Ganguly, were just some of the things weighing him down. Yet, his decision to give up his Test captaincy could not have come at a worse time for the team which is undergoing major changes. None can deny Kohli's brilliance as Test captain. Hopefully, now that he has unburdened himself, he will be able to serve Indian cricket well as a batsman in the years to come.

Bal Govind,
Noida

 Sir — Virat Kohli's decision to hang up the captain's cap was surprising. While a lot of us admired his skills, his antics on the field were in poor taste and his post-match interviews full of arrogance. A level-headed leader who is confident but composed is what Indian cricket needs now.

Chanchal Banerjee,
London, UK

 
 Delayed help

 Sir — The Centre's failure to complete the database of unorganized workers and migrant labourers by December 31 should be closely scrutinized ("Migrant deadline missed", Jan 15). Maintaining this database is crucial for the well-being of citizens who depend on welfare measures taken by the State to survive. The database must be prepared at once and steps must be taken to prevent such delays in the future.

Suparni Haldar,
Calcutta