Letters to the Editor: Currencies not a notepad
Readers write in from Calcutta, Patna, Raichur, Bengaluru, Jamshedpur, Kanpur and Mumbai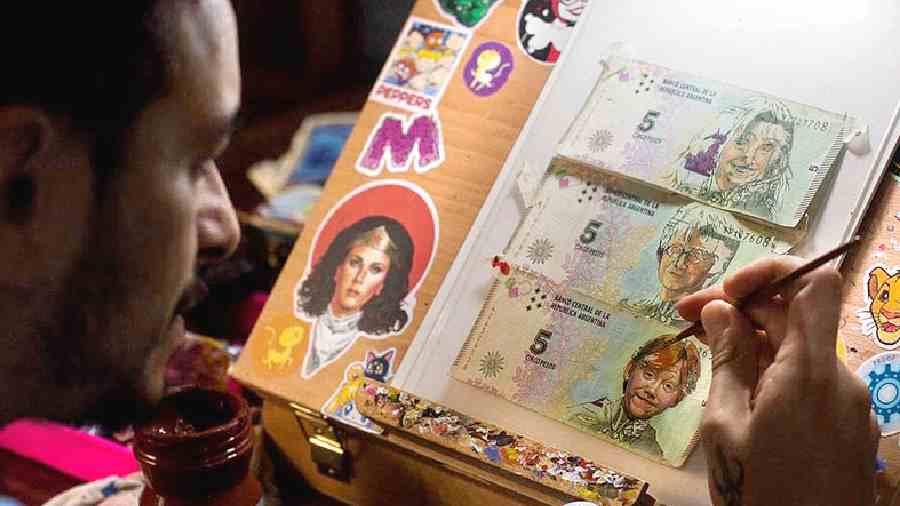 However, banknotes are not always devalued when they are doodled on. Sergio Guillermo Diaz, an Argentine artist, paints pictures on pesos, which have weakened as inflation in Argentina has reached almost 100%.
---
Published 11.01.23, 03:48 AM
|
---
Long delay
Sir — The office of the Registrar General of India has reportedly informed states and Union territories that the deadline for freezing boundaries of administrative jurisdictions has been extended till June 30. According to the rules, the census exercise can only begin three months after the freezing of administrative boundaries, which makes the earliest possible date for commencing the census September 30, 2023. When read with the fact that the RGI has not even completed the house listing process — the first stage of the census which was originally supposed to be completed by September 2020 — it means that the final census will not be completed by 2024. The period after September 2023 will be occupied by polls, first in the states of Rajasthan, Madhya Pradesh and Chhattisgarh and then the 2024 general elections, the process for which will start from March 2024. Given the fact that the grassroots operations for both elections and the census use similar human resources, such as schoolteachers, it is extremely unlikely that the census operations will be held simultaneously with the election cycle. This delay is unconscionable.
O.P. Yadav, Patna
Delve deeper
Sir — The guidelines issued by the National Commission for Protection of Child Rights to scrutinise in depth the circumstances of a crime committed by a juvenile as well as his or her social and psychological background are vital ("Growing up", Jan 9). Social status and family background play a crucial role in determining a child's activities. Instances of violence within the family, a disturbed childhood and so on should be factored in while gauging the maturity level of a juvenile.
Srija Maji, Calcutta
Keep them safe
Sir — The chief minister of Assam, Himanta Biswa Sarma, has claimed that no cases of rhino poaching were reported from the state in 2022. Further, rhino numbers have gone up in West Bengal. Indian rhinos are hunted for their horns, which are used in traditional medicine for many ailments. According to the World Wildlife Fund for Nature, there are around 3,500 Indian rhinos in the wild at present, but their numbers are dwindling and not just owing to poaching.
Vijay Kumar H.K., Raichur, Karnataka
Open the doors
Sir — The University Grants Commission is now paving the way for foreign universities to set up campuses in India. This step will be beneficial for both Indian students and the institutions which are interested in investing in India's booming education market.
Dattaprasad Shirodkar, Mumbai
Cleaner look
Sir — The Calcutta Municipal Corporation's decision to allow hawkers to have tin roofs over their stalls is heartening as previous plans of ridding the footpaths of hawkers seem to have come to naught ("Nod for tin sheet over hawker stalls; residents & architect voice concerns", Jan 5). The current nature of the stalls is hazardous — they cause waterlogging and can catch fire at any moment. The modernisation of stalls is an important step towards maintaining hygienic conditions for customers, hawkers and passers-by. However, transparent fibre sheets are better substitutes for covering the kiosks instead of tin. Fibre sheets are not only cheaper but also look more presentable by allowing light to pass through.
Kunal Kanti Konar, Calcutta
Roots of violence
Sir — In a recent incident in the United States of America, a six-year-old child shot a teacher in his school, leaving her critically injured. America's all-pervasive gun culture is answerable for many such school shootings. If gun laws are not amended, more young and impressionable minds will continue to take the law into their hands and deepen the roots of violence.
Kamal Laddha, Bengaluru
Toy story
Sir — The Indian toy industry is facing a severe challenge in the market. It is no match for China's toy-making industry, which is the largest in the world. Other countries like Germany, Hong Kong, Denmark, Japan and so on are also India's competitors. Traditional Indian toys are also losing out to modern video games. This could be because of India's failure to diversify and follow global merchandising trends. The government needs to set up an organisation dedicated to the promotion of the toy industry globally.
Kirti Wadhawan, Kanpur
Royal tiff
Sir — Prince Harry's recent activities are harming the image of the British monarchy. He first discussed troubled family dynamics in a Netflix show. Now his upcoming biography and the revelations made in it are ruining any hope of reconciliation between the royal brothers. Harry seems intent on dragging the royal family through the mud.
Jang Bahadur Singh, Jamshedpur