Letters to the Editor: Code of conduct for women in professional spaces discriminatory
Readers write in from Calcutta, Jamshedpur, Mumbai, Faridabad, Bangalore, Delhi, Patna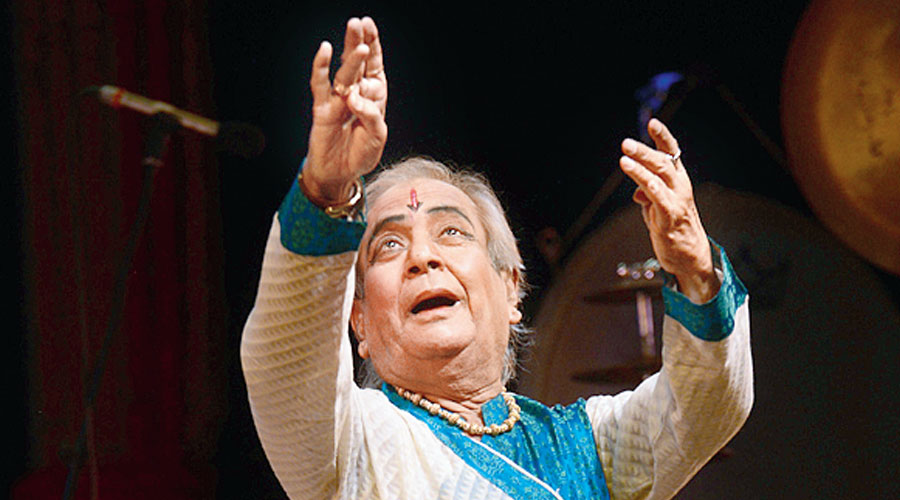 Pandit Birju Maharaj
File picture
---
Published 19.01.22, 01:17 AM
|
---
Loud and clear
Sir — The code of conduct that women have to adhere to in professional spaces is often blatantly discriminatory, even absurd. A senior academic, Annette Plaut, was sacked from her job at the University of Exeter for her "naturally loud voice" and passionate teaching. Since then, an employment tribunal has found the university guilty of unfair dismissal and has ordered the administration to compensate Plaut. While it is a relief that the university was held accountable for its actions, the language used during the hearing — Plaut's co-workers called her 'overbearing' and 'boisterous' — would be familiar to women who speak their minds. There is a long way to go before women are accorded due respect in the workplace.
Paramita Sarkar,
Calcutta
Widening gap
Sir — A report published by Oxfam International ahead of the World Economic Forum's Davos Agenda indicates that the 10 richest men in the world more than doubled their fortunes from $700 billion to $1.5 trillion since March 2020, while 99 per cent of people saw a dip in their incomes and over 160 million of them were pushed into poverty. Oxfam is right in insisting that governments should impose a one-time 99 per cent tax on the world's billionaires and use the money to fund expanded production of vaccines and combat global inequality. If the rich do not have moral sense to donate the lion's share of their wealth, then it is up to the State to implement strict taxation policies to bridge the income gap.
Jang Bahadur Singh,
Jamshedpur
Sir — It is shocking that at a time when most people are struggling to make ends meet, the world's 10 richest men saw their fortune rise to $1.5 trillion. The executive director of Oxfam International has rightly urged governments to rectify the "violent wrongs of this obscene inequality". Governments must formulate policies to tax the rich adequately.
Ankita Sinha,
Calcutta
Illustrious life
Sir — It was heartbreaking to learn that the doyen of Kathak, Pandit Birju Maharaj, passed away after suffering a heart attack at the age of 83 ("A legend passes on, singing", Jan 18). Not only did Birju Maharaj enrich the traditions of the Kalka-Bindadin gharana of Lucknow but he also popularized the art form on the global stage. His masterful storytelling cemented his stature as one of the greatest dancers of all time. It is a testament to his talent that he came to be known as Birju Maharaj at the age of 13 and began teaching at Sangeet Bharati. His contributions to Kathak will live on through his many disciples.
Bhagwan Thadani,
Mumbai
Sir — Birju Maharaj's contributions to performing arts have been plentiful and varied. While he was best known as a Kathak dancer, he was also a singer par excellence, having command over thumri, dadra, bhajan and ghazal. Few are aware that Birju Maharaj was also a prolific drummer and played several percussion instruments with ease and precision.
Birju Maharaj composed and sang for two sequences in Satyajit Ray's Shatranj ke Khilari and choreographed countless dances in Bollywood films, including the much-loved, "Kahe chhed mohe" from Devdas. He won the National Film Award for Best Choreography for Vishwaroopam. In spite of his monumental accomplishments, Birju Maharaj was an incredibly humble person. He will be missed.
Bidyut Kumar Chatterjee,
Faridabad
Sir — The demise of the Kathak maestro, Pandit Birju Maharaj, marks the end of a glorious era in Indian performing arts. During his decades-long illustrious career, Birju Maharaj had garnered several accolades, including the Padma Vibhushan, and had nurtured generations of young dancers. His contributions to Kathak are unparalleled.
Ramesh G. Jethwani,
Bangalore
Sir — Pandit Birju Maharaj's passing is an irreparable loss to the world of Kathak. However, his spirit will live on in his students.
Sonali Singh,
Delhi
Price of neglect
Sir — It was distressing to learn about the recent snowstorm in Muree, Pakistan, which led to the death of at least 23 people, including 10 children ("21 die after Pak snowfall", Jan 9). The Pakistan Meteorological Department had predicted heavy snowfall in Murree. Yet, thousands of tourists flocked to the resort town, indicating that not enough was done to communicate the dangers posed by the weather.
A five-member probe committee has concluded that the incident occurred because of administrative negligence. Several snowploughs were parked at the same place, leading to road blockages, and the administrative staff was absent from duty. Those responsible for the mishandling of the situation must be punished.
Mrityunjay Kumar,
Patna
Sir — The death of over 20 people in Murree could have been avoided. The government must take immediate action against those responsible for the spiralling of the situation. Our heartfelt condolences to those who have lost loved ones.
Rashi Gupta,
Delhi
Cherished memory
Sir — The article, "Kite. Flying" (Jan 16), by Moumita Chaudhuri reminded me of my childhood, especially the time spent in my mamar bari. My maternal grandfather and uncles loved flying kites and taught me how to do so as well. We kept alive the tradition of flying kites on Biswakarma Puja for as long as my grandfather was alive. It was wonderful to be reminded of such a joyful time of my life.
Sourish Misra,
Calcutta