Letters to the editor: Bhowanipore bypolls and religious sentiments
Readers write in from Berhampur, Calcutta, and Howrah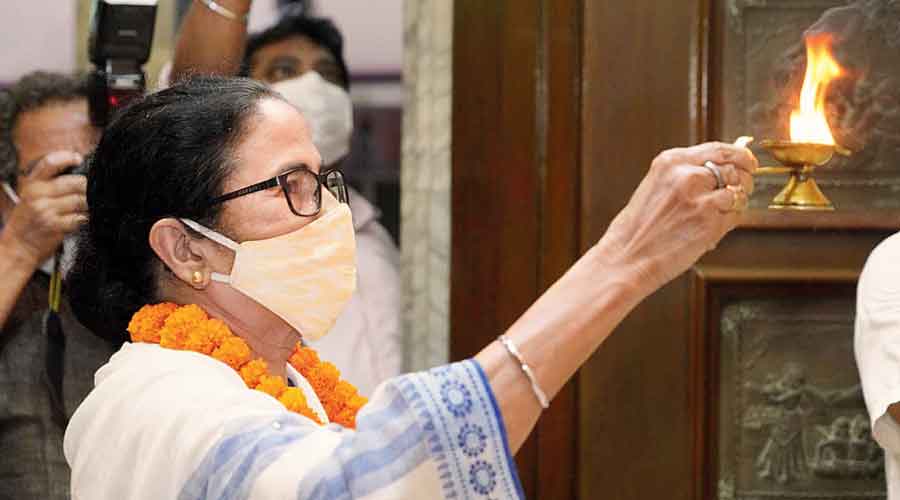 ---
Published 20.09.21, 01:37 AM
|
---
Crucial fight
Sir — Strange spectacles are on display on the campaign trail for the Bhowanipore by-election. While the chief minister and Trinamul Congress candidate, Mamata Banerjee, is rushing around gurdwaras, mosques and temples, the Bharatiya Janata Party candidate was seen dancing with a thurible and also beating drums. Pandering to religious sentiments has become the only way to please the electorate. Secularism seems to have become an obsolete concept in Indian politics.
Secularism aims to keep religion away from politics and State affairs. What we are witnessing now is a reversal of this concept. This is a tragedy that will shock any secular, conscientious person. All religions must be respected, but they should not be misused for political purposes. The martyrs of the freedom movement sacrificed their lives for liberation. Instead, the Indian democracy is chained up in corruption, injustice, communalism and many other evils. The voters' minds are so polluted that they would pick religious sentiments rather than vote for an honest person. Honesty is rapidly losing its avowed place in society.
S. Sarkar,
Berhampur
Sir — The BJP knows that it has no chance of winning against Mamata Banerjee in the Bhowanipore by-election. It is thus resorting to dirty tricks: it demanded the cancellation of Banerjee's nomination for not mentioning five criminal cases pending against her. Similar charges had been levelled against Banerjee before the assembly elections too. Both times, the Election Commission rejected them.
One hopes that the Election Commission stays firm and lives up to the unbiased behaviour expected of it.
Kamalendu Das,
Calcutta
Fishy business
Sir — I read the article, "Gumnaam hai Koi, Badnaam hai Koi" (Sep 19), with keen interest. Like most Bengalis, I love eating fish. It is true that koi is a bony fish and people have to exercise much caution while eating it. But any difficulty that one faces while consuming it is more than compensated for by the delicious dishes that Bengali kitchens can conjure up with koi maachh. Any Bengali worth his salt would surely swear by tel koi, shorshe koi and phulkopi-aloo-dhone pata diye koi maachher jhol.
Sourish Misra,
Calcutta
Sir — is the king among fish — from gods like Krishna to saints like Swami Vivekananda, none can do without this fish.
Durba Roy,
Howrah
Something special
Sir — Nothing sets the cash registers clanging like a dose of sweet nostalgia, with a twist. Cadbury, the chocolate brand, seems to be well aware of this trick. It has recreated its iconic 'Kuch khas hai' ad, this time with a woman cricketer hitting a six and her boyfriend doing an ecstatic jig across the field. One wonders, though, why the company roped in an actress and not an actual cricketer to play the part. It is a shame that women cricketers do not get even half the endorsement contracts as their male counterparts.
Annesha Ghoshal,
Calcutta