Grave danger
READERS' SPEAK: Trump's disinfectant comment; giant locust storm this summer; attitude towards stranded migrants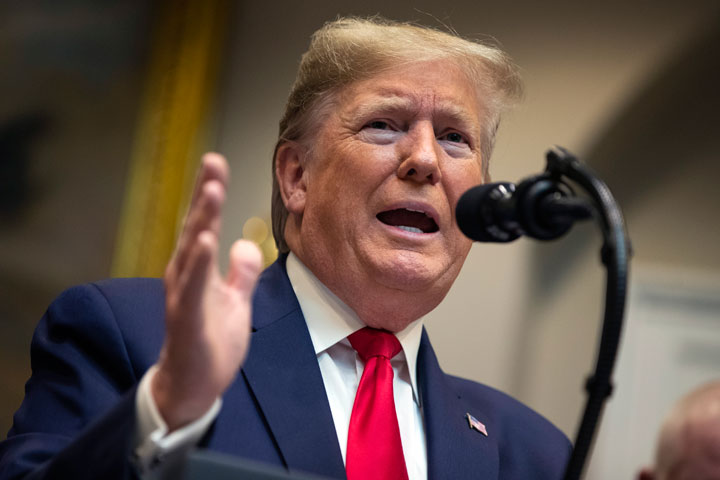 ---
---
Sir — It was appalling to read about the recent comments made by the president of the United States of America, Donald Trump, at a daily White House press briefing, during which he suggested that injecting disinfectant into the human body might be a treatment or a cure for the disease caused by the coronavirus. After the findings of a US government study were presented at the conference — one of them showed that bleach could kill the virus in saliva or respiratory fluids within five minutes, and isopropyl alcohol could destroy it even faster — Trump asked whether there was "a way" to implement that in the fight against the virus, "by injection inside or almost a cleaning..."
The irresponsibility of a comment like this from a world leader in such a powerful position, as well as its potentially dangerous consequences, cannot be overstated. Trump's words have alarmed health experts and even manufacturers of household disinfectant brands so much that they have all implored ordinary citizens not to pay heed to Trump's words. Reckitt Benckiser, the United Kingdom-based owner of Lysol, felt that the situation was grave enough to warrant an official statement, in which it said that "under no circumstance should [their] disinfectant products be administered into the human body".
While Trump did say later on that he was being sarcastic, that is of little help. He is well aware that he has devoted followers in his country who would do his bidding without thinking twice; he should have known better than to make such careless comments that, if heeded, can endanger numerous lives.
Radhika Gupta,
Calcutta
Sir — The research by the US government that was presented before Donald Trump made his comments about injecting disinfectant into the human body to combat Covid-19 showed that the coronavirus appeared to weaken faster when directly exposed to sunlight. That however, does not mean that people with Covid-19 who expose themselves to sunlight will get rid of the infection. Moreover, it seems that Trump is in such a hurry to reopen the US economy that he is making the most ludicrous and dangerous of claims. How else can one describe the suggestion to ingest disinfectants like Lysol in order to help cure Covid-19?
Sunlight is an excellent natural source of Vitamin D, which has many purported health benefits, including an increased resistance to infectious diseases. There have been clinical trials to see if Vitamin D improves outcomes for Covid-19 patients, but so far there is no evidence that it reduces the risk of contracting the coronavirus.
Chlorine bleach is toxic. It can, and does, kill people who drink it. On a park bench, sunlight and bleach might kill the coronavirus. Inside the human body, though, bleach will only cause a severe health hazard and possibly death.
As for sunlight and UV radiation, it is advisable for people not to change their behaviour and precautionary measures based on preliminary findings. The US government study was limited to how environmental factors affected the virus on surfaces or in the air, not inside bodies.
Ravi Teja Kathuripalli,
Hyderabad
Death looms
Sir — The report, "Migrant falls and dies on PM's turf" (April 18), about the water-tanker truck driver who collapsed and died on the road while trying to get home to Begusarai on foot, was heartbreaking. Ramji Mahto, who worked in Delhi, had walked around 850 kilometres to Varanasi — the prime minister's parliamentary constituency — before he collapsed and lay on the road for two hours before getting any help since no one wanted to touch him for fear that he had Covid-19.
The incident raises a number of questions about the local health bodies' attitude towards dealing with the plight of such workers, as well as about arrangements for food and shelter for stranded migrants. It is appalling that a person lying on the road, obviously in need of medical attention, did not get any till it was too late. Don't healthcare officials know how to tackle such situations?
According to a local resident, not even the staff operating a government ambulance would touch the man while he lay on the road. It is not known whether these health officials had personal protective equipment. If they did, and they still did not help the man, then they should be heavily penalized. And if they did not have PPE, then the Uttar Pradesh government should be made to compensate the bereaved family adequately. There is no excuse for the government to be so badly prepared to handle such a situation. Ironically, Narendra Modi has said that 'every life matters'. A great humanitarian crisis is looming; elected governments will be committing a grave mistake by taking it lightly.
Saikat Hazra,
Hooghly
Storm ahead
Sir — If India were not suffering enough already on account of the coronavirus, it is being reported that the country could next face a giant locust storm this summer. It is expected to attack South Asian farmlands. The threat is enough to raise serious concerns about food security, as the destructive power of a locust swarm is immense. A one square kilometre swarm, of about 40 million locusts, can eat as much food as 35,000 people in a day. Innumerable people are already starving to death in the midst of the Covid-19 crisis. How is the government planning to feed the teeming millions if it has to deal with a pandemic as well as foodgrain destruction caused by locust attacks?
Shalini Bose,
Calcutta