Letters to the editor: Allegations of sexual misconduct against Andrew Cuomo
Readers write from Calcutta, Mumbai Nellimarla, and Nadia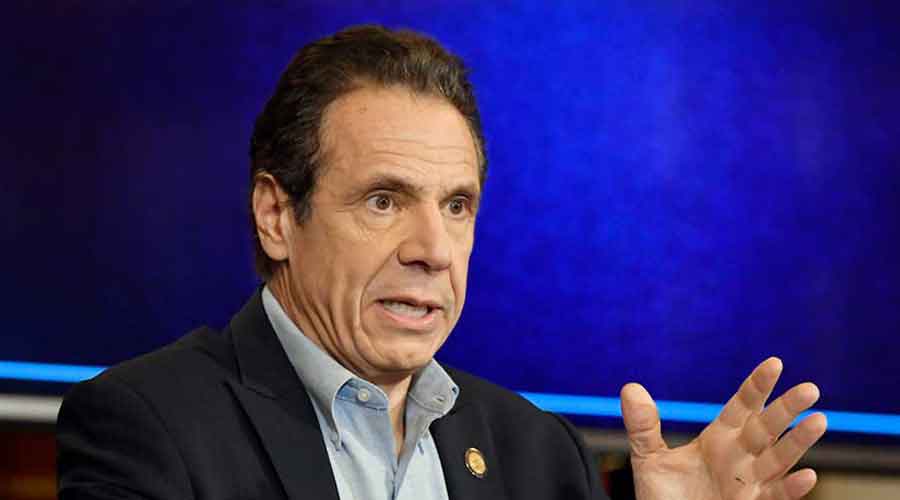 ---
Published 12.08.21, 02:38 AM
|
---
Look within
Sir — The allegations of sexual misconduct against the former governor of New York, Andrew Cuomo, do not come as a surprise. Powerful men often get away with wrongs by threatening their victims with retribution. It is shocking, though, that even while he was passing laws against sexual harassment, Cuomo himself was guilty of inappropriate behaviour. This development must come as an eye-opener. The actions of activists and those speaking up against sexual abuse, too, need to be questioned. The movement against sexual abuse should not fall prey to the very problems it is fighting.
Aparajita Saha,
Calcutta
Cause for concern
Sir — The Chief Justice of India, N.V. Ramana, recently expressed concern about the prevalence of custodial torture in police stations at an event organized by the National Legal Services Authority, stating that the "threat to human rights and bodily integrity are the highest in police stations" ("Main threat to rights lies in police stations: CJI", Aug 9). It is shameful that in spite of constitutional guarantees, police atrocities in custody continue to be one of the major problems plaguing the law and order machinery. Further, people who are arrested or detained often do not have access to timely legal representation, making it difficult for many to ensure that their rights are upheld.
The grim reality is that most people in custody face ill-treatment at the hands of the police. There is an urgent need to check the excesses of the police and ensure that immediate legal aid is available to those arrested. The concerns raised by Ramana must be addressed.
Bhagwan Thadani,
Mumbai
Sir — Any sort of violence meted out to a person in police custody is unconstitutional and must be condemned. The accused should be produced before a court of law as soon as possible and investigating officers must be held accountable for any mishaps while in custody. The observations by N.V. Ramana regarding the state of affairs in police stations are illuminating. His suggestions about rectifying the situation by keeping an eye on police excesses, dissemination of information about the constitutional right to legal aid and the availability of free legal aid services must be implemented by the government.
Arun Gupta,
Calcutta
Sir — N.V. Ramana has rightly expressed anxiety about the persisting threat to human rights in police stations across India. It is unconstitutional to violate the bodily integrity of a person, no matter what his or her crime. Every democratic nation must ensure that the fundamental rights of all citizens, including the incarcerated, are upheld. The police force in India must be sensitized.
D.V.G. Sankararao,
Nellimarla, Andhra Pradesh
Real picture
Sir — The recent spate of suicides by young women because of dowry-related violence reveals the cracks in the social and economic fabric of Kerala ("Much needed", Aug 9). Last month, the Kerala High Court had observed that the attacks on women for dowry make matrimonial homes the most 'dangerous' place for them.
In view of this prevailing situation, the chief whip of the Communist Party of India (Marxist) in Kerala, K.K. Shailaja, has advocated premarital counselling so that a couple entering marriage understands that the marital bond is not based on money or sex but rather it is a lifelong friendship that must be respected and nurtured.
In the United States of America, family-life education programmes are part of high schools and colleges, and more recently are taught as part of community adult education. Such courses are usually structured to impart knowledge about marriage, family and relationships, and to teach ways to apply that knowledge in practical ways.
It is important that people in India understand that marriage is a social bond and not a monetary transaction. Male children should be sensitized against social evils such as dowry from an early age and taught to question women's subjugation in society at large. Political and economic empowerment of women will be crucial in remedying this situation.
S.S. Paul,
Nadia