Letters to the Editor: AI-generated photographs take over social media
Readers write in from Calcutta, Vizianagaram, Chennai, Hooghly and Mumbai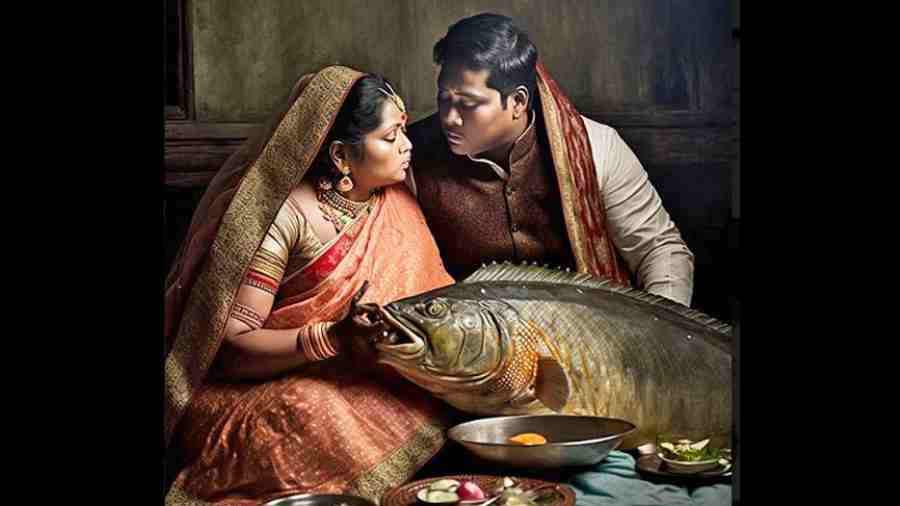 ---
Published 09.01.23, 04:30 AM
|
---
Fishy business
Sir — The latest trend to take over social media is that of Artificial Intelligence-generated photographs of imaginary scenarios — snowfall in Calcutta is one instance of this. But even more unlikely than snow falling in Calcutta is the image of a Bengali couple at their wedding with what can only be described as a prehistoric piranha playing the third wheel on their laps. Similar images were generated for other states too and were as full of misguided stereotypes. But far from being outraged at being thus maligned, most Bengalis were only interested in knowing where they could find a fish that big.
Trishita Dey, Calcutta
War despatches
Sir — It was heartening to hear that Russia had declared a temporary truce in the Ukraine war on January 6 and 7 to mark the celebration of Orthodox Christmas. This is the first time a truce has been declared in the war which has been draining the global economy and disrupting supply chains. Both sides should try and make this truce permanent.
D.V.G. Sankararao, Vizianagaram
Sir — It is shocking that Russia is weaponising sexual violence against Ukraine, even though sexual exploitation of women during war is as old as time. Given the high civilian participation in this war, the use of such tactics is leaving ordinary Ukrainians doubly vulnerable.
Dyutiman Bhattacharya, Calcutta
Dangerous law
Sir — Anti-conversion laws are like double-edged swords — they are against the interests of both the minorities and the majority. The worst-ever wave of violence that broke out against Christian adivasis in Chhattisgarh's Bastar region is proof of this.
Riya De Sarkar, Jammu
Poisoned discourse
Sir — It is unfortunate that the principal and the shiksha mitra of a government-run Urdu school in Bareilly were recently booked for asking children to sing the popular Urdu prayer song, "Lab pe aati hai dua ban ke tamanna meri", penned by the famous poet, Muhammad Iqbal. We should not forget that Iqbal gave India the evocative patriotic song, "Saare jahan se achcha Hindustan hamara", which was an inspiration for freedom fighters.
In a secular country like India, having objections to a particular religious prayer song is disappointing. In recent times, incidents of religious intolerance have been growing and, sadly, the claws of communalism have gripped even educational institutions. Be it the hijab ban in Karnataka schools or a professor comparing a Muslim student to a terrorist, there have been too many such cases to ignore.
Ranganathan Sivakumar, Chennai
At risk
Sir — Since the Aadhaar card works as both identity and address proof, it is increasingly being demanded for most official transactions. This leaves people vulnerable to Aadhaar frauds and identity theft. It is incumbent on both the Unique Identification Authority of India and the Reserve Bank of India to issue a directive that allows the usage of masked Aadhaar cards only. The UIDAI has made masked versions of the Aadhaar available on its website.
V.S. Jayaraman, Chennai
Trust deficit
Sir — It was worrying to learn that some doctors in West Bengal have been misusing the Swasthya Sathi card to perform unnecessary surgeries. This has undermined the credibility of the healthcare scheme and highlights the need to pay better attention to healthcare in the districts. Unless something is done urgently, people will find it hard to trust doctors.
Jayanta Datta, Hooghly
Luxury sells
Sir — The 41% rise in the sale of luxury cars from Mercedes goes to show the rising income disparity in India. The sale of such luxury items is often used to argue that the nation is doing well on the economic front. For instance, more Indians are holidaying at exotic locations than ever before and malls are teeming with people. All this should point to a prosperous economy. Yet, more than 80 crore people still have to depend on government largesse for five kilogrammes of food grains to survive.
Anthony Henriques, Mumbai
Delightful dish
Sir — Even though it originated in Persia, biryani was perfected in the royal Mughal kitchens. It is not only popular at weddings and feasts but also widely available at street food places at present. It makes for a hearty meal that one can enjoy at any time of the day or night and is appealing to every palate and every age group. Is it any wonder, then, that this is the dish that both Swiggy and Zomato delivered the most number of times in 2022?
Kakoli Das, Calcutta
Sir — Just the name, biryani, delights the soul and brings a smile on the face. What else can one expect from an appetising dish?
Parimala Sen, Calcutta