Fashion statement
Reader's speak: sustainable fashion, Assembly elections 2021, the chief minister of Uttarakhand and hydration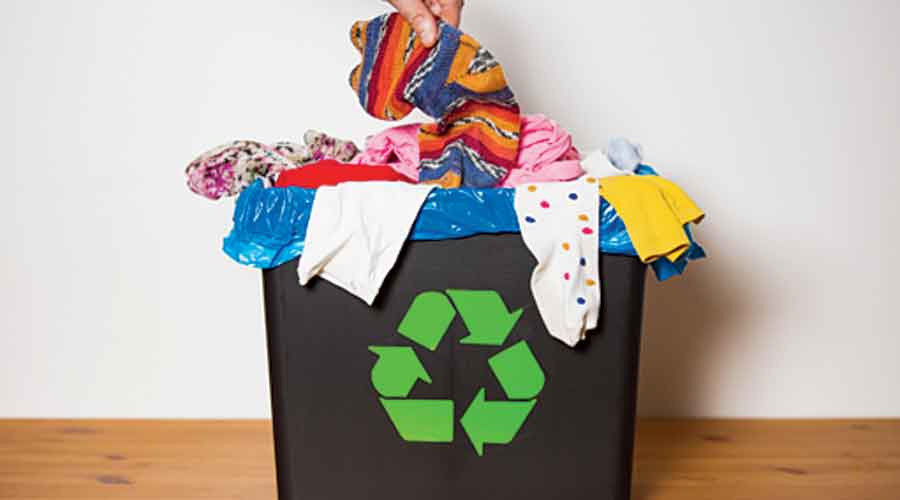 ---
---
Sir — The actress, Saiee Manjrekar, has said that she wears her mother's old clothes. This makes an important statement. The fashion industry is one of the biggest contributors to waste and has a huge carbon footprint. The culture where celebrities mock each other for repeating an outfit has an adverse impact on young, impressionable minds. Upcycling old clothes or sharing a wardrobe with other members of one's family or with friends is eco-friendly, cheap as well as trendy. India must begin encouraging the practice of thrift stores where items of fashion can be recycled.

Sweety Dogra,
Kanpur
Lost direction
Sir — Elections are often described as a battlefield. But when an election to a small assembly constituency actually turns into one, as it did in Nandigram in East Midnapore, it sends out a chilling message ("Nandigram today: Where the divide can take us tomorrow", April 2). When the chief minister of a state is virtually captured in a booth for two hours and has to be escorted out to safety and when Section 144 has to be clamped around booths, pointed questions need to be asked about the Indian electoral process as well as about where we are headed as a democracy.
What we saw on television was no ordinary fight. Boyal, the area where the incumbent chief minister, Mamata Banerjee, was stuck in her wheelchair, saw both the Bharatiya Janata Party and the Trinamul Congress shout slogans like war cries, stones and sticks in hand. The complaint was that the TMC polling agent was not allowed anywhere near the polling station. Elsewhere, Banerjee's arch-rival, the BJP candidate, Suvendu Adhikari, claimed that his polling agents, too, were not allowed into 122 booths. Jamming of election booths, accusations of rigging, intimidation and violence, no malpractice was spared when it came to allegations from both sides. Unfortunately, media personnel on the ground bore the brunt of the brickbats.
The Election Commission's observers later reported that in spite of 'sporadic' violence, polling carried on smoothly. Is that all there is to it? What is the worth of an election that can only be conducted in the presence of large groups of Central and state security forces. The EC must reflect on where it went wrong, as must the people and political parties of West Bengal.

Khokan Das,
Calcutta
Double standards
Sir — While the chief minister of Uttarakhand seems to think that women should not wear ripped jeans as these are not synonymous with our culture, last year, in the Bhuj district of Gujarat, as many as 68 girls in Shree Sahajanand Girls' Institute were allegedly forced to remove their undergarments to prove that they were not menstruating. A similar incident took place at a government institution in Khatauli in Uttar Pradesh in 2017.
It is unfortunate that women now live in a society where undesired customs and traditions, obscurantist beliefs and medieval rules are gaining strength. A particular ideology seems keen on keeping Indian women in check in the name of upholding Indian culture. It is not culture but patriarchy that these men are trying to uphold. Kate Manne, who teaches philosophy at Cornell University, argues that misogyny is not about male hostility or hatred toward women; it is about controlling and punishing women who challenge male dominance. Misogyny rewards women who reinforce the status quo and punishes those who do not. It leads to physical and sexual violence against them as well. It is important that the quality of women's lives in India is not compromised.

Haridasan Rajan,
Kozhikode, Kerala
Parting shot
Sir — One essential step to our well-being that we often overlook is hydration. It can keep respiratory tracts clear, regulate body temperature, boost the immune system, keep muscles and organs active and so on. Dehydration is a common health issue, especially in children. Treating it is a priority in effectively managing illnesses.

M.R. Jayanthi,
Mumbai